There's no doubt the Inca Trail is one of the world's greatest hikes. The four- to five-day trek, which zig-zags through the snow-capped Andes Mountains, lush Amazon jungle, and a bevy of other beautiful terrains, culminates with the ultimate reward: an awe-inspiring view of Machu Picchu. And after a few sweat-inducing days of trudging along the trail, there's no greater feeling than laying eyes upon the dramatic complex of ruins and its surrounding peaks as the fog lifts. That being said, only 500 people are lucky enough to blaze the trail each day. For the rest of us who are strapped for vacation days and cash or are simply procrastinators (you have to book the fast-selling tickets months in advance), we scouted a handful of equally epic alternatives to the sacred Inca site. From spectacular views to jaw-dropping wildlife, they each go the extra mile.
1. Salkantay
The Salkantay Trek might just be the most popular substitute to the classic — and with good reason. Much like the Inca Trail, this five-day route to Machu Picchu is also all about diversity. During the epic journey, hikers will cut through the Mollepata Valley and traverse past snowy peaks, hot springs, tropical jungles, ruins, and of course, the 20,500-foot namesake, Mount Salkantay. But the spectacular Andean vistas don't come easy. Although mules are present en route to help fatigued travelers lug their belongings, the arduous hike hits an altitude of more than 15,000 feet at times. To put things into perspective, the Inca Trail never tops 13,800 feet. Talk about taking things to new heights — literally.
2. Lares
Think of this picturesque, three- to five-day trek as an all-natural elliptical. And while you might break out into a profuse sweat, the striking scenery makes it well worth the effort. Usually launching from the small town of Lares, walkers can expect to wind through remote villages filled with farmers and artisans as well as come face-to-face with several hot springs, river valleys, and stunning peaks, including the 19,000-footer named Mount Veronica. Keep an eye out for an array of animals (llamas, alpacas, and chinchillas, to name a few), too. No matter what you fancy, the whole experience is sure to spark some major envy among your friends and Instagram followers back home.
3. Choquequirao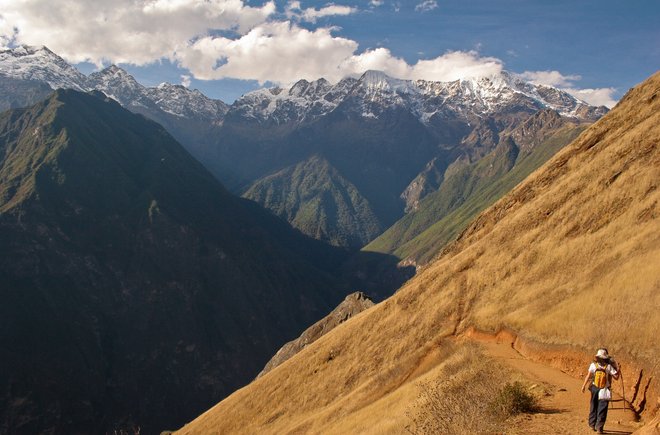 Choquequirao translates to "cradle of gold" and it won't take long after you start the trek to feel like you've hit the jackpot. Dubbed Machu Picchu's little sis, this route is certainly the quieter (read: less touristy) of the two siblings. During the strenuous up-and-down journey, walkers will snake through a mind-blowing mix of old villages, verdant slopes, plunging canyons, towering mountains, and more before landing at Choquequirao, the long-lost ancient ruins that lie over 10,000 feet high. Those with time on their side can continue the voyage to conquer Machu Picchu as well.
4. Ausangate
You're more likely to bump into a herd of llamas and alpacas than you are other backpackers on this hike. Less crowded, but equally stunning, this trail takes walkers through the snow-tipped Cordillera Vilcanota mountain range, which boasts high-altitude passes, low valleys, and Peruvian villages with colorfully-clad locals. Glacier-fed lakes, hot springs, and magnificent condors are also among the passing features to ooh and ahh over, but the main attraction is the sacred 20,900-foot Ausangate mountain. The voyage can be combined with a trip to Machu Picchu, too. And don't fret if your legs get weary — horses come along for the ride to give you and your possessions a lift.
5. Vilcabamba
https://www.instagram.com/p/BIIrEKnAf8e
From the moment you embark on this steep hike, solitude and serenity rule all. Whether you're navigating a rocky mountain range, crossing rivers and valleys, cutting through ruins and tropical jungles, or traipsing along well-preserved Inca trails, you'll feel far removed from the rest of the world. And this slice of peace comes with a heavy helping of history. In fact, Vilcabamba is what American explorer Hiram Bingham was looking for when he stumbled on Machu Picchu. But don't worry — you'll get to see the popular tourist destination as well. The whole trek is capped with a short walk or train ride to the beautiful wonder of the world.
Related Stories:
All products are independently selected by our writers and editors. If you buy something through our links, Oyster may earn an affiliate commission.