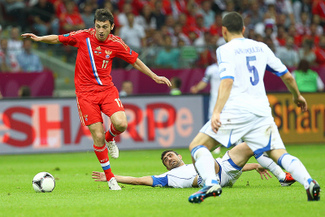 For the past month, soccer fans around the globe have been glued to Euro 2012. It's been a rough-and-tumble path to the finish line, but come this Sunday only one team will be left standing. First, though, are the semi-finals: Portugal vs. Spain; Germany vs. Italy. (In other words, let the bloodbath begin — on and off the field.) We may not all be extreme hooligans, but we sure don't mind posing as one for the exciting finish. And where's a better place to reign in it with a cold one and root for your squad with a passionate fury then besides fervent locals cheering on their respective teams? The teams' hometowns, naturally. Check out these awesome watering holes that'll welcome your hooting and hollering with open arms for the finish of Euro 2012.
This modern boutique hotel in Lisbon's residential neighborhood of Belem is the perfect spot to watch Portugal take on Spain in the semis. The sleek, stylish Bar 38º41º looks like the kind of place Cristiano Ronaldo would sip on a caiprinha after a long day on the pitch, while the outdoor terrace overlooking the Tagus River has gorgeous views and a comfortable, relaxed vibe. The Altis Belem is also a short walk from the Belem Cultural Center, where the matches are being aired for the public.
This small chain hotel in Barcelona's Gothic Quarter features clean, streamlined design with lots of red accents to get you in the Roja state of mind. Inside, a TV is set up for your viewing pleasure. As soon as Fernando Torres strikes one into the net, run outside and shout a hearty victory cry from the rooftop bar for all of Barca to hear you and revel in the deafening roars of "GOOOAAAALLLL!!!!" you're sure to hear in response. But if you'd rather be in the trenches at a true sports bar, H10 Montcada is just a short walk or subway ride from Sports Bar Ramblas or Sonora Sport Tavern.
Deutschland may be the team to beat this time around. They haven't lost a match yet during the tournament and, with two extra days of rest heading into the semis, many are speculating they might ride the victory wave all the way to the final. The bar at the NH Berlin Alexanderplatz has sleek decor and yet a relaxed vibe — plus an extensive cocktail menu to toast to a victory or drown in ones sorrows. (We're not writing off Italy just yet. After all, Germany has yet to beat them in either Euro or World Cup history.) German fans will be comfortable in this modern hole-in-the-wall. If in search of larger crowds, take the subway into town to view the match at the Brandenburg Gate with millions of other Deutsch fans.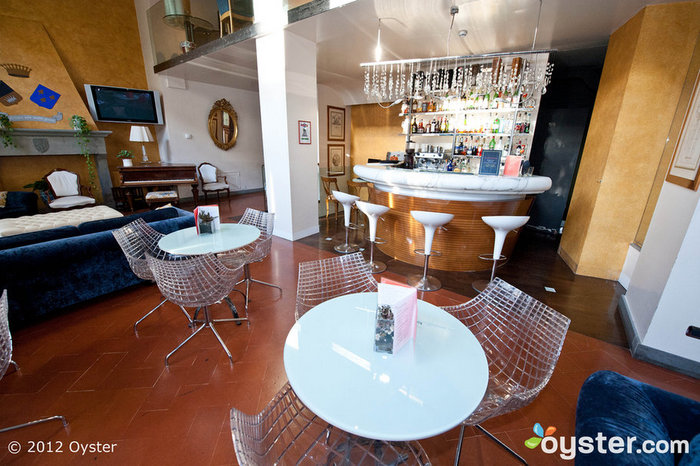 Gli Azzurri are known for having a certain, shall we say, flair for the dramatic, while on the pitch. But they also possess an ease about their play exemplified by midfielder Andrea Pirlo, whose light touch and accuracy on the ball, has consistently pushed the team forward. Both hot-headed and graceful, this squad lends itself well to the vibe at Hotel Kraft's bar and lounge. The space's timeless atmosphere with bold design accents is charming – but also subdued — not like the team's style. Have a few drinks during the pre-match chit chat, get your Italian swag on, and then head over to Piazza Ghiberti to watch Italia take on Germany with the rest of Florence.
RELATED LINKS:
All products are independently selected by our writers and editors. If you buy something through our links, Oyster may earn an affiliate commission.