We've all fantasized about a month-long trip to Europe -- but the time to fulfill this dream is not always easy to come by. Fortunately, a ton of time isn't necessarily required if you want to explore the other side of the pond. With just a few days, you can visit numerous areas of the continent and hit up top destinations, and there are a few attractions you just can't miss. We've picked one in each of Europe's most popular cities, and paired it with a nearby hotel so you can get the most out of your flash trip. These nine sights are all must-sees -- don't miss out!
Must-See #1: Tower Bridge, London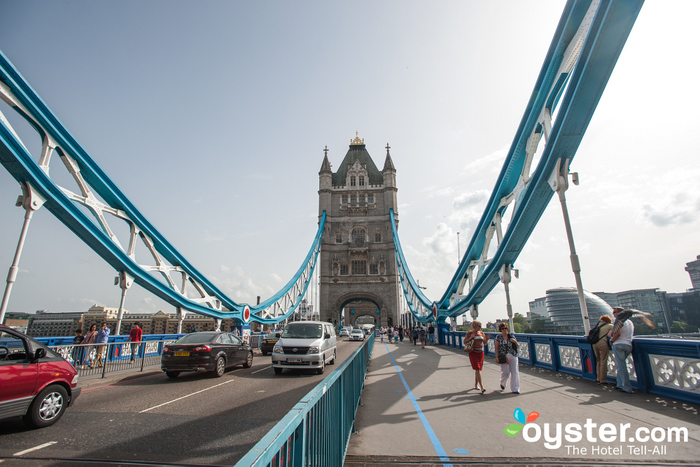 Some of you might say, "What about Big Ben (excuse us, the "Elizabeth Tower")? And the British Museum?" Well, yes, those are top spots of course, but if there is one place that makes London recognizable, it is the Tower Bridge. Built in the late 19th century and painted blue in 1977 for Queen Elizabeth II's silver jubilee, the bridge is crossed on foot, bike, car and double-decker bus by thousands of Londoners and visitors daily, making it one of the most visited places in all of London. On a rainy day, you can get great views of the bridge from the glass-enclosed City Hall, and on a sunny day, head to the Tower of London for the best vistas.
Stay: Apex City of London Hotel
The Apex City of London Hotel is a contemporary, mid-size chain property located just a 3-minute walk to the Tower of London, the Tower Bridge, and the tube. All 179 rooms have warm lighting, big flat-screen TVs, free Wi-Fi, and bathrooms with separate soaking tubs and walk-in showers. The sleek interior design continues in the lobby and in Addendum Restaurant, which serves seasonal fare and has outdoor seating. Small touches (such as a rubber ducky for the tub) make this property feel like more than a typical chain hotel.
Must-See #2: Colosseum, Rome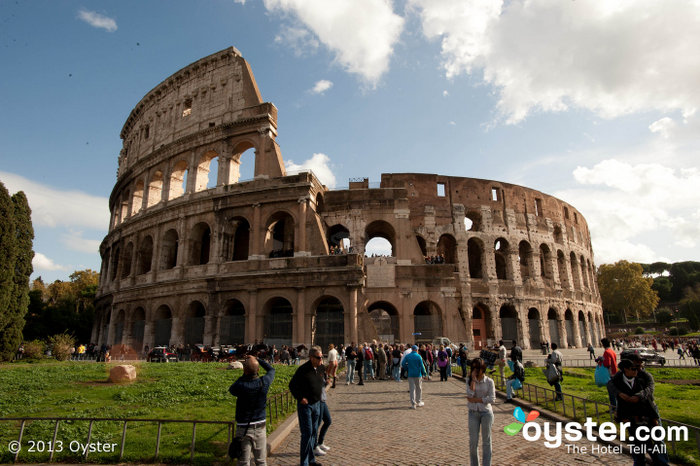 Whether visiting it at night — when the dozens of arches on its façade are lit up — or during the day — when tourists swarm the arena where gladiators once fought and famous battles were re-enacted — the Colosseum is without a doubt the most striking building in Rome. It has been severely damaged by earthquakes and looters, but it is still the city's most iconic symbol, and the most important landmark in town. One of the most fascinating aspects of the amphitheater is its network of underground tunnels (now exposed) where gladiators, animals and the condemned waited before the show.
Stay: Palazzo Manfredi
This luxury boutique hotel stands out for its incredible views — guests can take in the nearby Colosseum from the rooftop restaurant and lounge, as well as from their rooms (these view rooms cost a bit more). The 16 rooms themselves are quite spacious for European standards and have modern decor, flat-screen TVs and dim lighting (that's almost too sexy to be practical). The rooftop restaurant, Aroma, offers fine dining and spectacular views — and serves a free American-style buffet breakfast daily. All in all, it's a great option for luxury and romance.
Must-See #3: Fjords, Norway
There are few natural wonders as impressive as the fjords. There's a lot to do and see in Norway, both outdoors and indoors, but these narrow inlets lined by steep cliffs are the main reason people visit the country. The Lysefjord is one of the most popular, and is easily reached by boat from Stavanger. Carved by glacial activity during the Ice Age, its steep sides drop over 3,000 feet in some areas, making is so inhospitable that only two tiny villages can be found here. Cruise ships from Stavanger travel the 26 miles to the other end of the fjord daily.
Stay: Victoria Hotel
While the hotel can feel a bit overrun by business guests during big events, its location on the harbor and within walking distance of Old Town is appealing to leisure travelers. Lovely historic details include wood paneling and chandeliers, and room decor gets more impressive as you go up in price category — as do the amenities: Suites come with L'Occitane toiletries and tea/coffee makers, and Deluxe Rooms and above include robes and slippers. All rooms come with free bottled water, minibars, and flat-screen TVs.
Must-See #4: Royal Palace, Madrid
Built in the 18th century and home to the Spanish royals through the 1930s, the Royal Palace is one of the most impressive buildings in the Spanish capital city. Only a fraction of its over 3,400 rooms are open to the public, but some of the most interesting features of the royal compound are actually outside the building, including the gorgeous manicured gardens dotted with statues, fountains and stone benches, the neo-classic and baroque façade, and the courtyards. The palace's central location among many of Madrid's top attractions makes it a good starting point for a visit to the city — and should probably be the first destination on your list if your time in town is limited.
Stay: Petit Palace Mayor Plaza
The Petit Palace Mayor Plaza hotel is located steps from Plaza Mayor and Sol. It's a step above many other hotels in the Petit chain with its updated, contemporary rooms that feature flat-screen TVs, nicely stocked minibars, and free Wi-Fi. Big bathrooms are stylish with glass walk-in showers and modern fixtures. The hotel has trendy, industrial-inspired decor with some unfinished pillars, twisted copper pipe lamps, and modern prints throughout. Hotel highlights include family rooms with bunk beds and a colorful breakfast room where a buffet is served every morning.
Must-See #5: Brandenburg Gate, Berlin
A visit to the Brandenburg Gate is a must if you want to get a solid grasp on Europe's history. Built in the late 18th century, it was used by the Nazis as a party symbol and suffered considerable damage during World War II; it remained nearly inaccessible after the partition of Berlin in the East and West. After the reunification of Germany, however, the governments of both sides of the Wall restored it, and it is now surrounded by a pedestrian area leading to famous Unter den Linden boulevard. The gate is directly adjacent to the Reichstag building (which has a striking glass dome by Norman Foster offering 360-degree views of the city) and the Holocaust Memorial, a 4.7-acre site covered with 2,711 concrete slabs in memoriam of the victims of the Holocaust.
Stay: Hotel Adlon Kempinski
The Hotel Adlon Kempinski is an elegant, classic hotel with a rich history. Its predecessor was one of the most popular hotels in Europe through World War II, hosting guests such as Charlie Chaplin and Josephine Baker. The original building was demolished, but after the fall of the Berlin Wall, a building inspired by the original was built on the same location adjacent to the Brandenburg Gate and the Holocaust Memorial. This 382-room hotel still attracts A-list clientele — this is where Michael Jackson infamously dangled his baby son from a balcony in 2002, and President Obama has also stayed at the hotel. Luxurious rooms have heavy drapes, four-poster canopy beds, plush couches, and fresh cut roses. These inviting rooms, combined with the hotel's impressive amenities — an indoor pool, full spa, fitness center, and variety of restaurants — make this one of the best picks in Berlin.
Must-See #6: Trinity College, Dublin
Known for being Ireland's oldest university, the Trinity College still wows visitors with its grand buildings, beautiful grounds, and rich history. It's most impressive feature is the Long Room, one of Ireland's oldest libraries. Its floor-to-ceiling rows of bookshelves packed with thousands of rare volumes make it one of the most visited attractions in Ireland, along with the Guinness Storehouse, of course. The library's most famous manuscript is the Book of Kells, which is usually on display for the general public.
Stay: Trinity Capital Hotel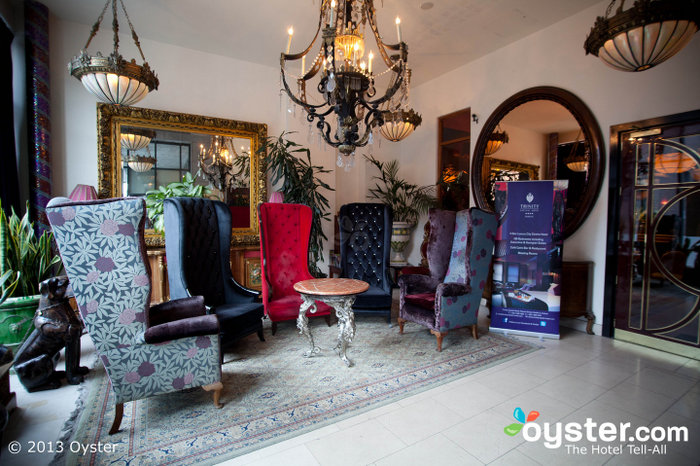 Trinity Capital Hotel is a unique choice in Dublin's city center, right next to Trinity College. This 195-room hotel is decorated in Middle Eastern style with rich fabrics, colors, and eclectic furnishings. The style is especially evident in the restaurant, Cafe Cairo, which features interesting lighting, carpets, and artwork. Bright colors make their way into the rooms as well, all of which offer big flat-screen TVs, comfortable beds, and fun design touches. Hotel features include a small fitness center, an interior courtyard off the restaurant, and a fun bar.
Must-See #7: St. Mark's Basilica, Venice
With its five domes, gilded mosaics and gorgeous facade, the Basilica is one of the most jaw-dropping examples of Byzantine architecture, and indisputably the top attraction in Venice. Its main entrance is on Piazza San Marco, which is where the city's main sights are found, including the Campanile, the Clock Tower, and Correr Museum. During "acqua alta" (or high water), the Piazza is underwater for days at a time, but authorities set up makeshift footbridges and attractions remain open. There are crowds year-round, and waits can be long, but no trip to Venice is complete without a visit to the Basilica.
Stay: Hotel Locanda Vivaldi
The 27-room Hotel Locanda Vivaldi has a prime location, overlooking the Grand Canal and a short walk from Piazza San Marco. While the hotel lacks the conveniences of larger hotels (such as a fitness center and a spa), it has been updated with free Wi-Fi throughout the property and modern marble bathrooms. Room decor is classic, with antique-style furniture, crystal chandeliers, and rich patterns. Guests receive free breakfast, either in the dining room or delivered to their doors, and the hotel features an on-site bar and a seasonal outdoor terrace restaurant with fantastic views.
Must-See #8: Canals, Amsterdam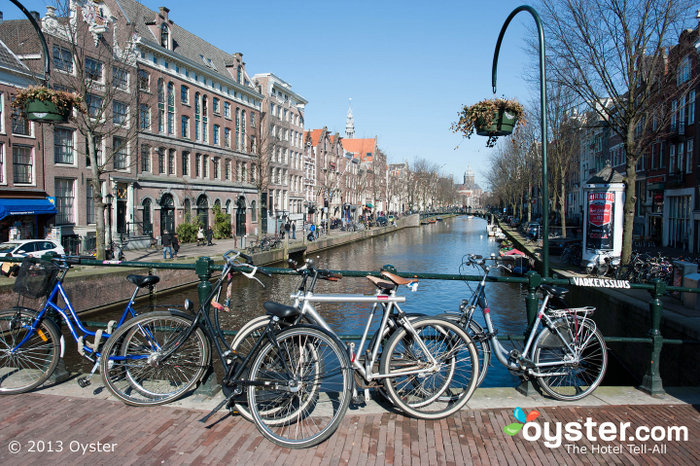 Amsterdam may be famous for its red light district and its friendly stance on marijuana, but the capital of the Netherlands has much more to offer, including a system of canals and bridges that rivals (and in fact, is larger than) the one in Venice. The best way to explore the canals — some of which were built in the 17th century and are on the UNESCO World Heritage List — is on a bike, which most hotels offer either for free or for a nominal fee. At night, dim streetlamps light the sidewalks along the waterways, creating a romantic vibe perfect for a walk with your significant other.
Stay: The Toren
This romantic boutique hotel near the Anne Frank House has historical significance: It was used as a safe house during WWII. The Toren family bought the property in 1968 and expanded it over time to include additional accommodations along the Keizersgracht canal. Today there are 38 rooms and suites ranging from standard size, to more spacious deluxe size with jetted tubs and views of the garden or canal. For special occasions, guests can book one of the deluxe suites, bridal suites, or the "Garden Cottage," all which have double jetted tubs. Though each room is unique, they are decorated with the same sophisticated Toren touch combining rich hues, chandeliers, and ceiling paintings. Some have their own private terrace — a nice perk for evening cocktails during the summer. For everyone else, there is a cozy bar on-site, and the hotel is affiliated with Christophe — an acclaimed restaurant around the corner that delivers directly to guest rooms.
Must-See #9: Sagrada Familia, Barcelona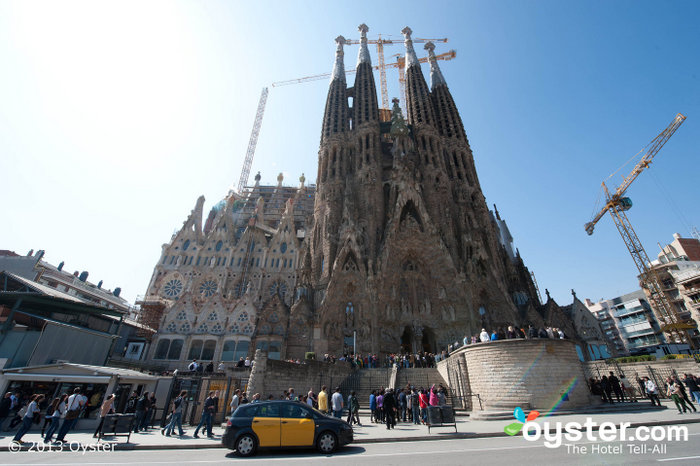 There's nothing quite like the Sagrada Familia. It's not only its Modernist style that makes it special, but also its unique design — with eight spires (and ten more to come), four different facades, and intricate interiors — makes it a one-of-a-kind building. Designed by Catalan architect Antonio Gaudi (whose outstanding work can be seen around Barcelona) and first started in 1882, the basilica is still under construction and completion is not slated to happen until at least 2026, the centennial of Gaudi's death. Today, visitors can access the nave, the crypt and two of its towers, but lines are long rain or shine, so plan ahead and buy your tickets online.
Stay: Eurostars Monumental
Located in the popular L'Eixample neighborhood, the Eurostars Monumental is part of the Eurostars chain (which has several hotels in Barcelona). This 45-room property isn't as luxe as the nearby Eurostars BCN Design, but decor is fresh and attractive, and rates here are cheaper. Rooms have dark wood headboards, coffee-colored throws, tan furniture, funky light fixtures, and wall-mounted flat-screen TVs; some have balconies with views of Sagrada Familia. Marble bathrooms are spacious with large vanities. Amenities are few, but there's a small lobby bar serving coffee and cocktails.
RELATED LINKS:
All products are independently selected by our writers and editors. If you buy something through our links, Oyster may earn an affiliate commission.