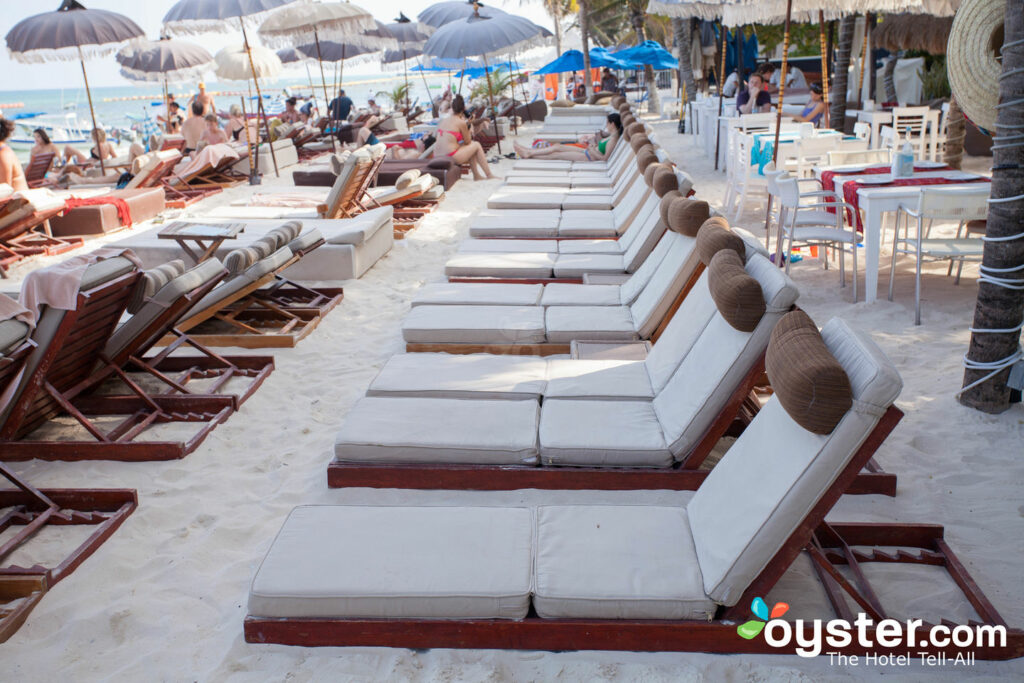 If you've never been to Playa del Carmen, you might not realize that Playa's totally unequipped public beaches are kinda, well, blah. Public beaches here lack any kind of setups; most are simply defined by uncombed sand and shore, and whomever decides to show up to lounge and swim. Luckily, Playa is packed with privately owned beach clubs where you can eat, drink, hear live music, and snag a comfy sun bed, lounger, or even some shade. In fact, beach clubs are so popular, many hotels offer discounts, deals, or even freebies at some of the city's best spots. Read on to get the low down on Playa's best beach clubs -- and where you can stay to get great deals on the party stretch of sand that's perfect for you.
Small and Cozy Chill Zone: Zenzi Beach Bar and Restaurant
Located at Calle 10 and the beach.
More of a relaxed beachside restaurant and bar than outright beach club, Zenzi's chilled-out vibe is accompanied by warm sea breezes, live music like acoustic rock, singer-songwriter, and more upbeat reggae or latin style jams in the late afternoon, and a small speckling of beach loungers, comfy beach beds, and umbrellas for those who was a bit of shade from the sun. This is a great spot for those just looking for a relaxing day at the beach without too much chaos –plus, a selection of tasty Mexican bar food and easy cocktails. Centrally located at the end of 10th street, it's a popular spot, so get there early. Bonus: Unlike some other beach clubs, Zenzi has no entry fee and those comfy sun beds and loungers are yours for the taking as long as you buy food and drink!
Stay at these spots for special discounts and deals at Zenzi:
Where You Can Party Like There's No Tomorrow (For a Price): Mamita's Beach Club
Located on Calle 28 at the beach.
Hands down Mamita's is one of the hottest spots in Playa — during the day and even into the night. This place is so popular that people tend to crowd the public beach area just beyond the beach club's perimeter to take advantage of the party vibe and loud music. Decked out with a modern design and decor featuring bleached coral stone, white walls, and silver accents, Mamita's is heavy on the club vibe and usually draws a younger, more party-seeking crowd. A massive space, this spot has parking in front; a wide, wide, wide beach filled with stretched vinyl loungers, comfy cabanas, and umbrellas; a sparkling pool; bottle service; bumping (we mean bumping) club music; a big restaurant and bar area; and lifeguard on-duty. It's also famous for regularly hosting EDM gigs and festivals that feature DJs from around the globe. Just be prepared to spend some cash here; drinks and food can be expensive and there's usually a slightly more expensive consumption fee and/usage fee for the beds and loungers — especially on weekends when cabana beds come with a two-bottle minimum.
Here are a few hotels that can help shave down the costs:
One-Stop Chic-By-The-Beach Spot: KOOL Beach Club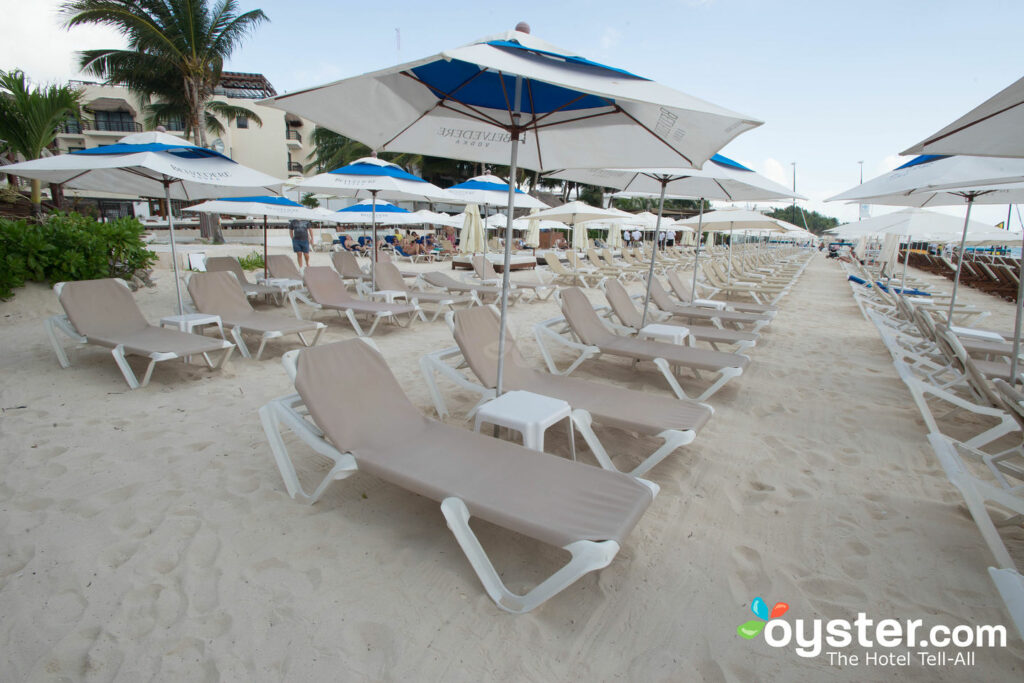 Located on Calle 28 and the beach.
Directly across the street from Mamita's Beach Club, KOOL Beach Club caters to a slightly older crowd that's looking for a well-equipped day at the beach without the crazy non-stop party (and debauchery that can come with it). For a minimum consumption fee of a few hundred pesos, guests can take full advantage of KOOL's many amenities including its large sun deck with loungers, beds, and small lap pool; wide beach space with umbrellas, beds, and loungers; beachside massages; drink service; and an al fresco restaurant with international cuisine and beach views. They've even got air-conditioned meeting and event rooms on-site. Decor here is still cool and chic, but the vibe is much more relaxed and sophisticated than at the neighboring Mamita's. It's good to note that this beach club has a special partnership with Tukan Hotel & Beach Club; hotel guests have exclusive access to front row lounge chairs and umbrellas, as well as a premium booze beach bar.
Other hotels that offer discounts and deals at KOOL:
Upscale BoHo Vibe Best For Sunbathers and Families: Indigo
Located on Calle 14 and the beach.
With an easy-going BoHo beach vibe and upscale, yet unpretentious southeast Asian decor, Indigo Beach Club is a popular spot for anyone looking for a place to plop down and absorb some sun, listen to lively Top 40 tunes, and catch up with an old friend or book. It's lack of club music and a party scene also make it a great choice for families with young kids. However, because of the amount of fishing boats often tied-in, plus the tide, it's not the best place for a swim and is better suited for sun worshippers. Depending where you want to stake claim, you'll either pay a straight fee for the day, have a minimum required consumption, or possible combination of both. At first glance, the beach area looks a bit cramped with a scattering of padded wooden lounge chairs, tasseled umbrellas, rows of large and comfy beach beds, and a few wicker lounge spaces, but once you've found your spot, it feels your own. There's also a good amount of in-the-sand table seating for those who want to grab a bite without eating out of their laps, and built-in benches in the bar area where you can escape the sand. We recommend the ceviche and one of their larger-than-life frozen fruit daiquiris to cool off in lieu of an ocean dip. Note that as it is a part of El Taj Oceanfront & Beachside Condos Hotel, guests here will receive extra perks like free beds and exclusive access to the pool area.
Not staying at the El Taj? No problem. Here are a few spots that offer discounts or freebies at Indigo:
All products are independently selected by our writers and editors. If you buy something through our links, Oyster may earn an affiliate commission.