Some hotels are more than just hotels -- they are former castles, royal residences, or Gatsby-esque mansions. Or they opened their doors many years ago to offer accommodations of unsurpassed luxury, attracting royalty and famous names. These grand dames around the world have drawn on their rich pasts in order to offer present-day magnificence.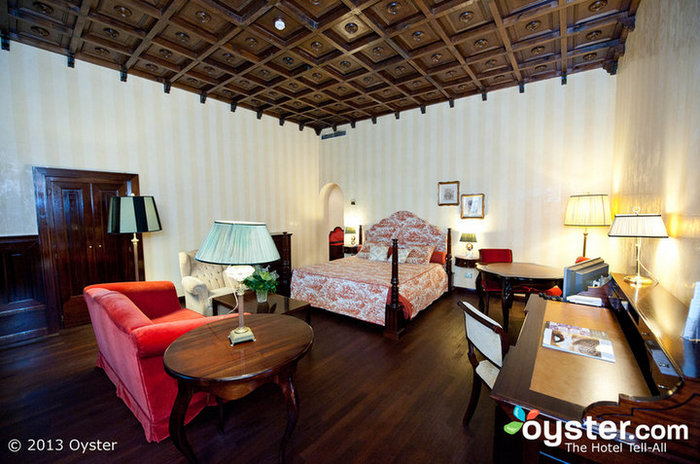 Housed in the former residences of the Bertolini princes, the Grand Hotel Baglioni lives up to the grand image painted by Florence's past. The hotel is filled with heavy-handed regal touches and ornate decor from top to bottom. The 193 rooms are very spacious (not often the case in a historic building), and feel luxurious, decked out with classic Italian furnishings, large leaded windows, gorgeous dark wood (the ceilings, floors, and furniture), and equally spacious dazzling white bathrooms. Both the rooftop garden and Terrazza Brunelleschi restaurant offer stunning views of Florence.
There's a reason The Breakers' reputation precedes it. This 140-acre resort, first built in 1896 (and reconstructed in 1926), resembles a Renaissance palace, and it's seen more than its fair share of American royalty over the years; Andrew Carnegie, J.P. Morgan, William Randolph Hearst, and various Astors, Rockefellers, and Vanderbilts have all walked the halls at this posh spot. No other hotel in Palm Beach can come close to matching the luxury found at this iconic property.
The Cadogan is an unpretentious boutique hotel with a prestigious Knightsbridge address. This 64-room hotel occupies a historic Edwardian townhouse on Sloane Street, in close proximity to local shopping. The property has a rich history, including the room where Oscar Wilde awaited his arrest in 1895 and another where King Edward VII met with his mistress, the British actress Lillie Langtry. The Cadogan creates guest profiles to take note of personal preferences, and classy rooms are full of character with antiques, dramatic curtains, and luxe bathrooms.
The North Shore of Long Island was once home to the estates of many of America's aristocratic families — the Vanderbilts, Whitneys, Roosevelts, and Morgans, among many more — earning it the nickname the "Gold Coast." Oheka Castle was the largest of these estates, and the second largest private residence in the entire country. Financier Otto Hermann Kahn hosted numerous parties at the estate during the 1920s (the Gatsby era) that were attended by royals and Hollywood celebrities. Today, this magnificent chateau-style property is a hotel with 32 rooms and one of the country's top wedding venues.
The world-renowned luxury hotel Plaza Athenee — opened in 1911 — is synonymous with Parisian elegance and good taste. Iconic red awnings and chestnut trees welcome guests to the historic setting, on the upscale Avenue Montaigne location with direct views of the Eiffel Tower. Numerous famous guests have stayed here over the years, from Grace Kelly to Jackie Kennedy to Anna Wintour. The 191 rooms are decorated in an Art Deco style, and the hotel features numerous restaurants; don't miss afternoon tea in the leafy courtyard.
Originally built in 1925 by William Vanderbilt II as a winter estate, Fisher Island is a private island, residential community with a 45-room hotel. Peacocks freely roam the lush grounds, and the original Vanderbilt Mansion now houses a clubby steakhouse where tuxedo-clad waiters see to guests' every wish.
Ashford Castle embodies the fantasy of the Irish castle hotel, featuring a massive historic stone facade, complete with towers and turrets; gorgeous, manicured grounds; a stunning setting on a huge lake; and common spaces that are truly grand, with rich wood paneling, chandeliers, and antique furniture. The castle has a rich history, with the first castle on the site dating to the 13th century; it went through many incarnations over the years, receiving the addition of a French-style chateau in 1715 and two Victorian wings in 1852 before evolving into the hotel it is today.
This New York hotel is synonymous with luxury, and has carved out a prominent place in 20th-century culture. Truman Capote threw his famous Black and White Ball here; in North by Northwest, Cary Grant was captured by spies in the hotel's famous Oak Bar; and F. Scott Fitzgerald staged part of The Great Gatsby here. When The Plaza first opened its residences, Mr. and Mrs. Alfred Gwynne Vanderbilt were the first to sign up.
The Hotel Adlon Kempinski is an elegant, classic hotel with a rich history. Its predecessor was one of the most popular hotels in Europe through World War II, hosting guests such as Charlie Chaplin and Josephine Baker. The original building was demolished, but after the fall of the Berlin Wall, a building inspired by the original was built on the same location near the Brandenburg Gate. This 382-room hotel still attracts A-list clientele — this is where Michael Jackson dangled his baby son from a balcony in 2002. Luxurious rooms have heavy drapes, four-poster canopy beds, plush couches, and fresh cut roses; marble bathrooms offer soaking tubs and heated floors.
The Raffles in Singapore is a sight many visit even if they are not staying at the hotel; the colonial-style building opened in 1887, and after extensive renovations, reopened in 1991. It has hosted everyone from Glenn Close to the Queen of England and it has a hall of fame to prove it. Numerous amenities contribute to its iconic feel, including a museum, a shopping arcade with high-end shops such as Louis Vuitton, antique-filled common areas, and beautiful gardens. The hotel also features multiple restaurants and bars, an outdoor pool, a fitness center, and a luxurious spa. All rooms are spacious suites with classic decor, including oriental rugs and mahogany furniture.
Formerly the palace of an Ottoman Sultan, the Ciragan Palace Kempinski is the grand dame of Istanbul. It wows guests at every turn, from the sprawling, manicured grounds, to the heated infinity pool right on the Bosphorus, to the refined suites. The dining options are extensive and exceptional; the spa is lovely; and the meeting space housed in the original palace building makes an ornate setting for a business function or wedding.
RELATED LINKS
All products are independently selected by our writers and editors. If you buy something through our links, Oyster may earn an affiliate commission.