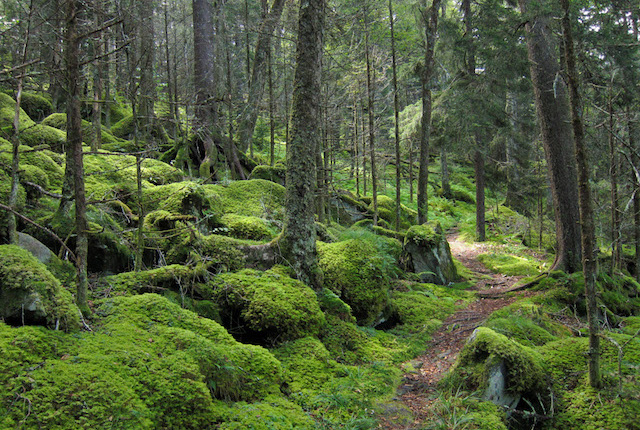 More than nine million people visit Great Smoky Mountains National Park each year, making it the most popular national park in the United States. It even beats the Grand Canyon, which comes in second and annually attracts about five million travelers. So where did it all start? The park's history can be traced back to the summer of 1923, when a woman by the name of Ann Davis returned from a trip visiting several Western national parks and wondered -- 'why can't we have parks like this in the East?' While many liked Davis' idea, others, including residents, logging companies, and vacation property owners, opposed it. In the end, a five million dollar check arrived from The Rockefeller Foundation and put the project on top. Today, the 522,427-acre year-round park boasts plenty of hiking trails, fishing streams, and historic buildings. But that's only the beginning of why it has become a favorite for so many. Here, we rounded up seven reasons why millions of visitors pass through the grounds each year.
It's near some major cities and small towns.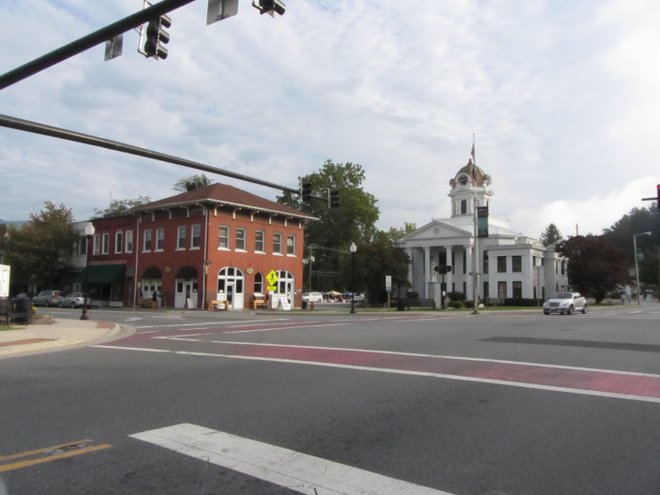 One of the challenges in creating Great Smoky Mountains National Park was that the land sat relatively close to a lot of big cities. Asheville, the largest city in western North Carolina, is only 50 minutes away by car. And on the other side of the park, about a 47-minute drive away, lies Knoxville. To put things in perspective, the distance from San Francisco to Yosemite National Park is about three-and-a-half hours. But today, there's an upside to this proximity. For starters, the nearby cities and towns offer something for vacationers who want to see something more than just nature. Cherokee, North Carolina is a mere seven minutes away by car and has a museum and outdoor performances. Other towns like Bryson City are accessible by the Great Smoky Mountains Railroad and offer exciting pastimes like paddle boarding down the river.
There are more than 800 miles of hiking trails.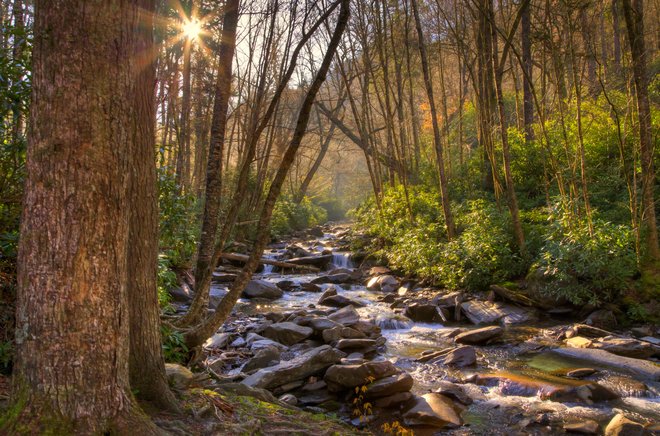 The park boasts 150 official trails with a diverse array of animals, flowers, waterfalls, and geological wonders. Newbies can start slow with a trek that's less than five miles, such as Andrews Bald (a little over one-and-a-half miles) or Porters Creek (roughly four miles). Balds (or grassy high-elevation meadows) like Andrews Bald feature beautiful views of the landscape. Come spring, wildflowers crop up throughout the Porters Creek trail.
There are tougher trails for seasoned pros as well. The Charlies Bunion trek, for example, is about eight miles and begins with a strenuous two-mile incline. For those traveling with families, kid-friendly options are also available. Opt for the Kephart Prong Trail, which includes an old abandoned fish hatchery in the forest. The streams here also have herds of scampering salamanders that make for a fun sight.
Folks can see the park in several different ways.
https://www.instagram.com/p/BIY0rsbjjXP
Those who haven't been to Great Smoky Mountains National Park probably expect days to be filled with hiking, biking, and tubing. While you can indulge in all of those activities, it's also possible to enjoy the park by train, car, and even horse carriage. Take a trip back in time on a 1925 locomotive that departs from Bryson City and edges along the side of the park, giving passengers a gorgeous view of the lush mountains. Themed trips, which include wine and beer tastings as well as special Halloween and Christmas excursions, are also an option.
The park also boasts 384 miles of (mostly paved) roads for scenic car rides. The Cades Cove loop road takes folks through a tree-filled valley where potential white-tailed deer, black bear, and coyote sightings may occur. The Newfound Gap Road has the lowest drivable pass in the park and weaves back and forth over the border between North Carolina and Tennessee. Keep in mind that some of these auto-touring routes close during inclement weather. Lastly, if you're looking to up the romance factor, the Cades Cove Riding Stables offer horse-drawn carriage rides through the forest trails as well as hayrides.
It has more than 200 types of tree and shrub species.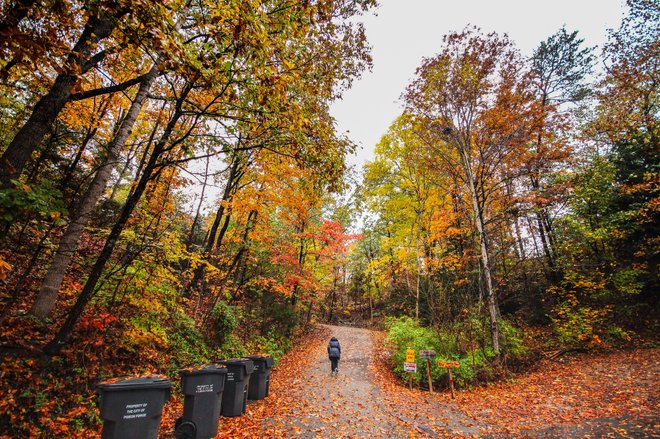 The park features five types of forests that are packed with different plant communities depending on their elevation and geographic location. The cove hardwood forests are the most diverse with 40 to 60 different shrub species, including the Carolina silverbell, dogwood, and magnolia. Spruce-fir forests are situated in the park's highest point (above 4,500 feet) and house red spruce, Frasier fir, and yellow birch trees. High elevation meadows (or balds) that are filled with rhododendron, huckleberry, and sand myrtle are also scattered throughout the park. Springtime brings large batches of wildflowers, while the fall turns the landscape into a stunning backdrop for leaf peeping.
It's home to bears and birds and salamanders, oh my!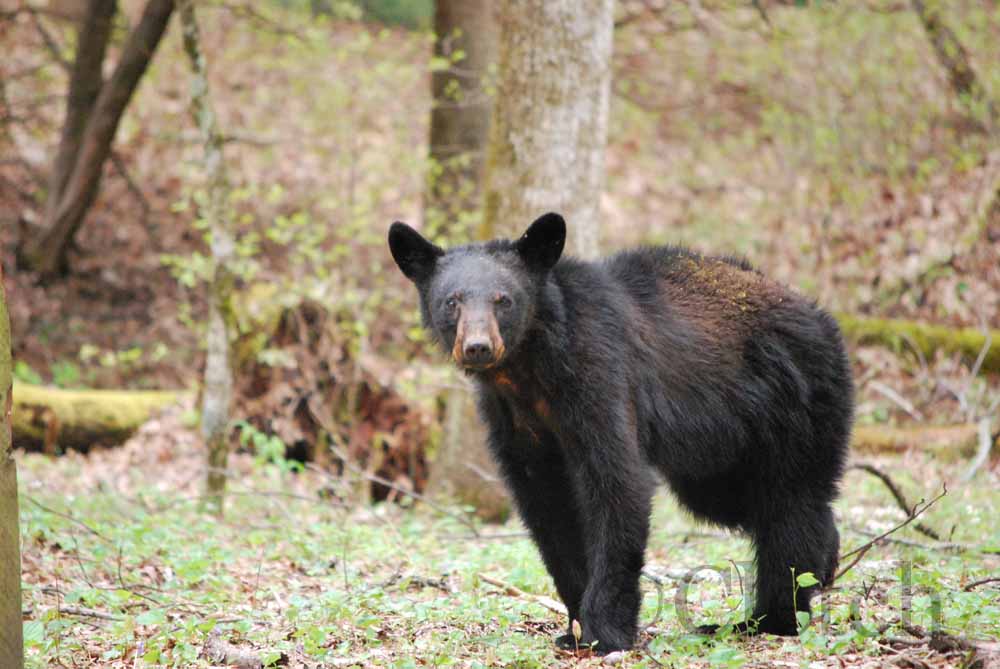 Mammals, birds, fish, and reptiles all call the Smoky Mountains home, at least for part of the year. The park also provides the largest protected American black bear habitat in the East — one reason why the furry creature has become a Smoky Mountains symbol. Open spaces such as Cades Cove and Cataloochee offer great opportunities to see bears, deer, and elk, particularly in the early morning and evening. Worried about coming face-to-face with a bear? Folks can also occasionally spot them from some of the park's auto-touring roads. But that's not all. More than 200 types of birds, including the Northern saw-whet owl and Canada warbler, are regularly seen in the park. And for those who love salamanders, the park houses over 30 species, which earned it the nickname "salamander capital of the world."
It features approximately 2,900 miles of fishable streams.
Great Smoky Mountains National Park has one of the last wild trout habitats in the eastern U.S. Folks with a valid license from North Carolina or Tennessee are permitted to perch on a rock or wade into the cool water to fish. Cool water smallmouth bass, brook trout, and rainbow trout can also all be found here and most streams remain at or close to carrying capacity.
Visitors can check out more than 90 historic buildings.
The park was occupied long before it became a nationally recognized site. That being said, hikers can still expect stumble upon buildings that date back hundreds of years. While some have been restored, others sit and wait for campers to come along and turn it into the setting of a ghost story. One such building is the Little Greenbrier School. Rumor has it that during the years it was open (1882 to 1936), some students walked as far as nine miles a day to class.
Then there's Tipton Barn, which stands as a marker for a long family history that begins with Revolutionary War hero William "Fighting Billy" Tipton, who acquired numerous acres in the Smoky Mountains through the Tennessee land grant in the 1820s. Colonel Hamp Tipton, Billy's grandson, built a two-story cabin that stands in Cades Cove. The same section of the park is also home to several abandoned churches and lodges. Visitors who wish to learn more about the trials of mountain life can hit up the Great Smoky Mountains Heritage Center near the entrance of the park in Townsend, Tennessee. Here, they'll get to check out artifacts from former settlers.
Related Stories:
All products are independently selected by our writers and editors. If you buy something through our links, Oyster may earn an affiliate commission.