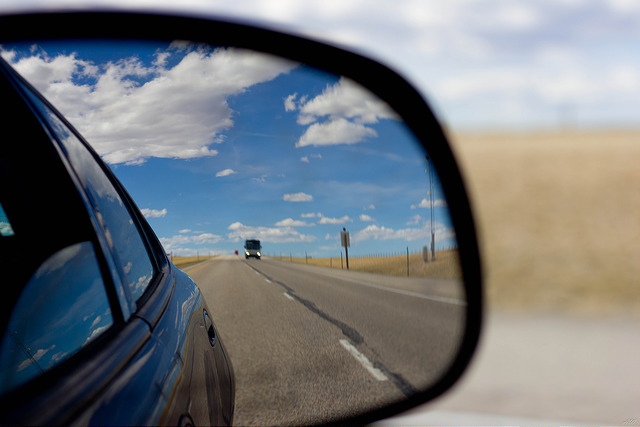 Booking an all-inclusive stay in Mexico or the Dominican Republic may seem like the best option for budget-minded travelers, but road trips across America can be far cheaper. In my case, I traveled from Seattle to Denver over 11 days in June/July 2015 and spent only $115 on accommodations the entire time.
Combining digs from Couchsurfing.com, campsites, and reaching out to friends, I was able to make the road trip into an incredibly inexpensive -- yet phenomenal -- vacation. Add in the fact that I saw stunning sights throughout Washington, Montana, Wyoming, and Colorado, it's no surprise that it was also one of my favorite (and longest -- both in regards to time and distance) vacations. Here's how I did it without without breaking the bank.
Last June, my boyfriend had been traveling up the West Coast and I planned to fly out to Seattle and meet him there to begin our road trip back to New York. Since I would be purchasing two flights (I didn't have enough vacation days for the entire cross-country trip), I wanted to save as much money on sleeping arrangements as possible. Enter: Couchsurfing.com. After having used the site for a winter road trip six months before, I trusted and loved the platform.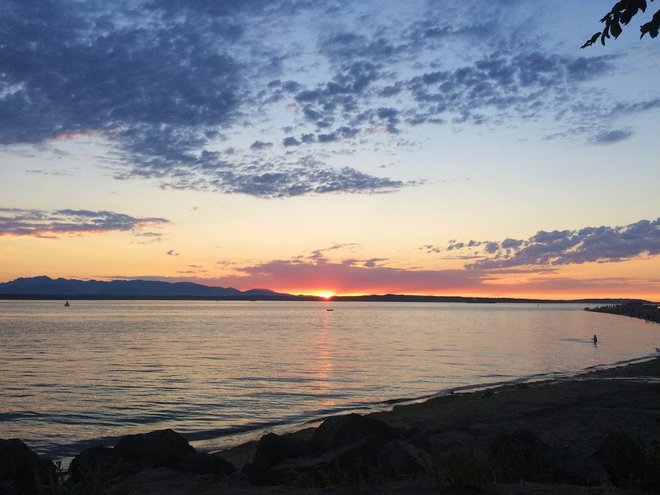 Couchsurfing.com is similar to Airbnb in that there are reviews and photos for hosts, and you can add filters to your search; the only difference is that, on Couchsurfing, hosts aren't looking for money. Instead, it's a community of travelers aimed to meet people, give them insight into a destination, and make it financially easier to take a trip. I found a lovely couple with an extra bedroom that offered to host us for the two nights we were in Seattle. We didn't interact much, as we were out exploring Seattle most of the time, but they gave us tips on where to go and all-around made us feel very comfortable (and safe!) in their home.
After a short but sweet (and shockingly sunny) time in Seattle, it was time to head to Montana for three nights of camping. But before we left Washington, we stopped at a grocery store to buy bulk oatmeal and trail mix, peanut butter, bread, cheese, bananas, and other food items ideal for camping and car rides. This $105 shopping trip sustained us for 7 days (aside from one dinner when we were exhausted and dined out) — that's a meager $7.50/day for each person.
Our first campsite in Montana was in Bigfork, just a few minutes from Flathead Lake — a pretty lake with excellent visibility on clear days. We reserved a $15 campsite for our tent in advance, and hauled through Washington and Idaho to get there before dark. We had planned to spend a few hours at Flathead but it was overcast and not as exciting as we had hoped, so we drove on to Glacier National Park.
After paying the $25 entrance fee, we spent that first day making numerous scenic stops along the narrow Going-To-The-Sun Road and ended with a hike to Hidden Lake Overlook (pictured above). Despite that it was almost July and the sun was shining, we crossed a lot of snow — so if you go, bring layers! Fortunately, this meant nights were nice and cool, allowing us to zip ourselves inside sleeping bags for a cozy, comfortable (well, relatively comfortable) set-up.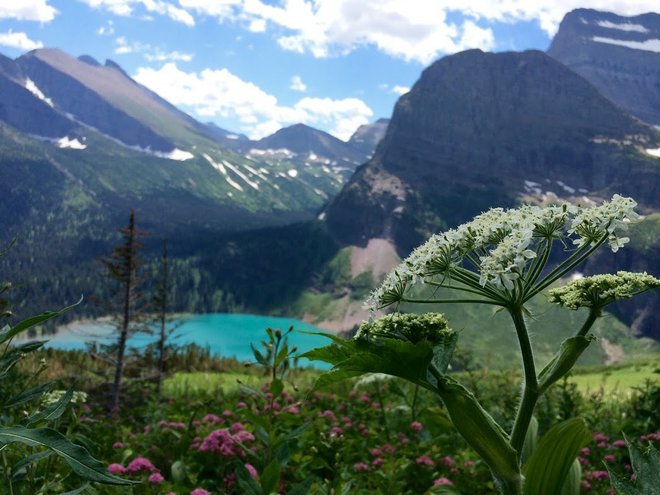 Though some of the park's campgrounds can be reserved in advance, the two I had my eye on were on a first-come, first-served basis. After finding one of them was already full, that first night we stayed at Many Glacier Campground — known as a favorite among bears — for $23. The next day, with bear spray in tow, we spent our day making the Grinnell Glacier hike — a strenuous, but breathtaking (literally and visually) journey. That night we slept like babies at the Rising Sun Campground for $20. Excluding the entrance fee, the total spent for accommodations in Montana was $58.
Wyoming: Three Nights, $56.45
The following day we were headed to a much more popular national park…Yellowstone. We drove six-and-a-half hours to arrive at the park entrance by Gardiner, Montana. Though a bit tired from the long drive, we managed some sightseeing that day, including stopping by the Mammoth Hot Springs and taking a dip in the Boiling River hot spring. After a gorgeous drive though herds of buffalo as the sun set, we arrived at our first reserved campsite — Bridge Bay Campground ($25.66) next to Yellowstone Lake. Prices are quite steep for hotels around the park, so camping is a much more economical option.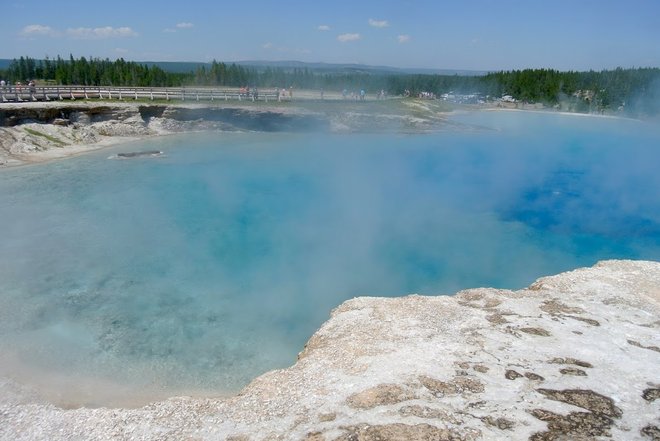 We then woke up early (it's a bit hard to sleep in when the sun is shining through your tent) and filled our day with hiking, visiting geysers such as Old Faithful, and checking out a variety of downright jaw-dropping geological features. That night we stayed at Grant Village Campground ($30.79), also on Yellowstone Lake; one of the best parts about this location was waking up at sunrise to catch the beautiful colors stretching across the water.
Our final day included a hike around the Grand Canyon of Yellowstone — filled with pink and yellow rocks and gushing waterfalls — before we headed out to Jackson, Wyoming where we would be staying in a friend's house. If you haven't been to Yellowstone, it's worth a trip, but beware that there are TONS of tourists and it can sometimes feel like you're in a theme park; given this, I wasn't surprised to hear the recent awful stories coming out of the park.
Tip: To avoid crowds, go hiking! The masses typically steer clear of the longer, more arduous excursions.
All the campsites we chose during the National Park part of our trip had restrooms, picnic tables, and fire pits, and many had showers — that we may or may not have used… Sure, our tent lacked the luxury of a mattress or even the ability to stand up when changing clothes, but the value of it was unbeatable. Though I won't lie, after five nights of sleeping on the ground, lodging at a house in Jackson was met with (very wide) open arms.
Colorado: Two Nights, $0
After debating spending another day simply resting in Jackson, we decided to push on to Boulder — a roughly eight-hour drive. My boyfriend had a friend in Boulder who graciously offered us her apartment while she slept at her mother's place nearby. We were able to spend our days at nearby parks, the hotel that inspired "The Shining," and the famous Red Rocks Amphitheater, as well as the Carousel of Happiness (yes, that's a real and awesome thing). Moral of the story for this one — reach out to friends or even acquaintances; you may be surprised by how generous and kind people are. Plus, not only are you lowering your vacation cost, you're given the chance to connect with others and get insider tips on the locale.
While we obviously spent money on park entrance fees, food, and gas, the grand total for 10 nights of accommodations was only $114.45 — less than what many places charge for one night. Of course, camping is best for summer trips — unless you love sleeping outside surrounded by snow — but staying on someone's couch or in an extra room can be done year-round. So if you're trying to save a few bucks on your next vacation, consider these options for at least one or two nights of your trip. You may just get more than you bargained for.
Related Links:
All products are independently selected by our writers and editors. If you buy something through our links, Oyster may earn an affiliate commission.