Bryce Maddock is the Founder and CEO of TaskUs, a leading provider of outsourced customer support and Big Data services, and as such he spends a lot of time on the road and in the air.
Over the past three years, Maddock has grown TaskUs from a team of two founders working out of their garage to an international service provider with over 450 full time employees working at offices in Santa Monica and Manila, Philippines.
We caught up with the traveling business owner (and he's hard to pin down!) to pick his brain on all things travel. Check out the q&a — and some photos Bryce has taken during his travels — after the jump!
Name: Bryce Maddock
Occupation: CEO at TaskUs
Started traveling when I was: 10 weeks old. My mom took me from LAX to LHR to meet my grandparents who live in London. I've heard that I cried the entire way. If someone from that flight is reading this, I'm truly sorry.
Travel soundtrack:Usher, 8701. Usher Raymond nailed that one. Still a classic.
Ideal vacation in three words: "We did that?"
Must-do in every place you visit: The first thing I like to do is plug in my iPod and go on a long run through the city, with the goal of getting lost. Best way to really learn a place? Get lost!
First memorable hotel: The Plaza, New York City (my Macaulay Culkin phase)
Favorite hotel: Bahia Pricipe, Cayo Levantado A small hotel on a small island. I kayaked around the entire thing, surrounded by whales!
Ideal travel partner: Jaspar Weir, my business partner. We became friends traveling Europe together when we were 17, and have been building businesses and traveling the world together non-stop in the 10 years since.
Movie that makes me want to travel: Endless Summer
Every mini-bar should have: Chocolate-chip cookies — any brand will do.
Airport food is: Incredible at SFO's American and Virgin Terminal. Terrible at most other stops.
Dream hotel has: Impeccable fitness facilities and an amazing all-you-can-eat buffet.
I never travel without: Tumi Alpha Bravo — the world's best backpack. Classy enough for meetings and enough room for three days of travel (if you tie your running shoes to the outside).
The inside of my suitcase is: Meditation bench and a yoga mat. Namaste.
Oyster.com is: My only trusted source for real hotel reviews.
How many flights did you take last year? 76
How many days of the year are you traveling? I'm on the road 3 months of the year.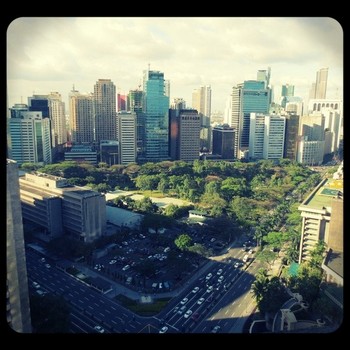 Top 3 Hotels for Business:
1) Trader's Hotel, Manila — I'd argue that this hotel has the best service in the world.
2) Excel Shibuya, Tokyo — If you are going to do business in Japan, this is the place to stay. Amazing view of the crosswalk from Lost in Translation, and an easy run to Yoyogi Park.
3) Shangri-La, Hong Kong — Horizon Club is a great place to work, and Shangri-La hotels have the nicest gyms of any hotels I have ever stayed in.
Top 3 Hotels for Pleasure:
1) Bahia Pricipe, Cayo Levantado — Of course!
2) Sandalwood Villas, Koh Samui — 10 villa's built into the cliffs overlooking the Gulf of Thailand.
3) Shangri-La, Boracay — This island has everything. You can party on the main beach, relax in the hotel's cove, and find world-class kite surfing on the other side of the island.
Best in-flight movie you watched recently? End of Watch
Preferred domestic airline? American Airlines — I know everyone hates on domestic carriers, but you have to choose one and rack up elite status to begin enjoying them.
Preferred international airline? Cathay Pacific
Which airport has the best lounge? I've heard amazing things about Virgin's London lounge, but I've never been. I'd have to go with The Pier, Cathay Pacific First Class Lounge in Hong Kong. Fine dining, free Krug and "Cabanas."
All products are independently selected by our writers and editors. If you buy something through our links, Oyster may earn an affiliate commission.