Whether you're a total pro or a complete amateur, there's nothing quite like the rush of surfing. And for us here at Oyster, there's nothing quite like the rush of finding the perfect hotel either. So we've combined these two awesome feelings to come up with nine amazing surf destinations...and some pretty great hotels to go with 'em.
World famous Waikiki Beach is the perfect place to catch a wave. You won't be alone, however, as this sandy stretch receives more than four millions visitors every year. Waikiki abounds with surf shops and instructors, making it easy for pros to brush up on their skills and first timers to learn the tricks of the trade.
Where to Stay: Moana Surfrider, A Westin Resort & Spa
When it opened its doors in 1901, the Moana Surfrider was Waikiki's first hotel. Now that it shares the spotlight with a multitude of others, guests will appreciate Moana's old-world ambiance. Though the hotel is often packed with people, it sits on one of the nicest stretches of Waikiki Beach, perfect for surfers and non-surfers alike.
Morning, noon, or night, visitors and locals alike can be found strutting up and down the length of Australia's famed Bondi Beach. Surfers should check out the south side of the beach for better waves, while the northern end has calmer waters for swimmers.
Where to Stay: Blue Sydney – A Taj Hotel
While not directly on the beach itself, Blue Sydney's hip location in Woolloomooloo Wharf (yes, that's its actual name) is only a 15-minute drive from Bondi. This unique hotel is housed in an old wharf, and still maintains an industrial vibe. Woolloomooloo Wharf is known not only for its incredible views of Sydney, but also for its fantastic restaurants and bars.
Just ten minutes away from downtown Santa Barbara is one of California's most famed surf spots: Rincon Beach. Meaning "angle" or "corner" in Spanish, Rincon is known for its long, rideable waves. Non-surfers be warned, however, as waves tend to eat up most of Rincon's sandy shore during high tide.
Where to Stay: Hyatt Santa Barbara
While not on Rincon Beach, the Hyatt Santa Barbara is situated directly across from the swimmer friendly, East Beach. The Hyatt occupies a beautiful, 1930's Spanish style building, and has a nice pool that overlooks the ocean. Room decor is white and basic, but common areas like the lobby and restaurant are incredibly charming.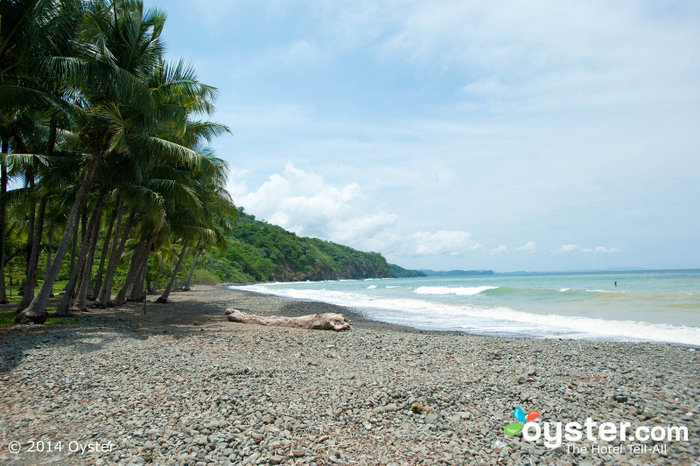 The beaches of Costa Rica's Guanacaste region have (arguably) some of Central and South America's best surf. For beginners and those just looking to have fun, Playa Tamarindo, Playa Avellanas, and Playa Grande are great options. These beaches tend to have mid-size waves and tons of surf camps and instructors. However, more experienced surfers will want to head north to Ollie's Point and Witches Rock, about an hour-long boat ride away from Playa Tamarindo.
Where to Stay: Tamarindo Diria Beach & Golf Resort
You can't get much closer to the surf than Tamarindo Diria Beach & Golf Resort. This awesome, mid-range hotel is not only on the beach, but within walking distance to the area's shops and restaurants. Rooms are clean and comfortable, and the free breakfast buffet is a definite perk for hungry surfers before they head out to the waves.
Costa Rica's northern neighbor is not as well known for its surf; but that might be just the thing you're looking for if you crave pristine surfing conditions without the crowds. Rivas, Nicaragua, not all too far from the Costa Rican border, is an up-and-coming surf destination, so get in on it before the secret's out!
Where to Stay: Mukul Luxury Resort and Spa
Without a doubt, Mukul Luxury Resort and Spa is THE place to stay in Rivas, and maybe all of Nicaragua. Nestled into the surrounding hillside, rooms are private and luxurious, with a blend of natural woods and modern finishes. Each villa has a private plunge pool and a two-person shower, both with ocean views. One look at Mukul, and you'll forget you even came to Nicaragua for the surf (but, like, you still should).
Puerto Rican surf attracts travelers from near and far, especially during December, when waves are at their peak. Though many parts of the island are great for surfing, we recommend the secluded, northwest tip. The regions of Rincon (yes, another Rincon) and Aguadilla are very popular withs locals and tourists alike…check out aptly named Surfer's Beach in Aguadilla.
Where to Stay: Villa Montana Beach Resort
Well-kept, quiet, and incredibly secluded, Villa Montana Beach Resort feels more like an upscale backyard than a hotel (bare with us on this). That's because Villa Montana's 30-acre property is no mega-resort, but instead just a simple — albeit incredibly beautiful — beachfront property. With its laid-back vibe and peaceful atmosphere, you'd never know its only minutes away from all the action of Puerto Rico's best surf.
Ireland isn't usually at the top of the list when it comes to surf destinations, but maybe it should be. Don't get us wrong, surfing in Ireland is definitely not for the faint of heart; the temperatures are cold, the waves are rough, and the visibility is usually dismal. But for those willing to take the plunge, Ireland can offer quite the thrill. Donegal in the north is a noteworthy spot, as are Galway and Clare counties on the west coast.
Where to Stay: The House Hotel
This quirky hotel is about as quirky as an Ireland surf vacation itself, but that's why we like it! The House Hotel's decor is funky; there's really no other way to put it. But the bright (and we mean bright) colors, attentive service, and friendly atmosphere are the details that make this place great. Not to mention, it has an awesome restaurant and bar, both of which are popular with locals and hotel guests.
The Algrave is Portugal's southernmost region, and the Faro district is becoming a popular vacation destination. Occupying both the eastern and western corners of the country (corners and surfing — it's a thing), means the Algrave is a surfer's paradise. And, with warm temperatures year-round, any time is the perfect time to check out Faro's waves…although we recommend August; hello 73-degree ocean temps!
Where to Stay: Vale D'El Rei- Suite & Village Resort
Though it is not located on the beach itself, Vale D'El Rei is in Lagoa, closer to west coast (aka better) surf, and farther away from the tourist town of Albufeira. Accommodations range from double occupancy twin rooms to grand villas with high-end kitchens and multiple bedrooms. The pool is small, but who needs one when you'll be surfing all day long anyway?
East coast surf doesn't get as much attention as it deserves. Awesome surf spots can be found all along the eastern seaboard, but we like Cape Cod for its ever changing currents and charming beach towns. Stay in Chatham for easy access to all 40 miles of Cape Cod's coastline. But be prepared for frigid ocean temperatures, even in the summer months!
Where to Stay: Chatham Bars Inn
A classic for a reason, this hotel has been a local hotspot since 1914. The rustic Cape-Cod style architecture is complemented by beautifully updated rooms and suites. The Chatham Bars Inn is situated on a lovely private beach, but runs shuttles to outer beaches where you'll be able to find some more waves.
Check out Oyster's page on Google+
To learn more about Alex Creange, visit her on Google+
RELATED LINKS:
All products are independently selected by our writers and editors. If you buy something through our links, Oyster may earn an affiliate commission.