Summer is here and plenty of people are headed off on beach vacations or tours of distant lands. If you plan to stay closer to home -- but still want to soak up some sunshine (and get some exercise in the process) -- check out these seven great states for hiking, along with suggested day hikes for each.
1. Alaska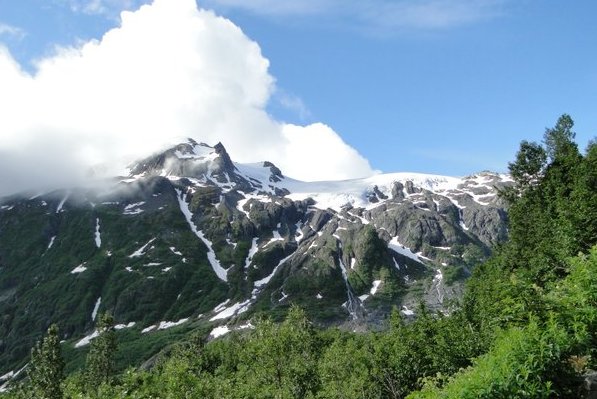 Immense and largely uninhabited, Alaska offers some of the most stunning and untouched landscapes on the planet, and summertime is by far the best season for exploring the northernmost state. Much of Alaska is protected under the 1980 Alaska National Interest Lands Conservation Act, and there are now eight national parks in the state, from favorites such as Denali and Glacier Bay, to lesser-known but no-less-enchanting Katmai and Kobuk Valley.
Suggested Hike: Harding Icefield Trail in Kenai Fjords National Park
The Vibe: It's a relatively popular 8.2-mile, moderate-to-strenuous, in-and-out with an elevation gain of around 3,000 feet. Much of the hike is uphill, and the vegetation changes rapidly as you make your ascent. Once you reach the top, you'll be rewarded with gorgeous views of the Harding Icefield.
Know Before You Go: Weather can change drastically on the trail, so bring layers and plenty of water and snacks, and be prepared to turn back in the event of bad weather. The area also has a lot of black bears, so be prepared to keep your distance and remember to never get between a mother bear and her cubs.
Pro Tip: Ranger-guided hikes depart from the Exit Glacier Nature Center at 9 a.m. every Saturday in July and August.
If you like hiking (or really just being outdoors in general), you can't go wrong with California. The state has nine National Parks in total, from internationally renowned Yosemite to boulder-strewn Joshua Tree, not to mention tons of state parks and forests, and hundreds of miles along the beautiful coast.
Suggested Hike: Lady Bird Johnson Grove Trail in Redwood National Park
The Vibe: It's an easy-peasy, one-mile loop trail with limited elevation gain that's great for people of all ages and fitness abilities.
Know Before You Go: It's higher up from sea level than many of the region's other popular treks; the elevation gives the forest a mistier feel and make the trees look less red (but no less magnificently monstrous). If you come early in the summer, keep an eye out for rhododendrons.
Pro Tip: Those who want something a bit longer and more strenuous can tack the Berry Glen Trail onto their route, a new moderate-to-strenuous, in-and-out that's three and a half miles each way.
Redwoods Hotel Pick:
While most people associate Hawaii with beaches and luaus, the Pacific state is also an incredible place for hiking and other outdoorsy pursuits. While each of the islands has its own unique ways to get out into the great outdoors, the Garden Island of Kauai is perhaps the most spectacular. Not only is it home to the enormous Waimea Canyon (often called the "Grand Canyon of the Pacific"), but it also has a fabulous stretch of coastline, the Na Pali Coast, that's only accessible by boat or foot.
Suggested Hike: Kalalau Trail in Na Pali Coast State Park
The Vibe: It's an 11-mile in-and-out coastal trail that's popular with backpackers. Most people taking on the entire trail choose to camp overnight at the end and return a day or two later. However, the majority of trail visitors just hike the first two miles to Hanakapiai Beach, a beautiful cove with lots of sea-polished stones and a large population of friendly feral cats.
Know Before You Go: You need a permit if you plan to travel beyond Hanakapiai Beach, even if you aren't going to camp overnight. Camping is only allowed at Hanakoa or Kalalau.
Pro Tip: If you want to see a bit more of the trail but don't want to do an overnight trip, you can take a side hike to Hanakapiai Falls, two miles off the main trail from Hanakapiai Beach.
Kauai Hotel Pick:
With 36 state parks, eight wildlife refuges, and a national park, Maine is one of the Northeast's most beautiful places to get back to nature. The great Appalachian Trail ends here (or begins, depending on which way you're hiking) and the state has dozens of protected parks, including Acadia National Park and the trail-rich Baxter State Park. It's also home to Gulf Hagas, the East Coast alternative to the Grand Canyon and an excellent spot for outdoor adventures.
Suggested Hike: Gulf Hagas Rim Trail in Ki-Jo Mary Multiple Use Forest
The Vibe: It's an eight-mile loop trail that's part of the Appalachian Trail Corridor. Gulf Hagas Rim Trail is steep, challenging and — in places — narrow. The reward is a number of gorgeous and varying types of waterfall and spectacular views. Due to slippery rocks and steep inclines, it's not the best option for families or inexperienced hikers.
Know Before You Go: The terrain on this trail is more difficult than average, so sturdy hiking boots or trail shoes are necessary.
Pro Tip: Most visitors recommend bringing a map, available from checkpoints for $2.
Maine Hotel Pick:
With gorgeous rocky beaches, sand dunes, high desert, and plenty of old growth forest, Oregon is among the country's most beautiful and rewarding states for lovers of the great outdoors. Although it's only got one national park, Crater Lake, Oregon is full of state parks and national forests, and there are plenty of world-class hikes within a close drive of Portland.
Suggested Hike: Trail of Ten Falls Loop Hike in Silver Falls State Park
The Vibe: It's an 8.7-mile moderate loop trail that, as the name suggests, passes by 10 waterfalls. It's located in Silver Falls State Park, which is south of Portland — and a bit further from town than the ultra-popular Columbia River Gorge — but this family-friendly hike can still get crowded on weekends.
Know Before You Go: If you don't want to do the whole loop, you can do an easy mile-and-a-half, in-and-out hike to Upper North Falls (arguably the best fall on the trail) from the North Falls Trailhead.
Pro Tip: Sandwiches, snacks, espresso drinks, local wine, and craft beer are available at South Falls Lodge Cafe at the trailhead, but the hours are seasonal and limited, so check ahead if you are planning a post-hike lunch.
Portland Hotel Pick:
While most people associate Tennessee more with music than with outdoor adventuring, this landlocked Southern state has lots of protected land, including 32 state parks, 13 state forests and, of course, part of the Great Smoky Mountains National Park, which it shares with neighboring North Carolina.
Suggested Hike: Charlies Bunion in Great Smoky Mountains National Park
The Vibe: It's an eight-mile, moderate-to-strenuous, in-and-out hike along the Appalachian Trail with an elevation change of about 1,600 feet. The hike goes all the way to Charlies Bunion, a stone outcrop celebrated for its near-panoramic views of the park. While the year-round trail is relatively steep going up, it's not unmanageable for families.
Know Before You Go: The stretch of the Appalachian Trail that goes to Charlies Bunion starts at Newfoundland Gap. If you find yourself going towards Clingmans Dome then you're going the wrong way! Alos note that pets are not allowed.
Pro Tip: If you want to extend your hike, you can tack on a mile to your trip and head up to the Jump Off, which has better views and fewer visitors.
Great Smokies Hotel Pick:
If you prefer gorgeous rock formations and don't mind high summer temperatures, you won't go wrong with Utah. This beautiful and sparsely populated state is home to some of the country's iconic and photogenic national parks, including Arches, Bryce Canyon, and Zion National Park, along with plenty of beautiful heritage parks with geographic features ranging from rock formations to sand dunes.
Suggested Hike: Angels Landing in Zion National Park
The Vibe: Zion National Park has plenty of amazing trails to pick from, but if you're going to do one (and are in good shape), Angel's Landing via the West Rim Trail is among the most rewarding option of them all. It's a 5.4-mile strenuous hike with an elevation gain of around 1,500 feet — with limited shade from the sun during much of the upper part of the hike. Summer visitors should take the shuttle (which runs April through October) to the Grotto picnic area and hike up. There are bathrooms at Angels Landing, two miles up the West Rim Trail from the base, right before the steep last stretch up to the precipice.
Know Before You Go: If you're afraid of heights, this hike may be an opportunity for you to face your fears — or it may cause a serious case of vertigo. Do know that there are bolted chains to hold onto along the upper section of the hike, but you'll definitely want decent footwear and your wits about you; there have been deaths from falling in the past, as signs along the trail warn.
Pro Tip: Travelers with kids and those afraid of heights can still enjoy the hike by heading up to Angels Landing and skipping the last part of the trail.
Zion National Park Hotel Pick:
Related Links:
All products are independently selected by our writers and editors. If you buy something through our links, Oyster may earn an affiliate commission.