Family vacations are special, but they can be tricky to plan. After all, what appeals to you might not make a four-year-old (or even a high-schooler) happy. And traveling with a baby brings its own set of questions and concerns. However, with a bit of savvy strategizing, it's possible to put together an itinerary that will keep both you and your kid smiling and relaxed.
One smart approach is to narrow your search to all-inclusive resorts, which come with pay-one-price convenience. Knowing what your trip is going to cost before you leave can be a big plus when traveling with kids in tow. The more people you're traveling with, the easier it is for your budget to go off the rails. With an all-inclusive, you don't have to think twice about grabbing your child her second (or third!) Shirley Temple from the bar. Plus, the fact that many all-inclusive resorts are situated in sunny, beach destinations is also beneficial. A beautiful beach or a big splashy pool (many all-inclusives offer both) is sometimes all that's needed to create a memorable vacation. So to help you start planning the ultimate family trip, we've pulled together the top all-inclusive resorts for children of every age, from toddlers to teens and everything in between.
Babies: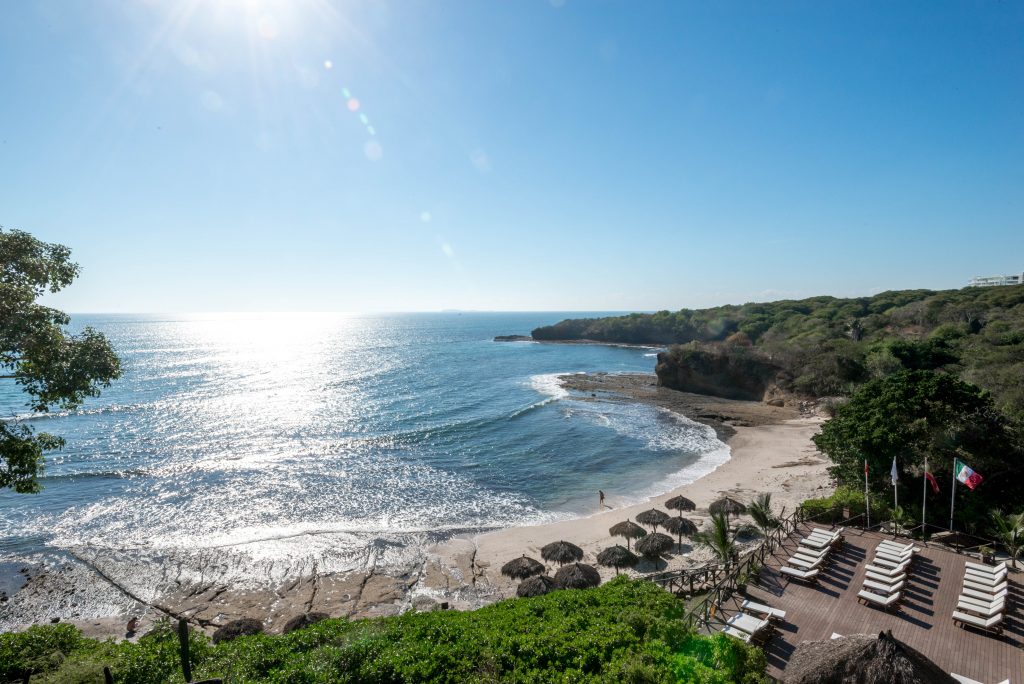 Located on the west coast of Mexico (picture cacti and mountains), this luxury resort offers Family Selection accommodations. Spacious Family Selection suites, four pools (including a dedicated kiddie option), and an array of restaurants (most of which are low-key enough for wriggly toddlers) await. The property also boasts a babies-only club, and staff is specially trained to care for and entertain little ones. While your wee one is giggling the afternoon away, snag some alone time. We recommend hitting the spa, which features Turkish baths and an array of treatments with local ingredients.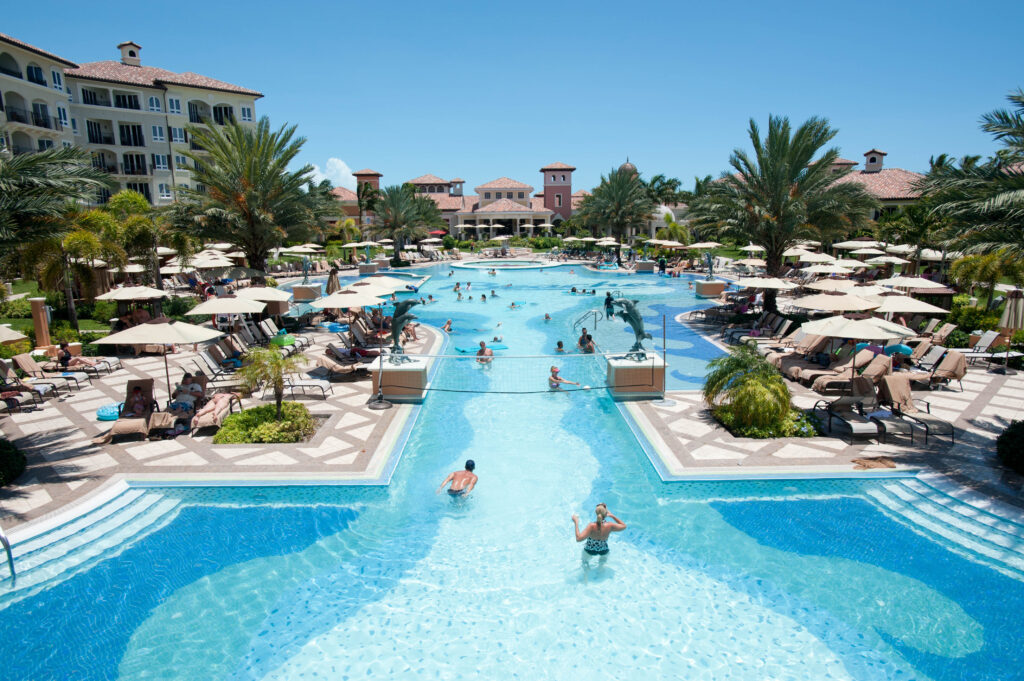 When it comes to amenities, it's hard to top this perennial family favorite, located on a prime stretch of beach in Turks & Caicos. The options for young guests seem endless, from a Sesame Street camp and a huge water park to two kiddie pools and 20 kid-centric restaurants. But their offerings for the wee ones really shine. Babies as young as three months old are cared for in a climate-controlled nursery outfitted with the latest cribs, strollers, high chairs, and gliders. Toddlers can splash about in special baby pools and are escorted on short shell-collecting and sandcastle-building "field trips."
For a restful nights sleep with a baby on vacation, bring along an easy to pack and setup travel crib from BabyBjörn. Though we can never promise your bundle of joy will actually make it through the whole night soundly, this option will do its best to come close.
Preschoolers: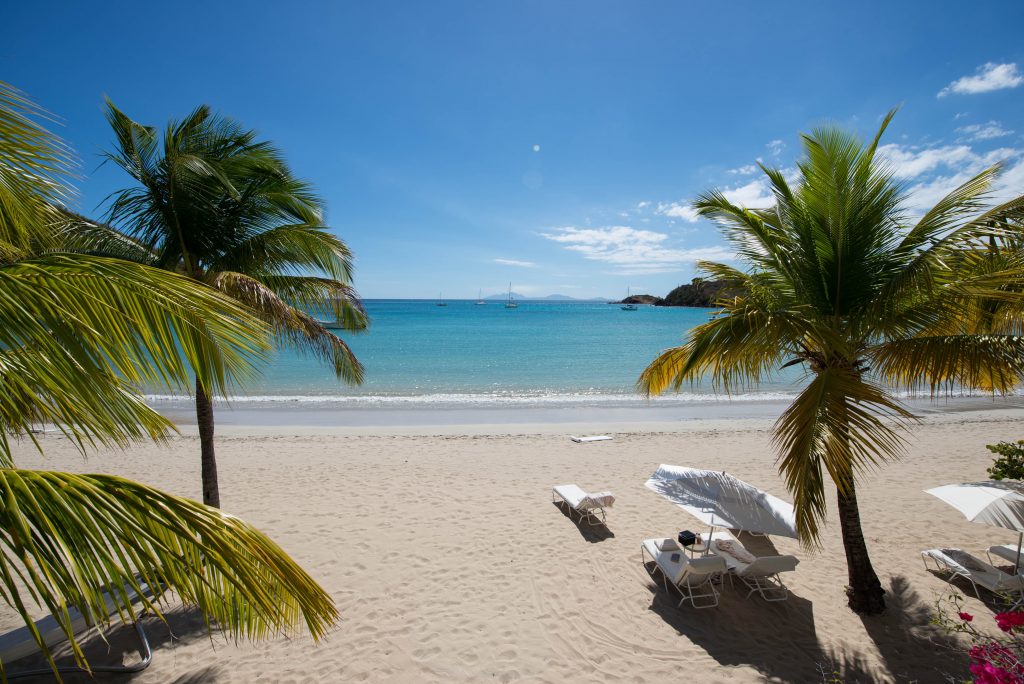 The sea views from this family-friendly resort on Antigua's south coast are amazing. Even better, every one of the 87 suites has that view, so you don't have to remember to request it. The property offers a top-notch assortment of amenities for kids and parents, including butler service and guided nature walks. The dedicated staff seems to genuinely love kids, and it shows in how well they keep them happy and busy. Rather than lumping in little kids with older ones, the resort's kids' club only goes up to age six, so your preschooler can make new friends and partake in age-appropriate activities, like hunting for lizards and starfish as well as romping along on treasure hunts.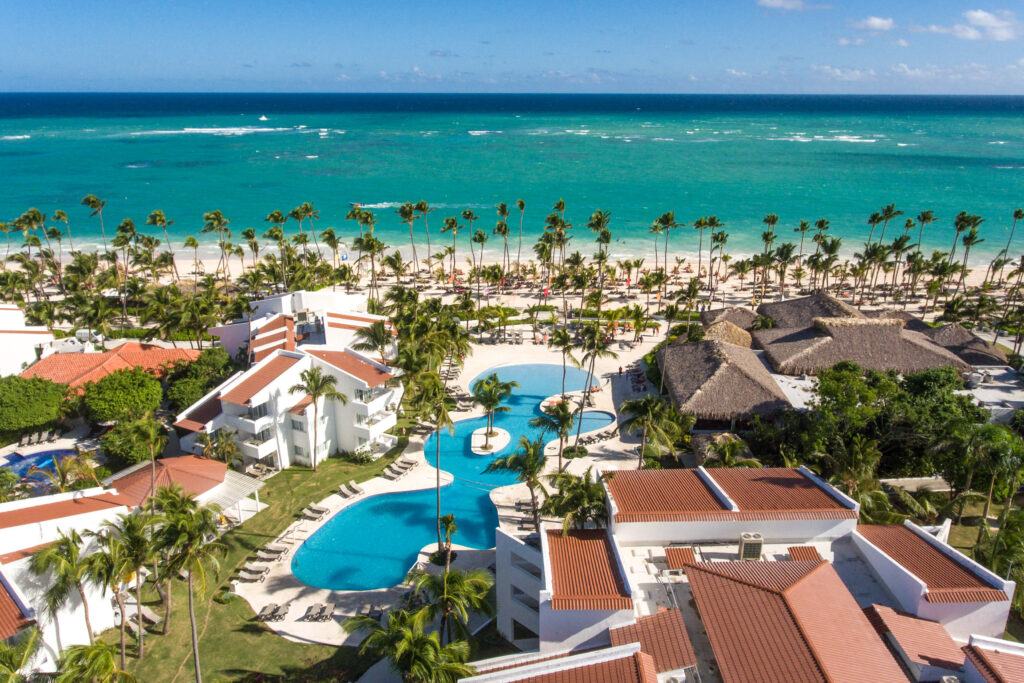 This recently renovated all-inclusive in the Dominican Republic revamped its kids' club for preschoolers. The club is open every day and is full of activities for little kids, like arts and crafts, dancing, games, and tennis lessons. The club is decked out in a jungle theme that's sure to appeal to preschoolers, plus it features a ball pit, a gigantic Connect Four game, and other fun design features.
Don't let spilled milk ruin your vacation. For clumsy tots, don't forget to pack some no spill sippy cups for your adventure.
Elementary-School-Age Kids:
Arguably the best resort for families in all of Mexico, the massive Barcelo Maya Caribe in Riviera Maya pretty much has it all. That includes 10 pools and three water parks (Pirates Island will appeal to this age range). The hotel also has a separate U-Kids Spa, which offers treatments and hair-braiding for children. Plus, the new on-site amusement park, Ventura Fly & Ride Park, will definitely seal the deal with most elementary-school-age kids.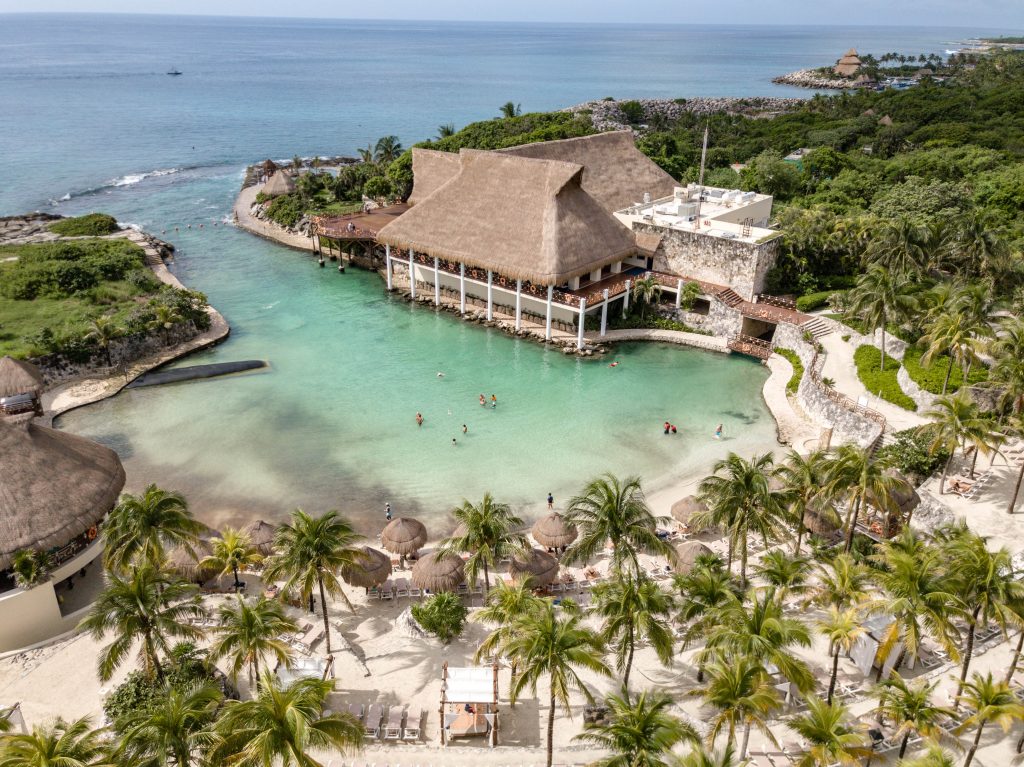 Aside from playing in the water, there is something else that kids this age seem to gravitate toward: animals. With that in mind, this resort in Playa del Carmen is the ideal spot to drop your bags. It is actually inside a nature park, so spotting monkeys, coatis, iguanas, and more will surely wow your kid. You'll also find impressive, kid-friendly pools, a kids' club, and snack bars.
Keep your kids busy on the plane or in the hotel room with a Nintendo Switch. Just make sure it doesn't take up their entire vacay!
Teens: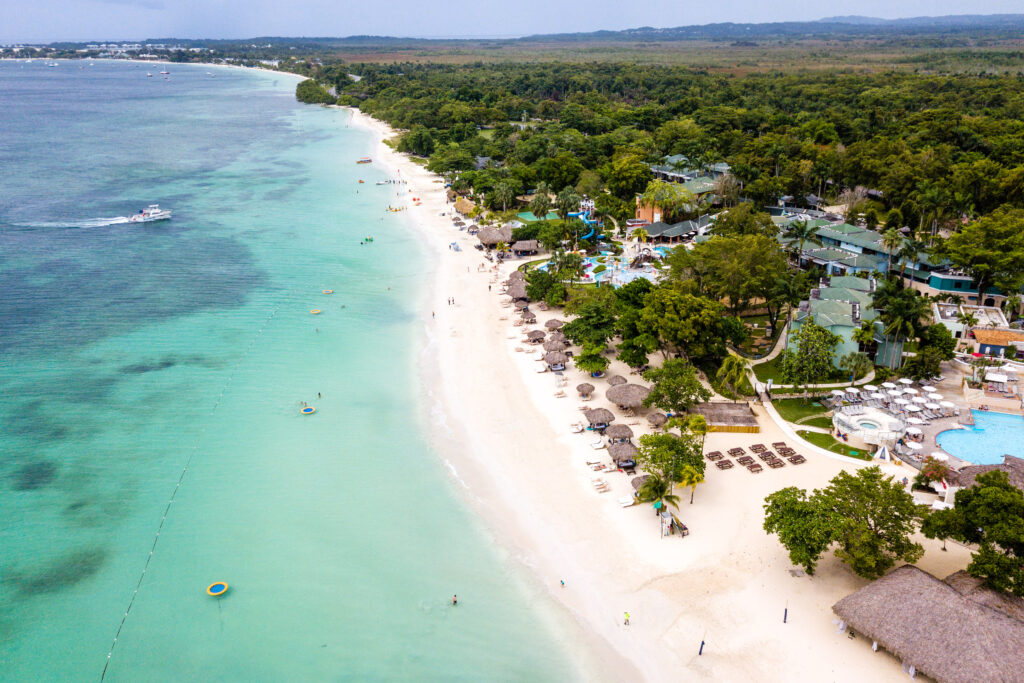 Most of the guests at this Jamaica property are families with older kids, so it has the kind of active vibe that teens will love. It's set on stunning Seven Mile Beach – an amazing backdrop for Snapchat-bound selfies (Wi-Fi is free and reliable). Teens will gravitate toward the Xbox Lounge, Scratch DJ Academy, and Liquid (the alcohol-less nightclub made for them). The variety of dining options is huge, so even the pickiest teens will find plenty to nosh on throughout the day. There's even a frozen yogurt shop.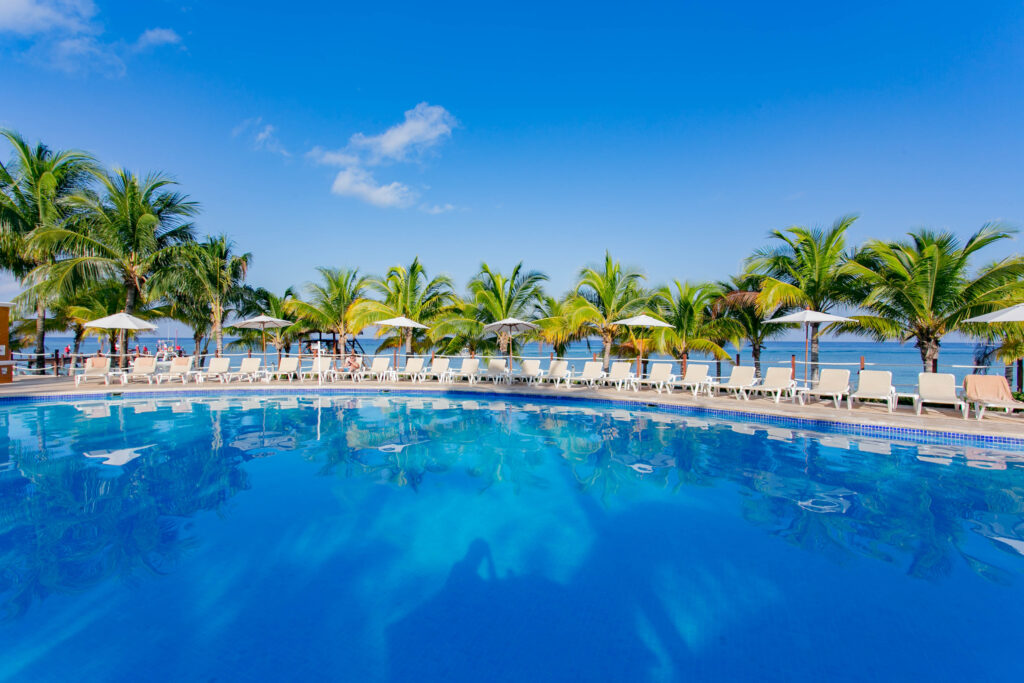 This expansive property at the southern end of Cozumel offers quick access to one of the world's best diving destinations, Palancar Reef. Here, you can swim among amazing coral reefs and sea turtles. The resort's on-property dive shop provides teens with several scuba diving lessons and certifications, including the Open Water Diver Course. During the course, the resort's dive experts guide teen divers through five theory sessions, five pool sessions, and four open water guided boat dives. Upon completion of the course, teen divers will be awarded with an official PADI entry-level scuba certification.
You already know your teen's been begging for them. Have them bring along a pair of Apple AirPods for that long plane ride and those chill days on the beach.
You'll Also Like:
Photos courtesy of Oyster.com
All products are independently selected by our writers and editors. If you buy something through our links, Oyster may earn an affiliate commission.