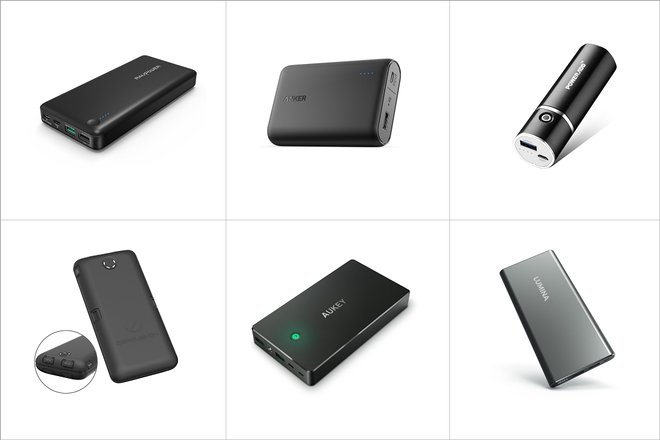 Every traveler has experienced that terrifying moment when his or her phone dies. As fate would have it, it's often when you're trying to meet someone or just as you arrive to a breathtaking natural sight. Worse yet, since so many of us rely on our phones for navigation, it can be dangerous when our phone dies and we don't know where we are. Luckily, you don't have to rely on the juice from your smartphone alone. Portable power banks are the perfect antidote to all your low battery stress. But the options can be overwhelming, the terms confusing (what the heck is mAh?), and the quality quite different. From the budget and slim options to the high capacity and multiple port varieties, check out some of our favorites -- including what we believe is the best all-around portable charger.
RAVPower Turbo with Qualcomm Quick Charge 3.0
Number of iPhone Charges: about 7 (20,100 mAh)
Weight: .8 lbs.
Size: 6.8 x 3.1 x .8 in.
Ports: 3
It may be a tad heavy, but this powerful device is designed for speedy charging. As the name suggests, it has Qualcomm's Quick Charge 3 technology built in, meaning it can charge more than just your phone (think: tablet, laptop) four times faster than its rivals. The Qualcomm chip will also determine exactly what voltage your device needs, so you won't waste any juice. It stays cool to the touch even after hours of charging. Recharging is also super speedy. Depending on the output you use, it will take between 4.5 to nine hours to get the RAVPower Turbo fully charged, which is pretty impressive considering its capacity. This is a great option when you need quick charges or when you'll be away from electricity for any extended period.
Number of iPhone Charges: about 3 (10,000 mAh)
Weight: 5.4 x 2.6 x .6 in.
Size: .46 lbs.
Ports: 1
While the RAVPower may be chunky, the Anker PowerCore 10,000 is one of the most compact, lightweight 10,000 mAh batteries. It's so thin that it can fit in your pocket. It will only take about an hour and a half to take your device from dead to 100 percent charged, and the recharge time is around 4 hours. Most of Anker's power banks are slim and sleek, but the PowerCore Slim II is the perfect mix of power and portable. Those with Quick Charge devices like the LG V20 or HTC 10 will get the most out of it, but it's great for any device.
Number of iPhone Charges: about 2 (5,000 mAh)
Weight: 3.9 x 1.3 x 1.2 in.
Size: .26 lbs.
Ports: 1
If you don't want to break the bank, this compact power bank from Poweradd is top of the list. Depending on the color you want, the price ranges from $10.99 to $12.99 (at time of publication). Normally, chargers at this price point only have between 3,000 to 4,400 mAh, but this one has a significantly better capacity at 5,000 mAh. And thanks to a smart charging port, it will only take two hours to fully charge your phone and three hours to fully recharge the device itself. The only downside is that while compact, it's a bit thick to fit into your pocket.
Number of iPhone Charges: about 10 (30,000 mAh)
Weight: 7.1 x 3.6 x 1.3 in.
Size: 1.5 lbs.
Ports: 5
In need of a durable, high power, long lasting, multi-port charger? With a whopping 30,000 mAh and five charging ports, it'll have to be the ZeroLemon ToughJuice pack. It has one quick charge USB port, three additional 1A USB ports, and a Type-C port, so it's convenient for charging multiple devices at once. At full charge, the ToughJuice can even power a MacBook. The anti-shock technology, strong outer shell, and port flaps make it safe for almost any environment. Since it's such a high capacity device with multiple ports, it isn't the most portable charger on our list, but it is definitely the strongest — and toughest.
Number of iPhone Charges: about 6 (20,000 mAh)
Weight: 5.9 x 3.3 x 0.8 in.
Size: .86 lbs.
Ports: 2
For just $34.99 (at the time of publication), the Aukey power bank has both a Qualcomm Quick Charge 3.0 port (four times faster than conventional charging) and an adaptive AliPower smart charging port. It can power any USB gear you have, and it even has a flashlight so it can light your way if your phone is low on power. There are built-in safeguards to protect your device from overheating or overcharging, and the charger itself can be powered using a micro-USB or lightning cable, so iPhone users won't need to carry extra cords. Perhaps best of all, your purchase also comes with an 18-month warranty.
Lumina 15,000 mAh Ultra Compact Portable Charger
Number of iPhone Charges: about 5 (15,000 mAh)
Weight: 6.7 x 4.1 x 0.6 in.
Size: 1 lbs.
Ports: 2
The Lumina is a relatively thin and compact portable charger with serious power for the bargain price of $29.99 (at time of publishing). Each USB output gives 2.4 amps, whereas most dual port power banks only offer 2.1. This combined power means you can charge two devices at high speeds at the same time. Plus, the durable outer aluminum casing will keep it safe from drops and falls. We can't put it at the top of the list because it's a bit heavy, but it's a powerful, quick charging option for those willing to bear the weight. Lumina is so confident in its product that the charger even comes with a lifetime warranty.
You'll Also Like:
Oyster.com is a participant in the Amazon Services LLC Associates Program, an affiliate advertising program designed to provide a means for sites to earn advertising fees by advertising and linking to
All products are independently selected by our writers and editors. If you buy something through our links, Oyster may earn an affiliate commission.