Mexico is many things to many different travelers -- spring break destination for college-age kids, ultimate getaway for families with kids, and honeymoon spot for newlyweds. For couples in search of romance, Mexico offers plenty of appeal, from the beautiful secluded beaches and tropical jungles to the luxurious resorts and historic cities. There are many parts of the country that have a romantic vibe, but here are five south-of-the-border destinations where we think the sparks will always fly.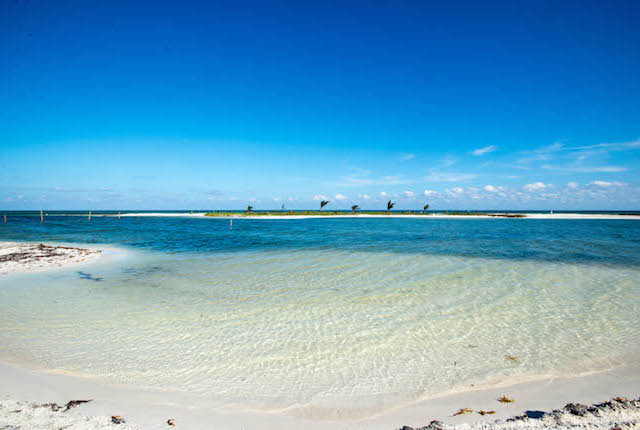 If a tropical paradise with palm trees, crystal clear water, white sand, and blue skies is what you're after, head to Playa del Carmen. With some excellent nightlife, great snorkeling and kitesurfing, and the lure of Tulum just a one-hour drive away, it's an ideal place for a romantic Mexican getaway. You might be thinking that other Mexican destinations also offer an attractive setting, stellar water sports, and lively nightlife, but the accommodations here help make it a cut above the rest. The Palafitos (meaning "stilt houses") at El Dorado Maroma by Karisma are the first overwater bungalows in the country, and bring a similar vibe found in the Maldives to Mexico. With breathtaking views across the ocean and through glass floors, private dining, and pampering service, these intimate retreats on the water are the perfect places to hole up with your honey.
Hotel Pick:
Turtles, beautiful beaches, fresh ceviche, and ancient Mayan ruins are all factors that draw travelers to Tulum, but the great access to a collection of amazing cenotes makes the rustic town even more appealing. Natural sinkholes filled with turquoise water and edged with lush forest, the cenotes are ideal places to swim with your sweetheart, twirl in each other's arms, and feel the love while surrounded by natural beauty. The coastline around Tulum is also impossibly stunning, plus it offers the chance to see spot turtle nests in season.
Hotel Pick:
Once voted the best city in the world, San Miguel Allende is all colonial Spanish mansions, meandering cobbled streets, and colorful facades. If you're the type of traveler who typically makes a beeline for a city's Old Town, then the arty heritage and ancient architecture of this UNESCO World Heritage site are for you. Great shopping, local cuisine, moonlight rooftop drinks, and a sweeping sense of nostalgia will make you fall in love with this city — as well as each other.
Hotel Pick:
Less popular than other Mexican destinations, the town of Sayulita is arguably just as beautiful as Tulum and Playa del Carmen. The small-town charm means intimacy isn't hard to come by here. Locked between the Sierra Madre Occidental mountains and the beautiful coastline, Sayulita is a great example of a Mexican resort town that held on to its roots without overdeveloping. Beaches like Los Muertos are perfect for moonlight strolls, and while the town isn't huge, it feels safe enough to explore freely. There are plenty of romantic, high-end resorts to choose from as well. Some, like the Haramara Retreat, fit the town's bohemian vibe. A focus on wellness, romance, and nature, plus an overall relaxed vibe, are enough to warm your heart. And if not, whale watching trips should inspire some awe and wonder.
Hotel Pick:
The state capital of Yucatan, Merida is more developed than Tulum but no less beautiful or romantic. A popular destination for honeymooners, the city features Mayan ruins as well as a good level of safety. And while it isn't far from the pristine beaches on the coast, the rustic city vibe will win over couples who want more than sun, sand, and sea. Try the Museo Fernando García Ponce, enjoy relaxing and romantic afternoons in the Plaza Grande, shop for trinkets, feast on local cuisine, and wander the streets dotted with multi-colored villas. Unlike other Mexican destinations, Merida feels authentic. However, if you want to get touristy, you can take a moonlight horse-drawn carriage ride around the White City.
Hotel Pick:
You'll Also Like:
All products are independently selected by our writers and editors. If you buy something through our links, Oyster may earn an affiliate commission.