Rearrange your next vacation itinerary -- we have something stellar lined up: people-watching. From observing locals to surveying tourists, peeking at those that are out and about can be the most entertaining (and eye-opening) part of a trip. Plus, it's a quick and simple way to feel the vibe of a location. So to help us find the top spots to get our people-watching on, we went straight to the source and spoke to locals around the world. The best part? It's free, so you can save your travel budget for what really matters: food.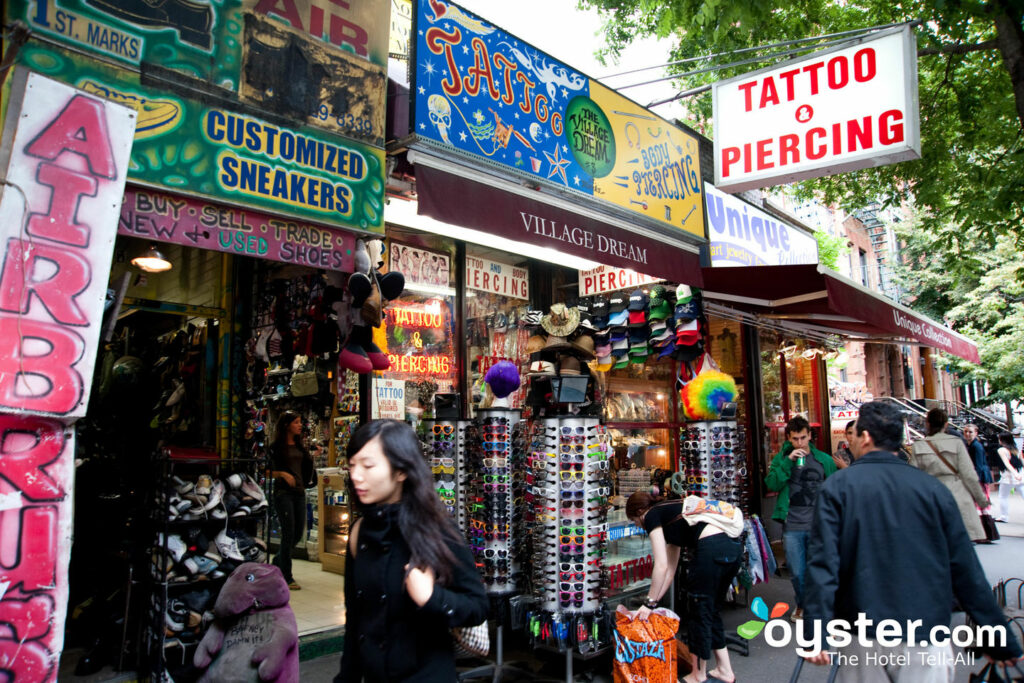 Head down to New York City's East Village for a steady flow of unique people-watching. St. Mark's Place, which spans three blocks, is known for its alternative scene (think head shops, tattoo parlors, dive bars, and excellent cheap eateries that draw crowds from all five boroughs). Expect to encounter a variety of folks — head-to-toe tattooed locals, artsy types, yuppies, and tourists — on this trendy stretch. Stake out a spot near the window at St. Dymphna's pub or on the outdoor patio at Bua, which offer great vantage points.
"St. Mark's is an oddity, where all the forgotten souls go," said Greg Lipari, bar manager at Bua. "The street ends at Tompkins Square Park, where you've got everyone: punks, tourists, musicians, people playing ping pong and basketball, kids skateboarding, guys lifting weights, nomads, dogs, junkies, foreigners, rich kids, locals, and old-timers with great stories. Everyone."
Our New York City Hotel Pick:
Referred to as SoCo by locals, this Austin avenue offers a distant view of the Texas State Capitol and some prime people-watching. Grab an iced turbo and breakfast taco at Jo's Coffee, where you'll also spot the city's iconic "I Love You So Much" street art. The open-air bar lets in fascinating views of locals and tourists exploring food trucks and boutiques in the area.
And don't be shy about chatting up the people you're not observing. Kayla Olson, an employee at Jo's, says there's always someone to network with on SoCo. "I've gained at least five side jobs from asking what folks do — one of which involved a paid trip to Cancun!" she said. Jess Kypke, another Jo's employee, agrees that SoCo is unlike any other street for a few simple reasons: "The people, the location, and the atmosphere. Every day is different," she said.
Our Austin Hotel Pick: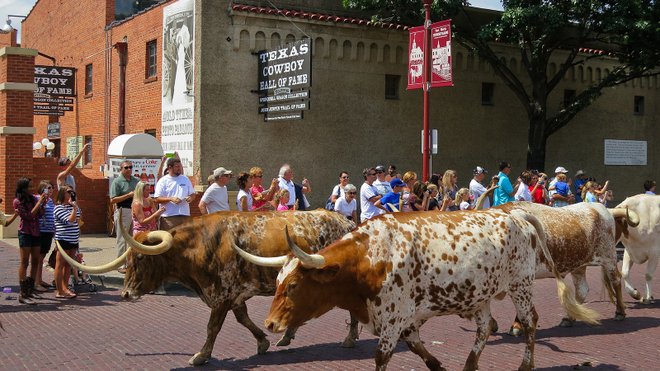 Fort Worth might not be known as a bustling metropolis, but as the fifth-largest city in Texas (Austin is fourth), there are still plenty of people to see. If spotting a cowboy or cowgirl is on your agenda, head to the Stockyards National Historic District every day at 11:30 a.m. and 4 p.m. to witness Fort Worth Herd's cattle drive. Here, genuine cowboys walk the streets in boots, hats, spurs, and chaps, keeping the town's Old West history alive.
Our Fort Worth Hotel Pick:
Vendue Street, which turns into Queen Street, is one of the most bustling streets in historic Charleston. Chris Harvey, a Charleston native and general manager at Harbour View Inn (the only waterfront hotel located in Charleston's Historic District), recommends spending time on Vendue "to encounter people of all walks of life as well as the true essence of the Holy City."
Vendue is part of the original shipping wharf, though some of the first buildings didn't survive the Battle of Fort Sumter during the Civil War. Today, you'll find boutiques, art galleries, the historic Dock Street Theatre, Waterfront Park with the selfie-worthy Pineapple Fountain at the end, Sean Brock's award-winning restaurant, Husk, and other attractions nearby. Plus, a diverse array of visitors as well as street performers, artists, couples, and families are pretty much guaranteed here daily.
Our Charleston Hotel Pick: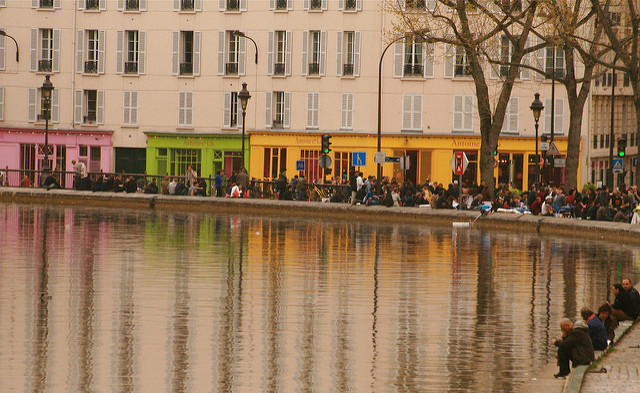 On the western side of Canal Saint-Martin lies arguably the hippest (and best people-watching) area in Paris. Here, expect to see cool Parisians picnicking with baguettes, charcuterie, and plenty of wine as well as artists painting, sketching, or journaling. For budget travelers, it doesn't cost a thing to sit and socialize by the water. In other words, it's the best form of entertainment money won't buy.
Our Paris Hotel Pick: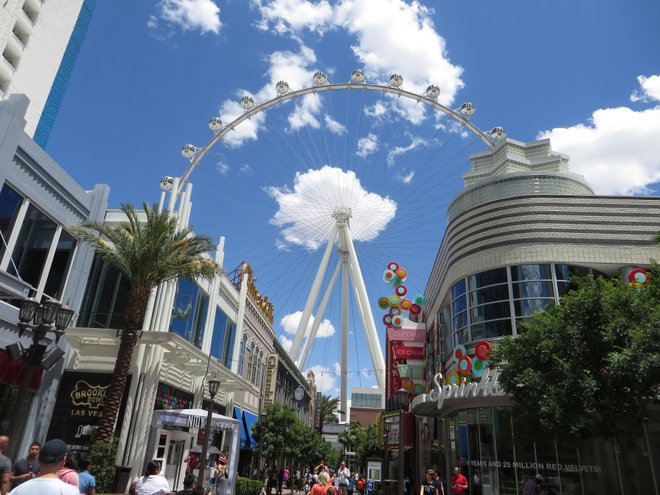 While the Strip is typically known as Las Vegas' main drag, the LINQ is Sin City's newest pedestrian thoroughfare. The open-air shopping, dining, and entertainment area spans 300,000 square feet between The LINQ Hotel & Casino and Flamingo Las Vegas Hotel & Casino. Stella Moon, of Caesars Palace, describes the area as "a pedestrian-friendly district with a true neighborhood vibe." Here, 70 percent of the venues are restaurants and bars (many with al fresco options!) and 30 percent offer retail and entertainment options. Street performances are common as well. If you'd rather people-watch from above, head to the world's tallest Ferris wheel, the appropriately-named High Roller.
At nearby Caesars Palace, plenty of people-watching is promised as well. Moon recommends sitting at the Spanish Steps with a frozen fruit cocktail for "unparalleled people-watching" or soaking in the sun at the Garden of the Gods Pool Oasis.
Our Las Vegas Hotel Pick:
Tel Aviv's Rothschild Boulevard might just be one of the trendiest streets in the Middle East (you might even call it the Brooklyn of Israel). According to Sheryl Stein, an employee at El Al Israel Airlines, "it's known for its Bauhaus architecture and wide, tree-lined walking strip that separates the two lanes in both directions." This strip, which offers views in all directions, is where the best people-watching happens. Countless restaurants and bars dot the street if you need a break. And nighttime lights help keep the people-watching up long after the sun sets. For a dose of culture, head to Habima National Theatre or Mann Auditorium, which is located where the boulevard ends.
Stein also recommends people-watching at the lesser known Ibn Gabirol Street. Here, expect "a lot of activity and public events like the National Book Fair, concerts, and more," she said. "There are also a lot of nice shops, restaurants, and cafes. And at the back staircase lies a memorial commemorating Israel's Prime Minister Yitzhak Rabin."
Our Tel Aviv Hotel Pick:
It doesn't have to be Mardi Gras to soak in some stellar people-watching in NOLA. Head to Bourbon Street in the French Quarter any time of the year (Halloween, in particular, is known to have an unforgettable see-and-be-seen scene). The street is known for its daytime drinking and around-the-clock debauchery, so brace yourself for some memorable sights.
Our New Orleans Hotel Pick:
Related Stories:
All products are independently selected by our writers and editors. If you buy something through our links, Oyster may earn an affiliate commission.