From Times Square to the Las Vegas Strip, many of the United States' most-visited attractions are free to the public, open 24/7, and don't require tickets. However, a number of bucket-list U.S. landmarks and attractions, such as the Statue of Liberty and Alcatraz Island, do require (or at least recommend) that visitors secure tickets in advance of their trip using online ticket retailers. We've gone straight to the sources to find out exactly how far in advance these tickets should be booked to ensure a visit that is as seamless and stress-free as possible.
1. Statue of Liberty, New York City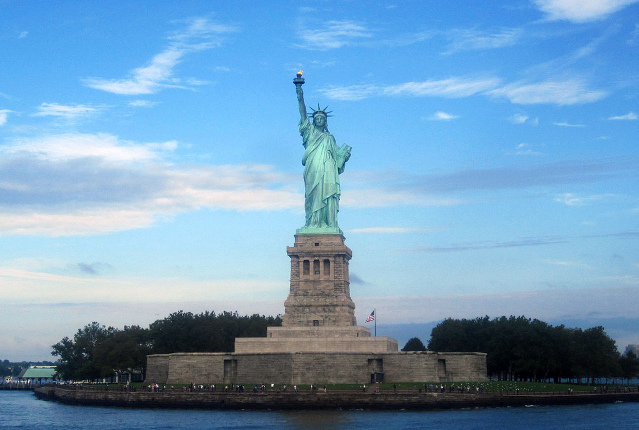 Online booking is highly recommended for Lady Liberty visitors. Reservations can be made up to six months prior to a visit and those seeking to visit the crown of the Statue of Liberty National Monument should aim to book at least 60 days in advance. During holiday seasons this recommended window increases to 90 days.
Where to Stay Nearby:
2. Kennedy Space Center, Titusville, Florida
https://www.instagram.com/p/BQyNJosDkP3/
As one of Central Florida's most popular tourist destinations, Kennedy Space Center allows visitors to purchase tickets from its website up to six months in advance of their trip. However, those booking general admission can normally secure a ticket up until the day of a visit. Space enthusiasts pursuing in-depth experiences, such as Lunch With an Astronaut, should book weeks—or even months—in advance.
Where to Stay Nearby:
3. Empire State Building, New York City
https://www.instagram.com/p/BQllfMojwuZ/
There are no fixed visiting windows or time limits at this iconic 102-story skyscraper. For convenience, many visitors opt to purchase tickets ahead of time online. These tickets can be used any time within one year of purchase, while tickets obtained on-site can be redeemed within 14 days.
Where to Stay Nearby:
4. Alcatraz Island, San Francisco
https://www.instagram.com/p/BRF4YY9B-CS/
One of San Francisco's most-visited destinations, the historic Alcatraz Island offers tickets online 90 days in advance of a visit. Summer months and holidays see an influx in visitor rates, so it is advisable to book day tickets for these periods at lease a month in advance, and night tour tickets two or more months in advance. The island's new behind-the-scenes tour is even tougher to book and tends to sell out more than two months in advance.
Where to Stay Nearby:
6. Monticello, Charlottesville, Virginia
https://www.instagram.com/p/BL6MCdkhVZ1/
While Monticello does not have an official advance-ticket recommendation, a representative from the property has informed us that purchasing tickets online can save visitors both time and money. Monticello now offers a new, online-only discount on select tours when they're booked more than 24 hours ahead of time. Though the property's standard Monticello Day Pass and Tour offering can typically be purchased on-site the day of the visit, premium tours or tours during holidays should be booked several days out.
7. The Breakers, Newport, Rhode Island
https://www.instagram.com/p/BRB7m7ODFaN/
Lucky for history buffs and architecture enthusiasts hoping to explore this Vanderbilt mansion, no reservations are required and audio-tour tickets can be purchased on-site the day of a visit. The property's popular Beneath the Breakers guided tour, however, should be booked prior to a visit, as these 15 person tours are given just twice an hour.
Where to Stay Nearby:
8. USS Arizona Memorial, Honolulu, Hawaii
https://www.instagram.com/p/BRC-2vUh9KO/
Each year roughly 1.6 million visitors travel to this memorial and its partner properties, which preserve and interpret the stories of the Pacific War. Though admission is free and tickets can be obtained on-site the day of a visit (beginning at 7:00 a.m.), online ticketing is available 60 days in advance, with a select number of Next Day Tickets released daily. The in-person tickets are likely to sell out if you don't line up early, especially during the summer, so book online for peace of mind.Those booking in advance should be aware that there is a $1.50 convenience fee per ticket.
Where to Stay Nearby:
9. Space Needle, Seattle
https://www.instagram.com/p/_uR4fhjbzh/
Those planning a trip to Seattle's iconic observation tower should, for convenience, purchase tickets online up to 30 days in advance using the site's new timed-ticketing offering. While tickets can be purchased on-site the day of a visit, ticket availability may be limited.
10. Universal Studios, Orlando, Florida
https://www.instagram.com/p/BQofqh-DA2M/
Visitors to this Florida theme park will find that online ticket purchasing, while not a necessity for park admission, can save time and money. Buying multi-day tickets on the park's online ticket shop will save you roughly $20 per ticket.
Where to Stay Nearby:
11. Fallingwater, Mill Run, Pennsylvania
https://www.instagram.com/p/BRGtcJXDl-K/
Advance booking is essential for those who wish to experience Frank Lloyd Wright's iconic 1935 creation in rural Pennsylvania. Fallingwater staff say booking two weeks ahead of a visit is sufficient, with the caveat that the busy months of July, August, and October may require an even longer booking lead time.
You'll Also Enjoy:
All products are independently selected by our writers and editors. If you buy something through our links, Oyster may earn an affiliate commission.