Awards season continues this Sunday at the Staples Center in Los Angeles as the biggest names in the music industry strut their stuff at the 55th Grammy Awards. And as we dream about jamming on stage with the likes of Elton John, The Lumineers, Jack White, and Justin Timberlake (who's making his return to the Grammy stage after a four-year hiatus from the music scene, swoon), we can't help but be a little jealous of those who get to do so. Thankfully, some of our favorite hotels understand our musical plight. From on-site recording studios to guitar rental services, these hotels may not promise celeb-studded jam sessions but they're definitely rocker-approved. And we mean that literally: Everyone from the Red Hot Chili Peppers to Stevie Wonder has visited these music meccas of the hotel world. So if you want to drop a beat before the awards or just pick up the vibes left behind by some of your favorite musicians, check out these rock-ready hotels.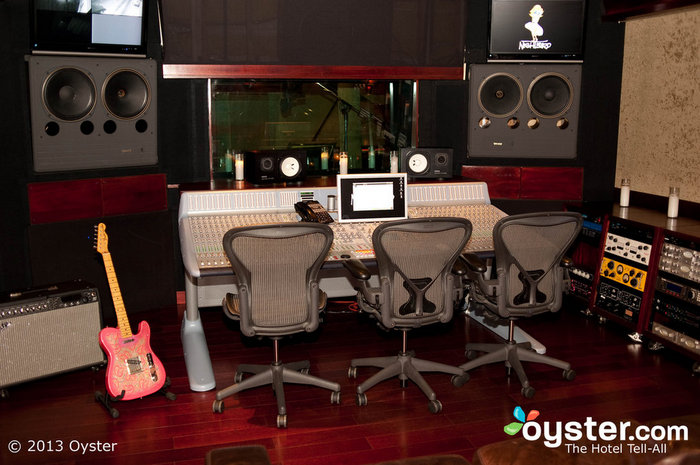 The Sunset Marquis cost guests just $8 a night when it first opened in 1963 as a motel for musicians playing at the nearby House of Blues, Roxy, and Viper Room, all located within a few minutes' walk. Today, there are so many celebrities that continue to traipse through the hotel that the staff doesn't get starstruck anymore. During Oyster's two-night stay, Lars Ulrich of Metallica, Joss Stone, and Roger Daltrey of The Who were all spotted at the hotel, validating the hotel's "paparazzi diversion tactics" that are offered for a nominal fee.
In addition to its innate rocker vibe, the hotel also offers a state-of-the-art recording studio on-site — Nightbird Sound Studios — designed by renowned acoustician George Auspurger. Accessed via a hidden entrance in the underground garage, the space features (in addition to the usual trappings) a Yamaha Mark IV Disklavier piano, one of only two in America, on which Stevie Wonder has been recorded. Every A-list musician has passed through the studio, including the Red Hot Chili Peppers and Justin Timberlake, and Lil Wayne and Green Day both recorded here within days of Oyster's visit. High rollers can rent out the studio for personal use, including karaoke birthday parties.
Famous for A-list rocker guests and an artsy, cool vibe, this one-of-a-kind, converted 44-room motel may have seedy Tenderloin District surroundings and bare-bones rooms, but the unique, SoCal-style courtyard pool and happening on-site nightlife keep the hip crowd happy. The hotel utilizes the property's large parking lot, rare among hotels with more desirable downtown addresses, to provide tour bus parking and shore power for traveling musicians, which, in combination with the charming, bohemian vibe of the property, may be the secret to its success.
The Phoenix attracts an impressive roster of rocker guests, including Joan Jett, David Bowie, Moby, Little Richard, the Red Hot Chili Peppers, Pearl Jam, and The Shins, as well as a cult following of patrons who don't mind venturing to this rough, out-of-the-way location for a chance to feel as cool as their favorite band. Plus, a friendly staff mans the front desk 24 hours and acts as a knowledgeable concierge, with an impressive index of restaurants, bars, and musician-specific resources (such as music shops, rehearsal and recording studios, and instrument repair shops).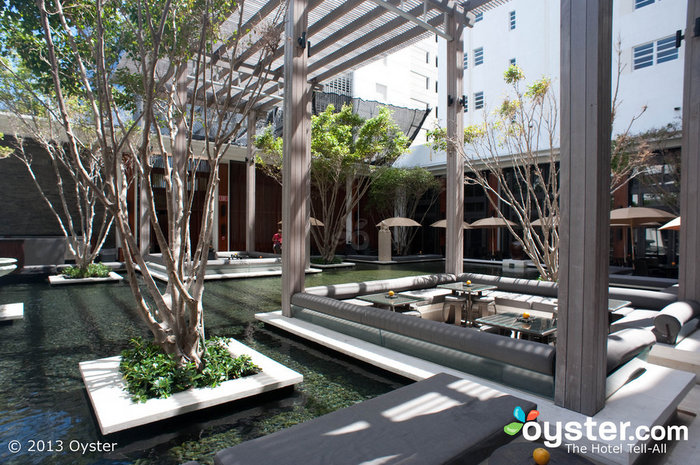 Celebrities flock to this luxury hotel in South Beach, which features a striking but sober mood-lit design, impeccable service, gorgeous rooms, three pools (each with a different temperature), and a prime beachside location. A Lenny Kravitz-designed recording studio, located in the hotel's Art Deco building, is the cherry on top of this luxe stay. Everyone from Jay-Z to Cat Power has laid down tracks here. And with enormous rooms easily able to accommodate an entire posse, it's no wonder why.
The Palms has a reputation for being a party hotel. Whether it's Britney Spears entertaining in a penthouse or Michael Phelps hanging by the pool at this off-the-Strip hotel, partiers — famous and otherwise — like to hang here. And it's understandable why. With three great nightclubs — Moon, Rain, and Ghostbar — and a rowdy pool scene, the Palms knows how to party. Plus, the hotel boasts another celebrity magnet: a full recording studio where Jay-Z, Madonna, Lady Gaga, Beyonce, and Mr. Las Vegas himself, Wayne Newton, have all made some truly sweet music.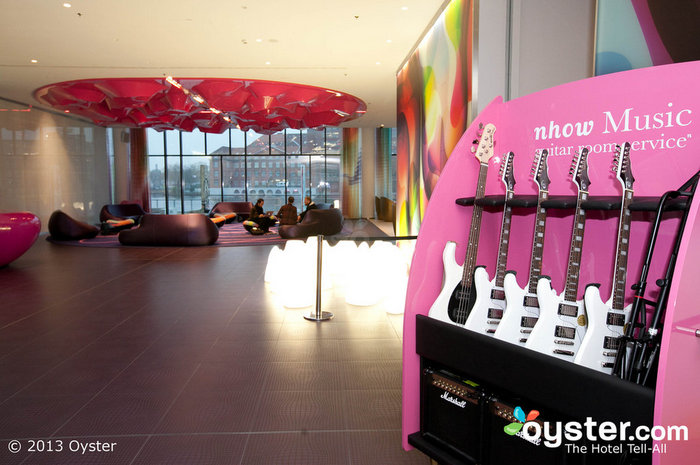 This offbeat, creative hotel overlooking the River Spree sports a music theme and offers rare amenities like Gibson guitar room service and two recording studios on-site. Bright colors, psychedelic patterns, and funky-shaped furniture have high visual impact in the studios, which are run by René Rennefeld and Daniel Schmuck and the look continues throughout the hotel. The studio also offers both breathtaking views of Berlin and innovative technology — it's a space that, like the rest of the hotel, is sure to get the creative juices flowing. N.E.R.D., Jessie J, and Skylar Grey have all recorded at the studios, but guests of the hotel can also experience their moment in the spotlight; open mic nights are held the first Saturday of every month and the music lounge is always open for creative or listening sessions.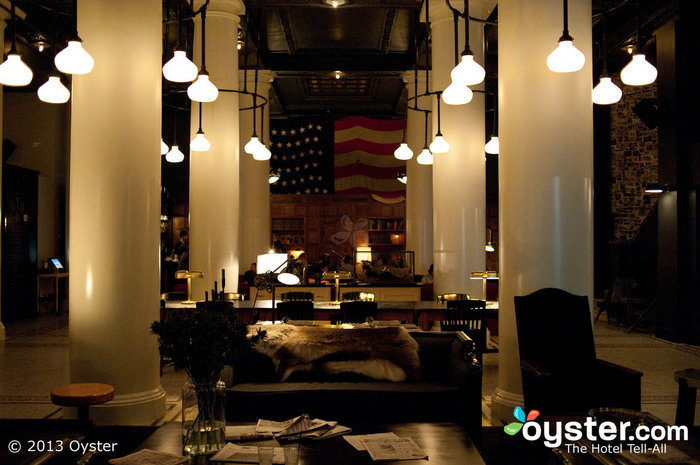 A hip hotel in an unhip neighborhood (although Flatiron is steadily becoming more popular), the meticulously curated, vintage-inspired Ace Hotel will impress the rocker within all of us. While the Ace doesn't aspire to most conventional notions of luxury, the property is as cool, comfortable, and inviting in its own way as any fancy downtown hipster boutique. Rooms are a bit small, and in some cases dark (all the better to jam to, we say). But service is solid and the rates are usually very fair. Plus, curated touches like Music Hall turntables and Gibson Epiphone guitars in some rooms lend an authentic touch to the eclectic boho look.
This boutique hotel exudes a playful rock 'n' roll vibe, thanks to extravagant details such as diamante-studded door handles and peek-a-boo bathrooms. Rooms are starting to show a bit of wear and tear, but celebs such as Britney Spears have been spotted here, as well as a plethora of British reality TV stars and rock star wannabees. The crowd at the Sanctum is decidedly one that likes to party all night (the rooftop bar and Jacuzzi are open 24 hours); tranquility is better had elsewhere. But it's Grammy season and we're in cool rocker vibe, so just go with it: Rent an electric guitar or a Harley Davidson from the hotel and unleash your inner frontman.
All of the Hard Rock properties, decked out with paraphernalia and unique music amenities, are meccas for the musically-inclined. But this newest Hard Rock has a particularly upscale feel, with gorgeous design elements. One of its most striking features is its soaring lobby, with two huge installations made with LP covers and instruments. The hopping bars, nightly entertainment and contemporary rooms — one, naturally, dubbed the "Rock Star" — with high-tech amenities, funky rock-inspired decor, and double-jetted tubs attract young couples and groups. Rockers will appreciate the free guitar rentals and gorgeous open-air theater where Juanes just played this week.
RELATED LINKS:
All products are independently selected by our writers and editors. If you buy something through our links, Oyster may earn an affiliate commission.