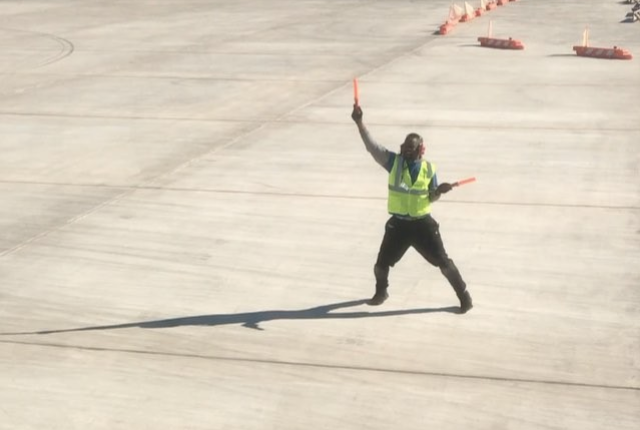 If you've ever flown on a commercial plane, you've likely seen members of ground services guiding planes away from their gates with their signature orange batons. Most folks simply walk aside the plane to usher them out onto the taxiway, but Kyran Ashford of the Greater Rochester International Airport is not like most folks. In a viral video captured by country singer Terry McBride, who was flying on Southwest from Rochester to Nashville, Ashford is seen moving and grooving down the Tarmac, lunging, marching, and swinging his batons around his head like a lasso. All and all, it looks like he's having a grand old time -- and his infectious dancing has captured the attention of some 8.5 million people who have watched the video on Facebook thus far. His goal? Giving passengers "30 seconds of positive vibes," Ashford told the Democrat & Chronicle.
As it turns out, Ashford's antics aren't limited to the Tarmac. His Youtube channel shows him rapping to passengers on planes and hosting dance-offs and relay races in the terminal. In fact, he's been entertaining travelers in such a manner for five years, working both for the airport and as part of JetStream Ground Services, which serves Southwest.
We'd just like to say thanks to Ashford for brightening up our day. Not all heroes wear capes. Some wear neon vests.
You'll Also Like:
All products are independently selected by our writers and editors. If you buy something through our links, Oyster may earn an affiliate commission.