Pooch lovers, rejoice: The 136th annual Westminster Kennel Club Dog Show is around the corner, airing on February 13 and 14. (Check your local listings for exact times and stations.) And since the many participants need to set up shop in New York for the big show, we figured we'd share our hotel expertise, but this time, we're matching the dog -- not (really) the owner -- to the best spots for, well, Spot, to call home. Check out more of our hotel picks for different kind of pups, then vote: Which hotel would you stay with your dog at?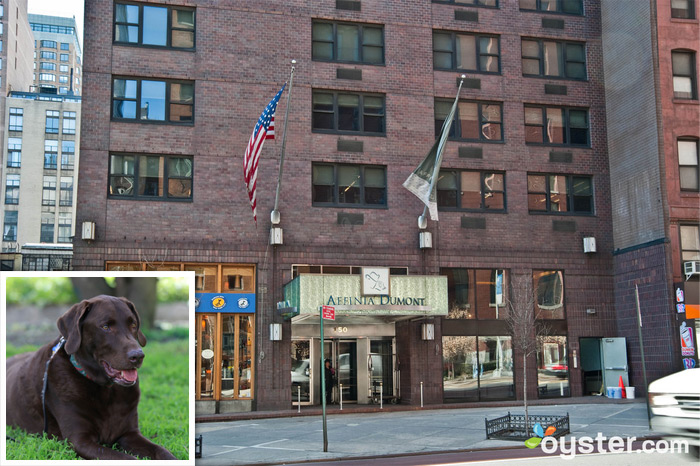 WHY IT WORKS: Like its sister properties, the Affinia Dumont offers food and water bowls, doggie sidewalk bags, and even the services of a pet psychic through its Jet Sets program. But the Dumont is also known for its fitness focus, and an athletic dog like a lab needs to get its exercise. You can easily set up some extra walks (at an additional fee), or just head over to the East River path nearby for your own free stroll — or run.
THE COST: $25 surcharge; $250 and up for any pet-related damage after check-out.
WHY IT WORKS: Arguably one of lower Manhattan's chicest hotels (ideal for the coiffed pooch, who also embodies chicness), the Soho Grand provides many pet-friendly perks for no fee; the hotel simply requests you let them know in advance to ensure booking you and Fido on one of its pet-friendly floors. And since poodles are notoriously pampered, we're sure it'll love that room service delivers Hartz-brand animal chow and some special treats, too, right to your (dog)bed.
THE COST: Free!
WHY IT WORKS: We know this was supposed to be about matching the breed, but in the French Bulldog's case, it's the owner who makes the dog — and every single Brooklyn hipster owns one of these dogs right now, which should make any out-of-towner with said pup feel right at home. And although the hotel isn't walking distance from any of NYC's major attractions, it does provide creature comforts for your dog: most importantly, a free bed to sleep in every night.
THE COST: $100 deposit, which is 100% refundable upon check-out provided there's no damage, natch.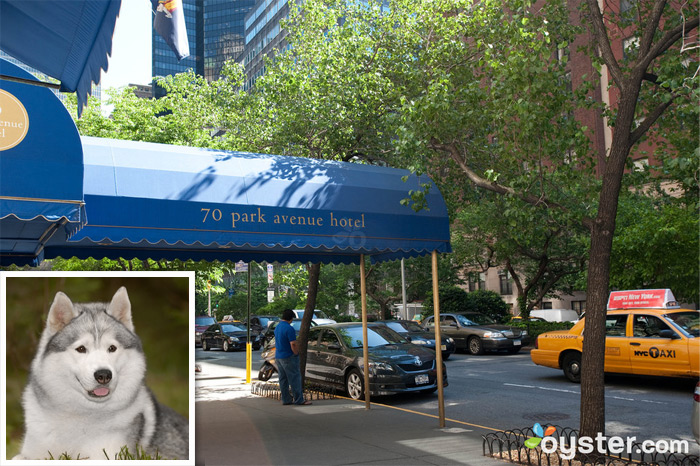 WHY IT WORKS: Mush! Even though there's no snow on the ground in NYC right now, these snow-savvy pooches need a place to stretch their paws — a hotel that will allow pups of their size. Luckily, 70 Park Avenue welcomes all sorts of dogs, regardless of weight or height. And after a big workout, treat your Husky to one of the hotel's doggie pedicures for prime pre-show primping.
THE COST: Free!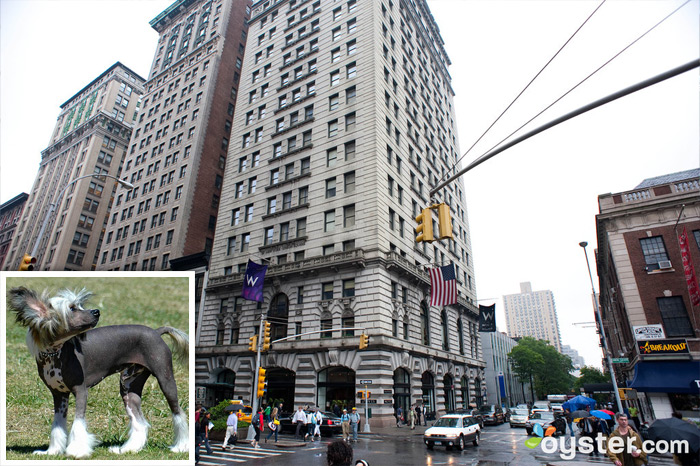 WHY IT WORKS: The W's P.A.W. (Pets Are Welcome) program offers some great perks for the most high-maintenance of dogs (I mean, what's more high maintenance than this crazy-but-cute pooch), including a pet tag, toy, and special pet snacks. There's even a pets' room service menu. The hotel's Whatever/Whenever requests can apply to pets as well as humans, and wee wee pads, leashes, Bow Ow first-aid boxes and more can be requested day or night. The downside? It's pricey, and you'll have to look elsewhere if your dog weighs more than 40 lbs.
THE COST: $25 per day, plus a $100 non-refundable cleaning deposit.
WHY IT WORKS: The teeniest and fussiest of the bunch, Chihuahuas require a hotel that has all the bells and whistles — and the Muse provides just that. The hotel has a "Pampered Pooch" and a "Hers and Furs" package, starting at $229, which provides in-room pedicures for a guest and her (or his!) dog. Pups also receive a special welcome package upon arrival, with food and treats for them and their human companions. However, the hotel has a two-guest limit per room — but we know the Chihuahua won't actually take up that much space.
THE COST: Free!
WHY IT WORKS: Terriers are all-around great companions, so they deserve a hotel with some fabulous all-around treatment — like The Benjamin offers. The sleep-themed spot is the perfect place to cuddle up with Fido — the hotel's "Dream Dogs" program provides a plush doggie bathrobe, a doggie DVD (to keep 'em from getting "bored"), and a dog room service menu. Plus, the doggie bed menu offers different sizes of specially-designed beds to help a terrier of any size slumber soundly.
THE COST: Free, but there's a cleaning fee should there be visible damage upon your departure.
[polldaddy poll=5904041]
RELATED LINKS:
All products are independently selected by our writers and editors. If you buy something through our links, Oyster may earn an affiliate commission.