Why oh why is the temperature of every airplane cabin set somewhere between meat locker and Arctic Circle? Luckily, there's an easy way to combat the airplane's built-in chill factor. Just wrap up in one of the ridiculously warm scarves or wraps below. They're big enough that they can double as airplane blankets, but chic enough that you'll arrive at the gate in style. As a bonus, these items make excellent gifts for that frequent flyer on your holiday list.
All of the products featured in this story were hand-selected by our travel editors. Some of the links featured in this story are affiliate links, and Oyster may collect a commission (at no cost to you) if you shop through them.
1. J.Crew Oversized Cashmere Wrap
Designed with ultimate coziness in mind, this oversized wrap from J.Crew is essentially your favorite throw blanket made fashion. Available in thirteen colors, you can style this piece as a wrap or as a blanket scarf. For an extra $10, you can even have your wrap monogrammed – not a bad idea if it gets left behind on the plane.
For the oh-so-fancy Anglophile, this Burberry wool and silk scarf in the brand's iconic check print offers a preppy way to bundle up. Yes the price tag, edging close to $400, may elicit a groan, but it'll broadcast first-class vibes even when you're wedged into coach.
3. Free People Shetland Recycled Blend Fringe Scarf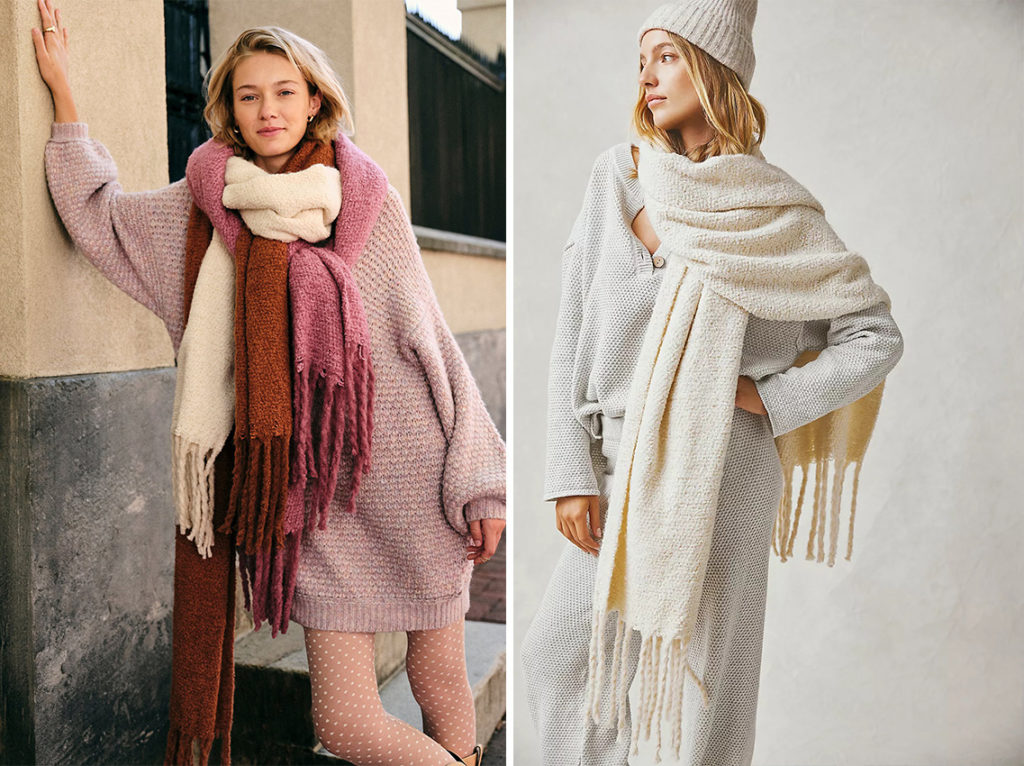 This scarf with fringe detailing offers a trendy, youthful way to tackle chilly spaces. It's big enough to blanket your upper body, and comes in five different colors, from dark to light, whether you're looking for a winter or spring style.
4. Free People Ripple Recycle Blend Blanket Scarf
Another ulta-comfy design from Free People, this scarf is a little more subtle than its tasseled counterpart above, with a ribbed pattern and fluffy texture. It's made from 50% recycled fibers and come in three colors. At 100 by 19 inches, you'll have plenty to cozy up with in the plane cabin.
5. Rag & Bone Classic Cashmere Poncho
The name says it all. Here's a glamorous wrap that's also an absolute workhorse, delivering serious warmth (read: 100 percent cashmere) and loads of coverage (read: 41 inches in length). The heather gray and camel colors can top off any outfit and the knit never gets rumpled, letting you arrive in style.
6. Madewell Small Buffalo Check Blanket Scarf
This cover-up ranks high on the bundle-up factor, thanks to its cozy cotton-acrylic blend. And while it can be worn draping your torso, this piece can also be looped up into a scarf. Plus, the darker plaid color works in all seasons — helpful for those summer trips when you're shivering in your Bermuda shorts.
7. Treasure & Bond Plaid Oversize Blanket Wrap
At 52 by 55 inches, this scarf from Treasure & Bond is truly the closest you'll get to wearing your favorite throw blanket on the plane. The fabric itself is thin and lightweight, letting you ward off the chill without overheating.
8. Quince Mongolian Cashmere Wrap
Another cashmere option, this wrap will become a closet staple. This simple piece exudes elegances, crafted from 100% grade-A mongolian cashmere. Available in six subtle colors, perfect for mixing and matching with any outfit.
9. Wander Agio Long Shawl
Part blanket, part scarf, this colorful, ultra-warm accessory comes to the rescue no matter what's on your travel itinerary. Even better, it's affordable, so you can stock up on more than one color (for yourself or as a holiday gift for that traveler on your list).
10. Old Navy Flannel Poncho Scarf
This flannel poncho blends the best qualities of sweater and scarf. The asymmetrical hem and draping effect come together into a strikingly stylish silhouette, and built-in armholes help the fabric to lay flat where necessary.
Oyster.com is a participant in the Amazon Services LLC Associates Program, an affiliate advertising program designed to provide a means for sites to earn advertising fees by advertising and linking to Amazon.com. Oyster also participates in the SkimLinks and SkimWords affiliate programs.
All products are independently selected by our writers and editors. If you buy something through our links, Oyster may earn an affiliate commission.