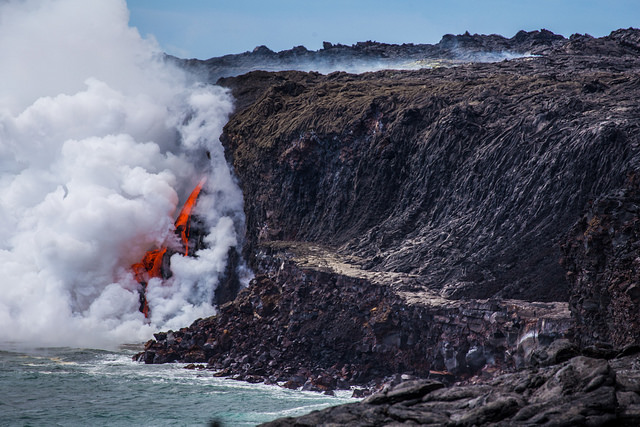 While the Island of Hawaii (aka the Big Island) has its share of white-sand beaches with swaying palm trees, rainforests, and grassy plains, its terrain is mostly jet-black, hardened lava rock. In fact, the island is still forming, and two of its most active volcanoes—Kilauea and Mauna Loa—are located in Hawaii Volcanoes National Park. Visiting the park is a must-do on a trip to Hawaii's youngest island, and although top sights here can be seen in a day, we strongly urge you to consider spending the night or more to fully experience what it has to offer.
The park has two major roads: Crater Rim Drive is approximately an 11-mile route that rings Kilauea's caldera, and with more time, adding Chain of Craters Road is highly recommended. This 18-mile route dead-ends at the ocean, and is well worth the journey. Check the park's website before you head out for current viewing conditions and road closures.
1. Kilauea Iki Overlook
Kilauea Caldera and the lava filled Halemaumau Crater is a spectacular sight — but don't just take a glance during the day and check it off your list. The expansive vista is certainly impressive at two miles wide and three miles long, there isn't much to see when it's light out other than a rocky, moonlike landscape with shrubs and some rising white smoke. Prime viewing time of the glowing, molten lake is just before dawn and dusk — people are often surprised to learn that the park is open 24/7. The overlook is located just outside the Jagger Museum (more on that below).
2. Jagger Museum
For a primer on volcanology, it's imperative to spending some time at the Jagger Museum. Exhibits are well executed, with colorful and easy to understand displays. You can see chunks of cooled lava and a bunch of science-geeky-cool equipment, including real-time monitors and electronic seismographs. The park may be open 24 hours, but the museum closes daily at 8 p.m. As such, most people visit at night and pair it with viewing the crater at sunset. Crowds can get pretty thick, so you might want to go earlier in the day.
3. Thurston Lava Tube
Located at the end of Crater Rim Drive, the Thurston Lava Tub (officially named Nahuku) is one of the park's most visited sights, and it's often totally packed by midmorning. Getting there requires a 20-minute walk on a narrow, paved path that winds through a dense, lush forest. The mini-trek can be magical, but if the walkway is crowded, it can feel more like trying to maneuver your way around tourists at a park or zoo. The best time to go is early in the morning, when it's misty and peaceful. Looking for a spooky experience? It's possible to go at night, but although the path is lighted, be sure to bring a flashlight. The main attraction is eerily cool, and the cave is estimated to be roughly 400 years old.
4. Pu'u Loa Petroglyphs
Ancient Hawaiian petroglyphs — more than 23,000 of them — carved into lava rock for as far as the eye can see await just past mile marker 16 on Chain of Craters Road. There's a parking area off the road, and from there it's about a 15- to 20-minute walk on a fairly level trail of pahoehoe lava bedrock to reach the archeological site of Pu'u Loa. A narrow boardwalk spans the field, and the National Park Service asks that travelers stick to it while viewing the carvings. Tip: There's no shade along the walkway and it can get brutally hot midday, so visit early morning or late afternoon if possible.
5. The Holei Sea Arch
This awesome sight is a worthwhile reward for journeying to the end of Chain of Craters Road. A short trail begins right before mile marker 19, leading straight to the ocean (roughly a two-minute walk) and the 90-foot-high Holei Sea Arch. It was created sometime within the last 100 years, according to the National Park Service, but it won't be around forever. Eventually, the rock formation will collapse into the ocean — like Malta's iconic Azure Window — so catch it while it's still around.
6. Lava Flows
We had to save the best for last, but we also want to manage expectations — and so should you. Seeing lava flow isn't a sure thing, and there's a chance it won't happen during your trip. At the end of Chain of Craters Road, the coastal ranger station is your starting off point to get info on eruption activity and safety tips before beginning the 10- to 12-mile trek. The hike out is challenging, as the lava field has deep cracks and uneven terrain, and there's no marked trail. Views are most dramatic after dark, but that's also when it's easiest to suddenly become disoriented. Near the park's eastern boundary, there's the Kalapana platform for another vantage point to watch eruptions.
You'll Also Like:
All products are independently selected by our writers and editors. If you buy something through our links, Oyster may earn an affiliate commission.