Whether it's the dream of a uniform, an all-over tan, or the opportunity to free yourself in the company of like-minded naturists, taking it to the nudist beach is the best way to fulfill your disrobed destiny. Europe may be the first spot to come to mind when considering the idea, but from relaxed "clothing optional" spots to dedicated nudist beaches, the U.S. coast has plenty of options when it comes to ditching the trunks and bikinis for the birthday suits — if you know where to look. From Martha's Vineyard to Miami, here are 11 of the best nude beaches in America.
1. Haulover Beach, Miami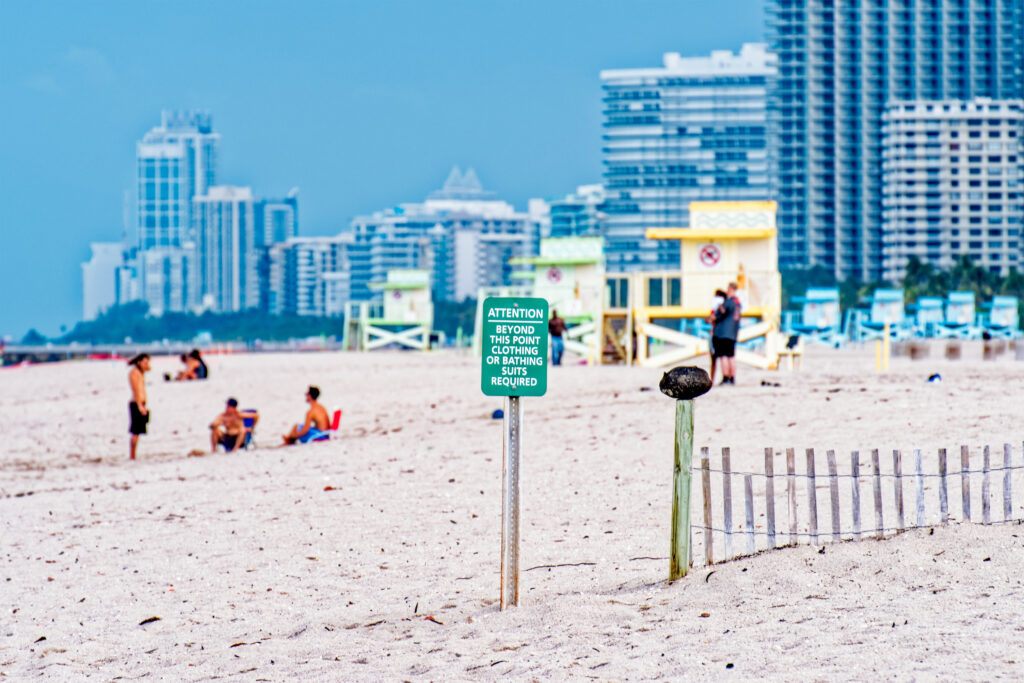 Haulover Beach is likely the most famous nudist spot in the U.S. and one of its most popular. The 0.4-mile stretch of white sand brings a huge range of visitors to Miami to experience its laid-back attitude towards swimwear (or lack thereof). Great for swimming, surfing, and sunbathing, Haulover Beach is part of the larger Haulover Park. It is easy to get to, with good facilities and a range of great Miami hotel picks within close vicinity.
Our Pick for a Hotel in Miami: The Ritz-Carlton Bal Harbour, Miami
2. Kauapea Beach, Kauai, Hawaii
Kauapea Beach — or "Secret Beach" to locals — is one of the Hawaiian island of Kauai's unofficial nude beaches. Although public nudity is illegal in Hawaii, the beach is rarely patrolled and still attracts folks to strip down. Set in a secluded section of the island reachable by a small footpath, this idyllic spot even has a waterfall a short way inland, making it the complete paradise for nude sunbathers.
Our Pick for a Hotel in Kauai: Hanalei Bay Resort
3. UFO Beach, South Padre Island, Texas
Named after a futuristic-looking escape pod that washed ashore here, UFO Beach on South Padre Island is another of the country's famous nude beaches. It may not be the easiest spot to reach — a street-legal, four-wheel-drive will come in handy — but the trip will be worth it.
Our Pick for a Hotel in South Padre Island: Peninsula Island Resort & Spa
4. Collins Beach, Sauvie Island, Oregon
Collins Beach on Oregon's Sauvie Island (about 30 minutes from Portland) differs from your average nude beach in that it is one of the country's only non-coastal nudist beaches. Situated in an area of farmland in a protected wildlife sanctuary, the beach is famous for its beauty as much as its nude status.
Our Pick for a Hotel in Portland, Oregon: Ace Hotel Portland
5. Gunnison Beach, New Jersey
Combining the natural splendor of beach, surf, and city views, New Jersey's Gunnison Beach is a popular choice for city folk who want to shed all their clothes when they hit the sand. (It's less than a two-hour drive from Brooklyn.) The clothing-optional section of the beach is on the south side and on sunny days, the stretch of the Sandy Hook peninsula swells with people looking to strip off and enjoy a beach that has glimpses of the Manhattan skyline for a backdrop.
Our Pick for a Hotel in Long Branch: Wave Resort
6. Baker Beach, San Francisco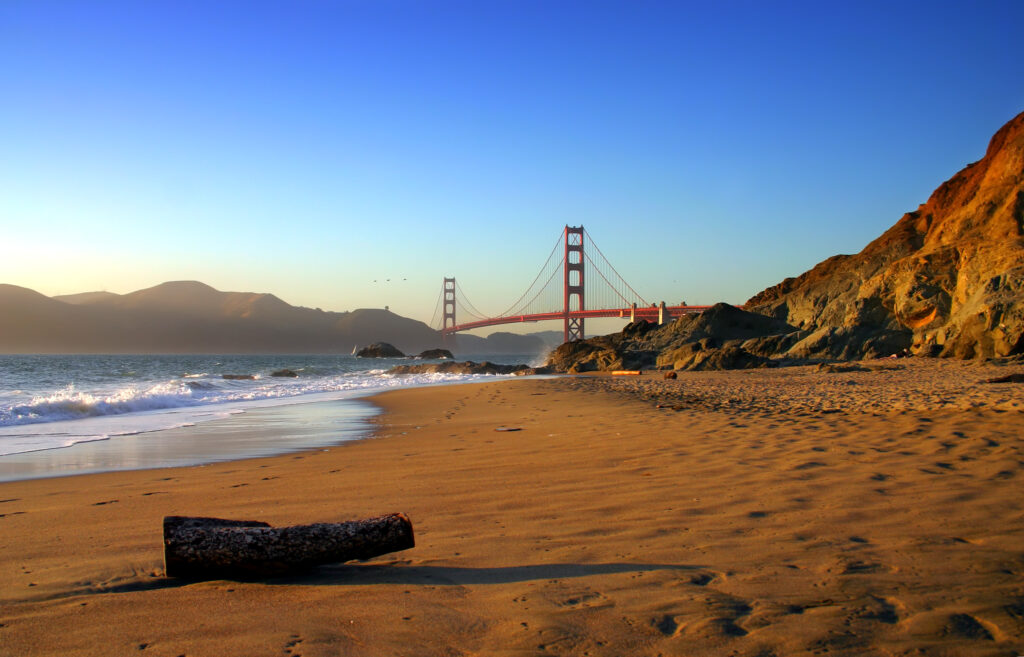 Baker Beach in San Francisco has the type of atmosphere that could inspire even the most apprehensive nudist to join in. The large urban beach has a relaxed, bohemian vibe about it, which encourages more than the usual clothes-free sunbathing – just make sure only to strip off once you're north of the clearly marked 'Hazardous Surf' sign. Best of all, Baker Beach also has great views of the Golden Gate Bridge, views that clearly add to its iconic nude beach status.
Our Pick for a Hotel in San Francisco: Inn at the Presidio
7. Moshup Beach, Martha's Vineyard
Clay cliffs, soft sand, east coast sunsets on the water, and nudity encouraged, there's a sweet mix at Moshup Beach on Martha's Vineyard for those wanting to go au naturel. Located beneath the steep terracotta-colored walls of Gay Head cliffs, the beach is a stunning place to take it all off.
Our Pick for a Hotel in Martha's Vineyard: The Beach Plum Inn
8. San Gregorio Private Beach, San Mateo, California
If you're worried about the "not quite official, kinda legal'" type of situation surrounding a lot of the country's clothing-optional beaches, then get yourself to San Gregorio Private Beach in San Mateo County and relax. The secluded stretch of sand is private property and is recognized as the country's oldest official nudist beach, established in 1967. Supposedly gay to the north and straight to the south, the large private beach has plenty of driftwood shelters, making it a good starting spot for the cautious but nude-curious.
Our Pick for a Hotel Near San Mateo: Creekside Inn
9. Black's Beach, San Diego, California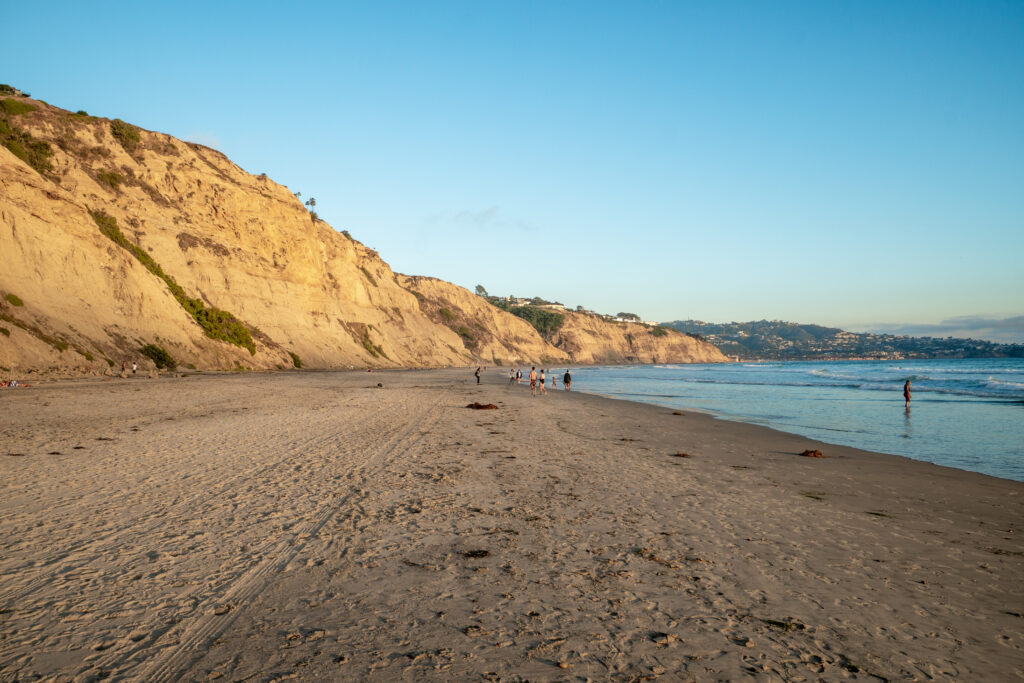 Accessing Black's Beach, located in La Jolla, requires a hike down a steep and rugged path. However, it's precisely this hard-to-reach location that lures folks looking for a secluded, clothing-optional stretch of sand. Once there, sunbathers and surfers strip off their clothes and soak up the California sunshine. And don't be fooled by the name — you won't find any black sand here. The beach gets its moniker from a family who formerly owned a farm overlooking the beach.
Our Pick for a Hotel in San Diego: L'Auberge Del Mar
10. Hippie Hollow, Austin, Texas
When the temps reach sizzling degrees in Texas, there's no better way to beat the heat than to shed your layers and head for the water. Set along Lake Travis, the 109-acre Hippie Hollow is the only public park in the state where nudity is legal. Though the area is lacking sand, visitors can be found swimming and sunbathing on flat limestone rocks near the water. Plus, children under 18 are not allowed, so you don't have to worry about splashing kids.
Our Pick for a Hotel in Austin: Miraval Austin Resort & Spa
11. Kehena Beach, Big Island, Hawaii
On the eastern end of Hawaii's Big Island lies the clothing-optional Kehena Beach. This black-sand beach is small, shaded, and can only be accessed by a hike, which naturally keeps crowds away and provides privacy. Dolphins are also known to frequent the waters here, too, lending it the nickname of Dolphin Beach. It's worth noting that the swimming conditions can sometimes be dangerous, with rough currents.
Our Pick for a Hotel on the Island of Hawaii: Fairmont Orchid, Hawaii
All products are independently selected by our writers and editors. If you buy something through our links, Oyster may earn an affiliate commission.