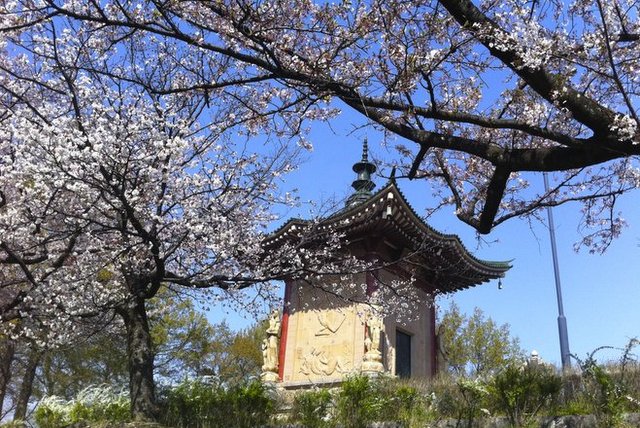 Japan's adoration of the delicate sakura tree spans centuries -- frequently popping up in artwork and poems, and as a feature in several of the country's long-standing rituals and traditions.
This shouldn't come as a surprise.
After all, the cherry blossom is Nippon's national flower, and during spring, its brief spring blossoms are celebrated through flower viewing, known as hanami, where groups gather on blankets, under the delicate, flowering bows, armed with full hearts, full stomachs, and even fuller glasses.
Historically, it's thought that the sakura blossom's ephemeral nature, lasting only around two short-but-sweet
weeks, is precisely why it is revered as such a precious cultural commodity; much
like life (yes, we're getting all theological), the blossom's presence is fleeting. Looking back to my first and
only hanami in Japan, which took
place just weeks after the devastating 2011 Tohoku earthquake, this natural
allegory becomes even more heartbreaking and poignant, though equally uplifting.
During a time of so much darkness, tragedy, and loss, the slow
appearance of these delicate white and pink blossoms had a palpable effect on
everyone's constitution. The emerging blossoms seemed to give people a reason
to be excited about life again and permission to smile or even laugh again. It reminded everyone that, despite the recent events, life goes on and it can still be beautiful. I learned quickly that close to nothing will stop the
Japanese from celebrating hanami.
Cherry blossom season usually begins somewhere between late March
and early April, notably first in the warmer areas, like southern Japan and the
island of Okinawa. Once the first bud appears, it is game on — everyone tracks
the blossoms. At the school where I was teaching, once the
blooms began, students and teachers shared tips on which parks had trees in mankai, or full bloom, and soon, long
days and early mornings became afterthoughts to meeting up with friends and
family to roll out the blankets under a canopy of blossoms. Typically, and for
thousands of years, hanami is
celebrated with large groups sitting under the blooms, joyfully noshing on snacks
and cracking open the beer, wine, and cans of soju. (One great thing about Japan is there's an open container
law, so you can just pick your poison up from the local convenience store and
pop it open right in the park!)
While folks anxiously track the blossoms, stores explode with sakura-themed everything. Several brands, like Sapporo, unleash special packaging
adorned with cherry blossoms, beauty counters are covered in cherry blossom-scented lotions, and shelves and displays are topped with cherry
blossom-infused waters and wines. I even managed to get my hands on a
tempura-battered blossom and a sakura-flavored
Kit-Kat bar.
During our brief blossom season, I was a wreck and eased myself
into the festivities, at first forgoing the group picnics, preferring to stroll
through the parks on my teaching breaks. I would walk along the paths, under
branch after branch, each thick with soft white, pink, and magenta blooms. The
wind would blow and a handful of the paper-thin flowers would flutter past my
face as they fell to the ground. The fluffy, gorgeous blossoms were everywhere — on the trees, in the air, and on the ground. It felt surreal, like I was in a
candy forest with the occasional Japanese shrine or statue peaking through the
pink and white clouds of flowers. I walked by group of friends cheerfully
eating, drinking, and observing the blossoms from their blankets, a pair of old
women eating their lunches on a bench in the sun as blossoms fell around them.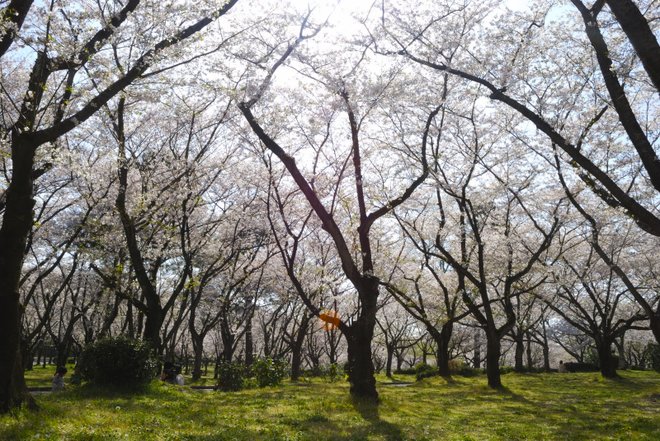 After a few days of blossom therapy, my nerves calmed, I had a day
off, and I dove head-first into the action with a yozakura (literally meaning night sakura) and my first weekend hanami.
Weekend and night celebrations are much larger and usually involve
carnival-style games, live music (or at least a few people with personal
playlists), and food stalls. This is one of the best times and places to try
your tastebuds at legit Japanese street food, like takoyaki (octopus balls), grilled clams, decorative marzipan sweets,
shioyaki (grilled mackerel skewers),
and taiyaki (fish-shaped cakes filled
with custard and chocolate). And, while being able to appreciate the cherry
blossoms during the day can be a gorgeous sight, night blossom displays can be
outright stunning thanks to intricate lighting set up and positioned to bring
the blossoms alive in the dark of night. Plus, the festive lighted lanterns add
to the overall exotic vibe.
If you can't make it over to Japan for hanami, don't fret! There are a few places right here in the U.S. that have beautiful cherry blossom celebrations (though you'll miss out on the
traditional food and drink). Washington, D.C. is a famous spot for cherry blossom
viewing in the states and features over 1,000 cherry trees either imported or
gifted from Japan in the early 1900s, with the most popular viewing spot being
along the Tidal Basin, which gives spectacular views of the Washington monument
and Jefferson Memorial in the distance. In New York City, the Brooklyn
Botanical Garden has a dedication section of cherry trees in the Cherry
Esplanade, featuring a double-flowering kanzan variety. Visitors can bring blankets and snacks, though no
alcohol is allowed on the property. There's even an annual festival called
Sakura Matsuri, slated for when the majority of the trees are in full-bloom.
NOW WATCH: 6 Best Places to See Cherry Blossoms in Japan
https://www.youtube.com/watch?v=lOocIZiU7Uo
Related Links:
All products are independently selected by our writers and editors. If you buy something through our links, Oyster may earn an affiliate commission.