The Boardwalk Hotel, a 14-room property situated on a former coconut plantation, has long been one of the island's hidden gems. Original owners Geert and Julia bought the property in 1987 to use for their windsurfing business (Aruba's constant trade winds make the sport exceptionally popular here), and it quickly became an insider destination for windsurfing and kitesurfing devotees.
The hotel's location is a large part of its appeal for water sports fans: It's located just north of most of the High-Rise hotels along Palm Beach, and across the main road from Fisherman's Huts — where the turquoise sea is ideal for both sports, with waist deep water for hundreds of feet and a sandy bottom free of rocks.
But the times, they are a changin'. A 320-room Ritz-Carlton property, slated to open in 2013, is being constructed right across the street from The Boardwalk, obstructing its views — and soon, it will bring more crowds to Fisherman's Huts.
The Boardwalk Hotel's new owners — Stephanie and Kimberly Rooijakkers, a pair of blonde, fit Belgian twins who bought the hotel last year — have mixed feelings about the Ritz-Carlton. Yes, the obscured view is unsightly, and the resort will extend Palm Beach, pushing the wind and kitesurfers farther north. But the Ritz-Carlton will also bring attention to the area and allow The Boardwalk to broaden its appeal: specifically, the owners hope to attract families, couples, and groups.
The decor will be a part of this evolution. While Geert and Julia designed the hotel with a Southeast Asia vibe, the twins have implemented a Coastal Living style. Dark woods throughout the grounds have been painted white, and new bright orange, green and turquoise accents give the casitas a cheerful "Hamptons-esque" appeal. Future plans include the addition 12 new casitas, and modern updates to the beach-y rooms.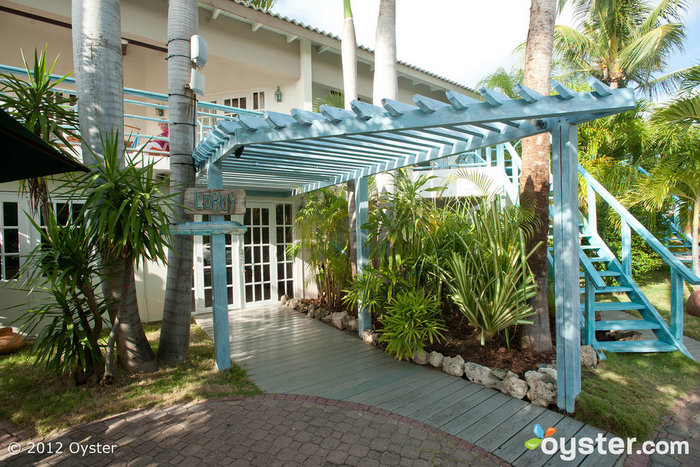 Not everyone is happy with the changes. While walking to my rental car after shooting the property for Oyster, a sporty gentleman (who had clearly spent the morning wind surfing) called my name and ran after me, asking if I was a journalist.
"Yes, I am," I answered.
"Are you writing a piece about the hotel?"
The man wanted to express his doubt about the new ownership. It has been his home way from Boston for years, and he had genuine concerns that the twins would take the hotel in an undesirable direction.
"It's not like the old days, and I don't think it ever will be," he said, pointing to the fresh white paint. "There are more families and kids running around now. Before it used to be all wind and kitesurfers — it was our little secret."
It's true that the clientele is changing, but the hotel's sense of community remains. "People know it's a small hotel here, and they tend to talk to each other more, " Stephanie said. The property will remain a low-key haven, where guests can kick off their flip-flops and unwind. Each casita has a private porch, with a hammock and charcoal barbeque. And it's still very much a hidden gem. Don't blink or you'll miss it; the hotel, with a garden-like atmosphere tucked behind an iron fence, is hard to spot, especially when the eye is naturally pulled towards the large Marriott properties and massive Ritz-Carlton construction site along the beach.
As for the wind and kitesurfing? Even if it moves a bit farther north, the hotel will still be a convenient home base — and fans of the sports can still talk shop with the owners, who are kitesurfers themselves. In fact, they first discovered the hotel when they stopped by to buy a kitesurfing harness.
Of course, running and growing the hotel has certainly had its ups and downs. "At first it was frustrating. I like to do things with my hands and see the results. So the first few months were really hard because it felt like nothing was happening quickly," Stephanie said. Luckily, the twins' father is a regular visitor. "He likes to come by the property a few times a week and see how things are going and help with handiwork."
And even more changes could be in store down the road. Stephanie, a foodie who is eager to provide guests with dining recommendations around the island, may start feeding visitors as well as lodging them. "I really want to have my own restaurant, and it will happen someday."
All products are independently selected by our writers and editors. If you buy something through our links, Oyster may earn an affiliate commission.