The Great Smoky Mountains is America's most popular national park, welcoming more than nine million visitors every year, followed by the Grand Canyon, which draws over five million travelers annually. In the U.S., there are 58 national parks to explore, including other usual contenders like Yellowstone and the Yosemite National Park. But there are also other hidden gems with fewer crowds and equally stunning vistas. With that in mind, we decided to highlight 12 amazing, but lesser-known parks -- hopefully, one near you -- and explain why they warrant a visit.
1. Big Bend National Park, Texas
Almost a six-hour drive from San Antonio, Big Bend National Park encompasses the Chisos Mountains and the Rio Grande, which forms the international boundary between Mexico and the U.S. With more than 800,000 acres to explore, the park is a secret haven for backpackers looking to get off the grid and witness a clear view of a star-lit sky. Adventurous travelers may want to remember to carry their passports if they plan to visit the preserved areas — Parque Nacional Canon de Santa Elena and Maderas del Carmen — across the border. And even if you don't make it to Mexico, guests can relax and enjoy the beautiful landscape on a tranquil boat ride down the Rio Grande. Sometimes you can even travel down the Rio for miles without spotting another boater. But plan ahead and avoid visiting the park when it's crowded — usually from November to April and during most three-day holiday weekends.
2. Congaree National Park, South Carolina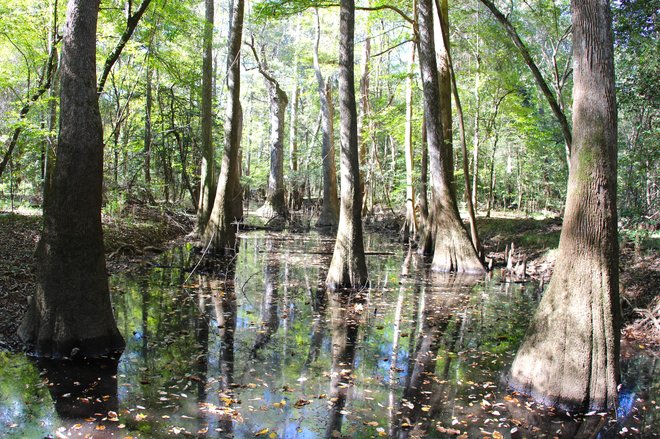 Welcome to the home of the Champion trees — some of the tallest trees in eastern North America. Here, visitors can paddle on the Cedar Creek Canoe Trail to explore 15 miles of the park's wilderness; hike Kingsnake Trail (one of 10 hiking trails) for excellent bird-watching; or stay overnight at the Longleaf Campground or Bluff Campground. Adventurous visitors who can rough it without normal campground amenities can travel beyond the aforementioned campsites to explore South Carolina's backcountry. Rich with history as old as its trees, Congaree National Park has been a home and refuge to many people before it became a park. Native Americans, Spanish explorers, Revolutionary War patriots, escaped slaves, loggers and others left their mark on the historical site.
Hotel Pick: Just 30 minutes northwest of Congaree, the Sheraton Columbia Downtown Hotel is conveniently located near shopping, historical landmarks, and museums such as the South Carolina State Museum.
For an off-the-grid getaway, we suggest a trip to this U.S. national park, which is comprised of Isle Royale, the largest island in Lake Superior, and 400 smaller islands. Although it's in Michigan, Isle Royale is located 800 miles southeast of Thunder Bay in Ontario, Canada. The park's 36 campsites make it an ideal destination for campers and outdoor enthusiasts who want to unplug and de-stress. Hiking, kayaking, and scuba diving are a few popular activities. Isle Royale also provides undeniable solitude for those who need it. It is only accessible by boat or seaplane, which explains why less than 19,000 people visited the park in 2015.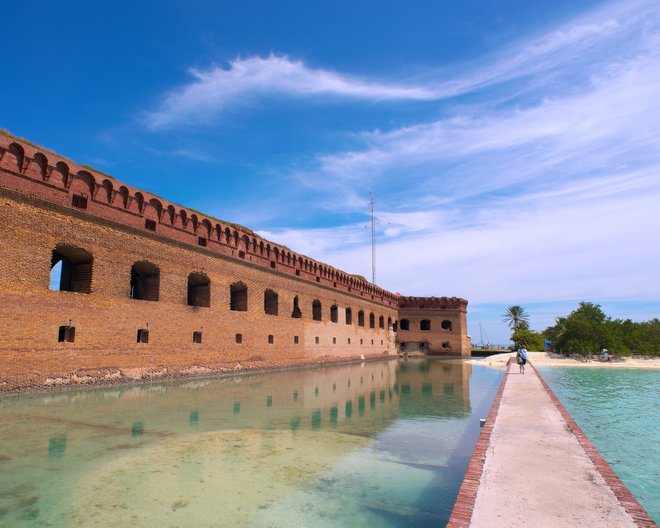 When most people think about the best places to go snorkeling in the U.S., Dry Tortugas National Park rarely makes the list. But the 100-square-mile park is a diver's paradise thanks to its amazing marine life and coral and seagrass communities. Little Africa Reef and Windjammer Wreck are both easily accessible spots for snorkeling. Visitors will also have an opportunity to see shipwrecks and the historical treasures that line the bottom of the ocean. In addition to seven islands, the park also includes Fort Jefferson, the largest masonry structure in the Americas. It's also the former prison where four accomplices in President Lincoln's assassination were held in 1865. Only accessible by boat or plane, Dry Tortugas is a great winter getaway that offers the best space for campers and sunbathers on Garden Key.
Hotel Pick: Round out your relaxing trip at The Reach in Key West, which lacks the island's rowdy crowd. Vacationers can take a ferry, catamaran, or seaplane to the park.
Experience the once-in-a-lifetime thrill of sandboarding and sand sledding at Grand Sand Dunes National Park in Colorado. Visitors can rent sandboards or sand sleds from two shops in San Luis Valley. Park rangers recommend trying the adrenaline-pumping activity on any dune, but far away from vegetation. Hiking, biking, horseback riding, camping, fishing, and hunting are just a few other recreational activities visitors have at their disposal when visiting the park. And in May and early June, Medano Creek is a great way for kids to stay cool. The creek's flow decreases after June. Visitors should prepare for a variety of weather conditions because this high-elevation park in the Rocky Mountains has three vastly different ecosystems.
Hotel Pick: For an outdoorsy couple that doesn't shy away from a chic hotel stay, we suggest booking a room at The Broadmoor. Located at the foot of the Colorado Rockies, this hotel features luxe amenities that include a full-service spa, eight restaurants, three hot tubs, and 25 on-site retail shops.
6. Great Basin National Park, Nevada
The International Dark-Sky Association designated Great Basin as an International Dark Sky Park. Why, you ask? This national park offers visitors the unique opportunity to gaze high above at night for a clear view of the Milky Way, our solar system's planets, meteors, star clusters, and much more. With more than 116,000 visitors a year, Great Basin National Park has enough to keep outdoor enthusiasts busy, including a drive and hike to 13,063- foot Wheeler Peak to see 5,000-year-old Bristlecone pines. From high above to down below, guests can also take a ranger-guided tour of the Lehman Caves. These limestone caverns can be traced back 550 to 600 million years ago when a warm sea covered most of what is now Nevada and Utah. The Lehman Hill Caves are the most popular cave system among tourists, but spelunkers can also explore three other cave systems: Baker Creek Caves, Snake Creek Caves, and Alpine Caves.
Hotel Pick: Las Vegas may be a little more than a four-drive to Great Basin, but if you're looking for a great way to begin or end your family trip, we suggest staying at the Mandalay Bay Resort & Casino, which offers a nice balance of adult and kid-friendly amenities.
7. Virgin Islands National Park, St. John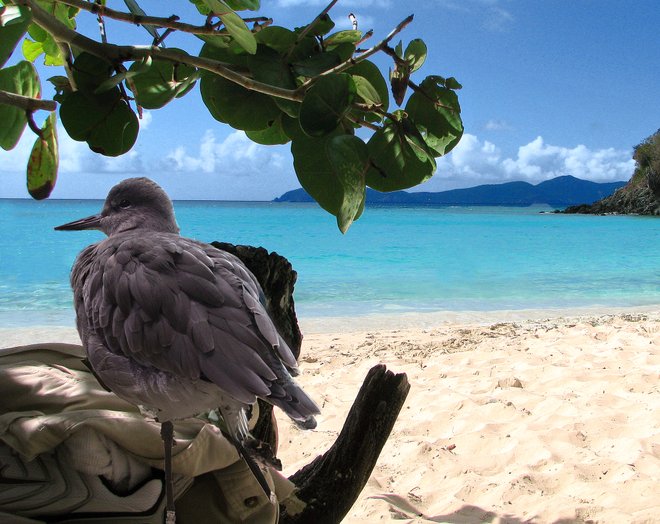 Caribbean islands are known for their beautiful white-sand beaches with turquoise waters lapping at their pristine shores. So it's pretty odd that more people don't visit the Virgin Islands National Park every year. In 2015, more than 430,000 people visited the 7,259-acre park that encompasses over half the island of St. John and almost all of Hassel Island. In addition to these thousands of acres, the National Park Service also preserves and protects the wildlife on the islands such as tropical birds, fish, and approximately 800 species of exotic plants. Visitors who enjoy water sports won't find a shortage of things to do. Swimming, snorkeling, scuba diving, sailing, kayaking, windsurfing, camping, and bird-watching, to name a few. History buffs will enjoy visiting preserved archeological sites from as early as 840 B.C. to the arrival of Columbus to the rise of the Annaberg Sugar Plantation. Some sites are located near the beach, offering guests a break from sunbathing.
Hotel Pick: Without a phone or TV in your room, you'll enjoy the unplugged feel of staying at Caneel Bay Resort, a 17-acre property attached to the national park.
With more than 13 million acres, Wrangell-St. Elias National Park & Preserve is the largest national park in the United States. However, only 80,366 people visited the park in 2015. Located on the southern tip of Alaska, this national park is home to Mount Wrangell, an active volcano, and Bagley Icefield — North America's largest sub-polar icefield — which includes four giant glaciers: Tana, Miles, Guyot, and Hubbard. The park also comes alive with bountiful wildlife such as the caribou, mountain goats, trumpeter swans, sea lions, harbor seals, and salmon. As a designated World Heritage site, the park has nine of the 16 highest peaks in the U.S. Mount Elias takes the spot as the second highest peak in the country. If culture interests you more, take a trip to explore the ruins of the old Kennecott Copper Mine and the traditional Tlingit fishing village of Yakutat. Some of the park's natural, rugged landscape may not be accessible to visitors, but its awe-inspiring beauty is still worth a trip even if the closest city, Anchorage, is almost 300 miles away.
9. Chaco Culture National Historical Park, New Mexico
If you enjoy learning about indigenous cultures and traditions, we recommend a trip to New Mexico's Chaco Culture National Historical Park, a major preservation center of Pueblo architecture and culture from A.D. 850 and 1250. Although it's not technically a national park (it's a unit of the U.S. national park system), we thought it deserved a spot on this list. The park's remote and isolated location may be the reason why fewer than 40,000 people visit it each year, but there are several options available to keep guests busy. Visitors can take a self-guided tour along the nine-mile Canyon Loop Drive to see six major sites or hike four backcountry trails to see remote Chacoan sites, petroglyphs, and amazing panoramic views of the valley. The park also hosts a bi-annual Star Party and Night Sky Programs to give visitors a spectacular view of the sky from the Chaco Observatory. The event and programs also highlight how astronomy is and was an integral part in the traditions and artistry of a people not forgotten.
Hotel Pick: Take a three-hour trip from Albuquerque to spend a full day exploring Chaco. History buffs may enjoy staying at the well-restored Mauger Estate Bed and Breakfast, which is located near downtown and historic Old Town and popular tourist attractions.
10. National Park of American Samoa
Looking for an amazing paradise getaway? Head to this underrated national park in the South Pacific. Surprisingly, the National Park of American Samoa, which happens to be the only national park south of the equator, only welcomed about 14,000 visitors in 2015. Beautiful beaches, coral reefs, and tropical rainforests are the stars of this secluded oasis, which includes three islands: Tutuila, Ofu, and Ta'u. In addition to protecting fruit bats, the park also preserves Samoan customs, beliefs, and traditions (the oldest Polynesian culture), which historians believe came from southwest Asia almost 3,000 years ago. The park has abundant wildlife that includes a variety of birds, mollusks, and more than 991 fish species. Head to the park in September or October and you may even spot a humpback whale.
Although it's not a park for the outdoor thrill-seekers, Cuyahoga Valley National Park is an unexpected experience you may not want to pass up when visiting Cleveland or Akron. Although most out-of-towners may not know about it, locals don't waste any time escaping the urban scenery for a more relaxing drive along the Cuyahoga River or historic Ohio and Erie Canal route. In addition to park's wildlife, rolling hills, open farmlands, and beautiful autumn colors, Cuyahoga Valley is also home to the East Rim Trail, a new off-road biking and hiking trail located near Boston Mills Road. Mountain bikers can explore the two-and-a-half-mile trail that will gain another six-and-a-half miles by the end of 2017. Bikers, runners, and other visitors will also have the option to hop aboard the Cuyahoga Valley Scenic Railroad for a couple bucks. It's more of a family affair in the winter, when the train transforms into the Polar Express. Passengers are served hot chocolate, entertained, and also receive a surprise visit from Santa.
Hotel Pick: Looking for a luxurious hotel stay in Cleveland? We suggest a stay at The Westin Cleveland Downtown, which is walking distance to major attractions, including the Rock & Roll Hall of Fame.
Located in south central Kentucky, Mammoth Cave National Park is one place adventurous spelunkers should add to their bucket list. This 400-mile cave system is the world's longest known cave system, and archeologists continue unearthing new passages. Camping, angling, hiking, horseback riding, biking, and kayaking along the Green River or Nolin River are a few popular activities to partake in here. The 52,830-acre park features numerous places to explore such as Cedar Sink, Green River Bluffs Overlook, Cave Island, Frozen Niagara and Engine No. 4, a retired engine from the old Mammoth Cave Railroad. Chart your own course and experience the park's wildlife, flora, history, and culture.
Hotel Pick: Only a one-and-a-half-hour drive from Mammoth Cave, the Louisville Marriott Downtown is an affordable choice for an extended weekend getaway. Enjoy the park, but also take time to explore Louisville's sights from this conveniently located kid-friendly hotel.
NOW WATCH: 8 Things to Know Before Visiting Yellowstone
https://www.youtube.com/watch?v=5i4ISGBqvgI
Related Stories:
All products are independently selected by our writers and editors. If you buy something through our links, Oyster may earn an affiliate commission.