Amsterdam may be known for its red light district and penchant for marijuana, but travelers of all ages and cultures head to the capital city of the Netherlands for its rich history, beautiful architecture, and system of canals and bridges. It's also home to numerous art museums, including the Van Gogh Museum, with the largest collection of Van Gogh's works in the world, and Rijksmuseum, filled with old masters' paintings. From grand, luxury hotels to bare-bone hostels, there are accommodations for every budget and many reflect this artistic, quirky, and fun city in the guest rooms. Take a look at the 13 most artsy rooms in Amsterdam.
St Christopher's at Winston Hotel may be a budget property, but both private rooms and dorms offer unique and artistic decor. Furnishing is basic and rooms are small, but all are clean. Graffiti lovers should book the Eight Bed Ensuite Dorm, which has colorful graffiti from floor to ceiling; the Five Bed Ensuite Dorm has red damask print wallpaper, a collage of photos, and a chandelier. For travelers wanting to stay at a hostel with a bit more style than most, St Christopher's is a great pick.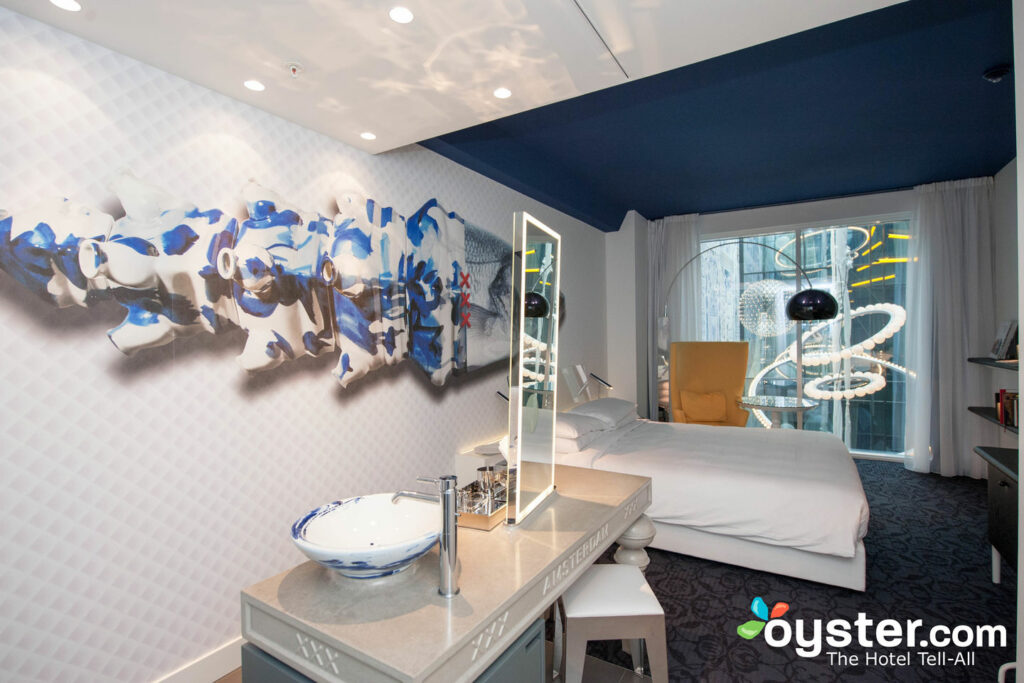 The 122-room boutique Andaz Amsterdam Prinsengracht is a hip, luxe, "art hotel" with design by Dutch art director Marcel Wanders. Like the rest of the property, rooms at this Andaz are hip, weird, and creative; they have large wall photos of hybrid fish, or rather, fish crossed with spoons. Bathroom sinks — some of them in a blue and white painterly ceramic — are in the bedroom areas, with separate (rainfall) showers and WCs. Bathrooms have cool wallpaper with articles and drawings from Amsterdam's history.
The Room Mate Aitana is an upscale, 284-room hotel housed in a bold, towering building with stunning, modern interiors. Rooms are decorated in a minimalist style, but certain rooms have funky and innovative interiors with statement furniture pieces and quirky detailing. One room has avant-gard wallpaper with letters repeating the phrase, "Amsterdam is a city with much to offer, look and find the best places." The Junior Suite has an interesting shelf-like sculptural piece behind and hanging over the bed; the living and dining room area has geometric furnishings and accents throughout with pops of color.
The upper-middle-range Mercure Hotel Amsterdam City is a top choice for business travelers as it's located outside the city center. The 368 rooms range from the slightly dated Standard rooms to the cool, contemporary Privilege rooms. Each Privilege room is outfitted with a wall of colorful portraits, lucite dining chairs, and abstract art prints. It's definitely worth upgrading for the chic furnishings.
The Sandton Hotel de Filosoof is a quirky property in the residential Vondelpark area with 38 rooms and suites based on unique philosophical and/or cultural themes. Each room has a distinct design scheme, from the red-filled Epicurus Suite to the wave-inspired Thales room. The Deluxe Thoreau Room is one of our favorites, with quotes from the author/philosopher written on the walls and a gorgeous, serene mural. Deluxe rooms and suites are more spacious, and some come with kitchens and small balconies.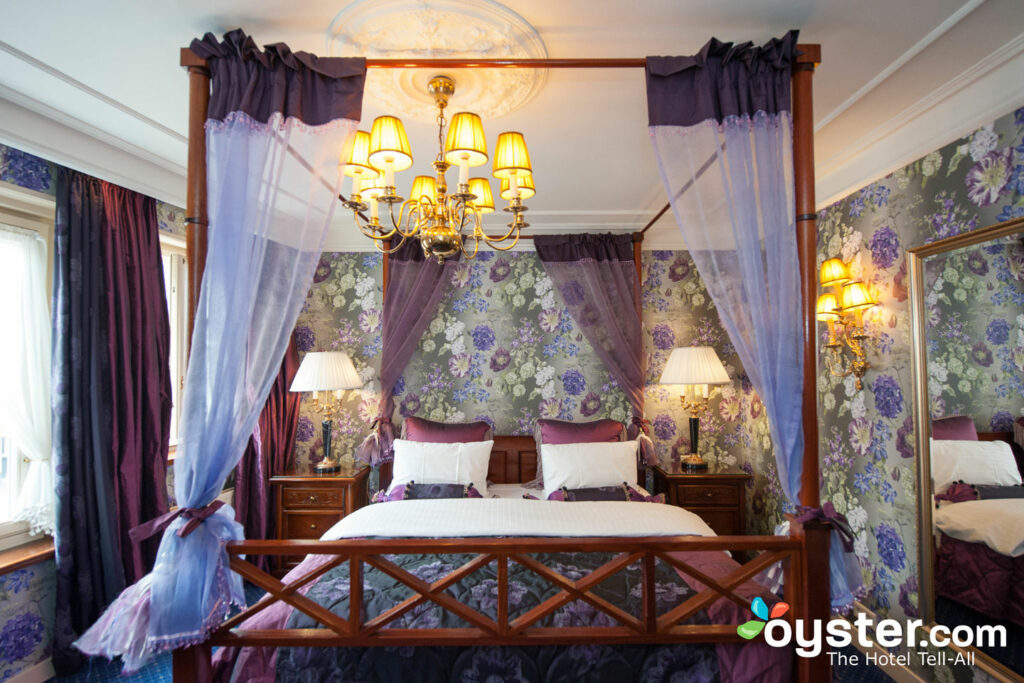 The luxury Hotel Estherea is extravagant and flamboyant in the best way — from its vibrant Maria's Bar to the sumptuous lobby with plush furnishings and crystal chandeliers. The 93 rooms are equally impressive, uniquely decorated with floral wallpaper, colorful carpeting, and elegant four-poster beds. The Suite of Orange is one of the most striking (and aptly named) rooms, and the Deluxe room has gorgeous floral furnishings in shades of purple.
The Qbic Hotel Amsterdam WTC is a stylish but basic budget hotel that relies on a design concept centered around a simple pod-style room system. Though rooms are small and minimalist, each is built around a modular living space called a Cubi that consists of a bed and bathroom with adjustable mood lighting. White walls highlight quirky design elements like ceiling lamps hanging with their cables attached to the wall and shaped into outlines of Amsterdam's buildings or the large photo murals of a dog in a suitcase.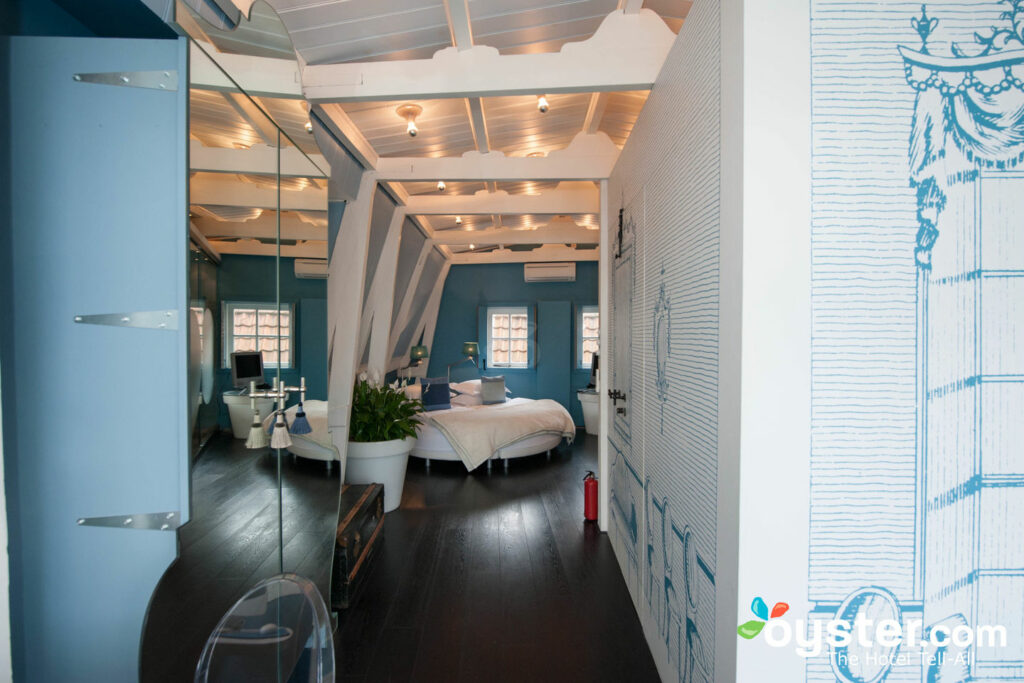 The luxury Boutique B&B Kamer01 is set in a beautifully renovated 16th-century Amsterdam townhouse in the heart of the Canal Ring. Each of its three rooms are impeccably finished with tasteful contemporary decor and unique furnishings. The Green Suite has intricately carved wood furniture, colorblocked walls, and flowers floating in shallow vases. The aptly named Blue Suite has a plush round bed, lucite chairs, and an antique chest. For the cherry on top of the already stunning rooms, flat-screen TVs and iMacs come standard, while bathrooms include tropical-rain showers, Korres toiletries, and Philippe Starck designed toilets.
The Grand Hotel Amrath Amsterdam is housed in a 1912 building known locally as the Scheepvaarthuis (shipping house) that was designed by architect Johan van der Mey for a collective of powerful shipping companies. Van der Mey drew inspiration from the Art Nouveau movement and helped give rise to a style of Dutch expressionist architecture known as the Amsterdam School. The rooms range in style and some of the suites have an eccentric East Indies theme, with brightly colored fabrics and carved-wood furnishings that hint at the historical maritime exploits associated with the hotel. Colorful cushions, gorgeous tiling in the bathrooms, and striking red stairs make the Executive Suite one of the best options at the hotel.
The Toren is a romantic boutique hotel that was once used as a safe house in WWII. Today there are 38 rooms and suites ranging from smaller standard size, to more spacious options with jetted tubs and views of the garden or canal. Though each room is unique, they are decorated with the same sophisticated Toren touch combining rich hues, chandeliers, and bold patterns. The Double Executive Suite is particularly striking with its boldly patterned wallpaper and bedding, velvet furnishings, and large black-and-white photo of two women in lace masks.
The mid-range Mauro Mansion is a grand 16th-century canal house that once served as the home of Dutch Golden Age writer Roemer Visscher. The hotel has nine individually decorated, eclectic rooms spread throughout three floors. While each room is unique, they all have a color palette of black, scarlet red, and white. It's a mix of classic and contemporary decor here, with exposed brick, hardwood floors, and antique wood doors mixing with Droog lamps, beanbags, and hanging chairs. The locker-style closets, zebra murals, and bright red bathrooms make the rooms distinctive and fun.
Housed in a 300-year-old authentic canal house, the Seven Bridges Hotel is carefully restored and stuffed with well-chosen antiques by the owners. Each of the eight rooms are individually decorated and divided between a four-floor main canal house and an adjacent four-floor annex building. The colorful rooms feature dark woods, fine fabrics, and pieces from the 17th to 20th centuries like Oriental rugs, Italian drapes, handmade marquetry furniture, Art Deco tables, leather armchairs, gold-leaf plated cupboards, decorative black marble fireplaces, hand-painted bathroom tiles, and more. Attic rooms have beamed ceilings.
The Bulldog Hotel is a hostel-style property right in Amsterdam's Red Light District that caters to a party crowd. But unlike a typical hostel, the Bulldog offers a range of room types, including dorm rooms with en-suite bathrooms that include two shower stalls and double sinks, private rooms that include king size and single beds, and nearby apartments with kitchens, separate bedroom,s and flat-screen TVs. Though furnishings are basic, rooms are elevated by unique wall art, including a mural with a bulldog and a photo of people playing billiards at the hostel. The Three Bed Apartment is colorful and funky, with a circular motif and chrome lamps.
All products are independently selected by our writers and editors. If you buy something through our links, Oyster may earn an affiliate commission.