Sometimes, you just need a beach getaway. Unfortunately, you also often need a thick wallet to enjoy one properly. But before you convince yourself that you simply don't have the cash for a vacation to fill-in-the-blank, take a look at our list of nine amazing beach destinations -- that are surprisingly affordable.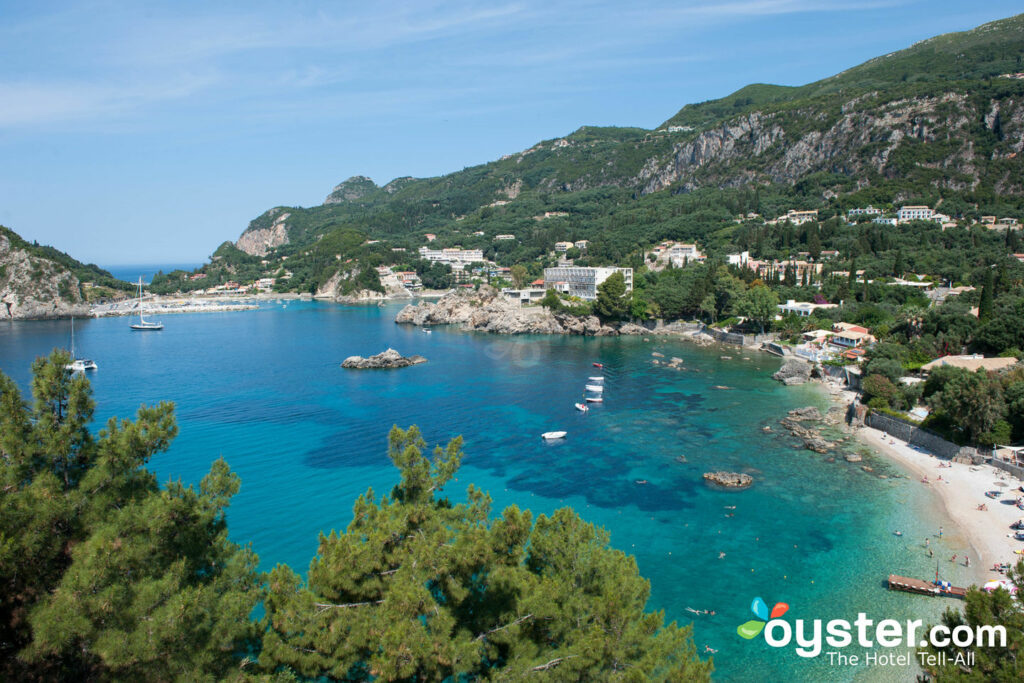 While most jet-setters head for the better known, more popular, and significantly pricier Cyclades (made up of islands such as Mykonos and Santorini), Corfu is a great pick for those on a budget. Travelers can often score relatively inexpensive flights directly to the island by booking through smaller, regional airlines, and once there, visitors will find that hotels, restaurants, and activities can be pretty cheap. Be wary of hotels advertising four stars (take a look at our photos first!), but even if they aren't quite up to a luxury standard, many Corfu beach resorts offer all-inclusive options and feature numerous pools, a range of dining, and simple, clean rooms.
This luxury all-inclusive resort is situated on a quiet hillside overlooking the beautiful Pelekas Beach in Corfu, Greece. Guests can take the outdoor stairs for direct access to the beach. The 181 rooms are large and modern, with chic cream-colored decor, air-conditioning, and private balconies — many have sea views.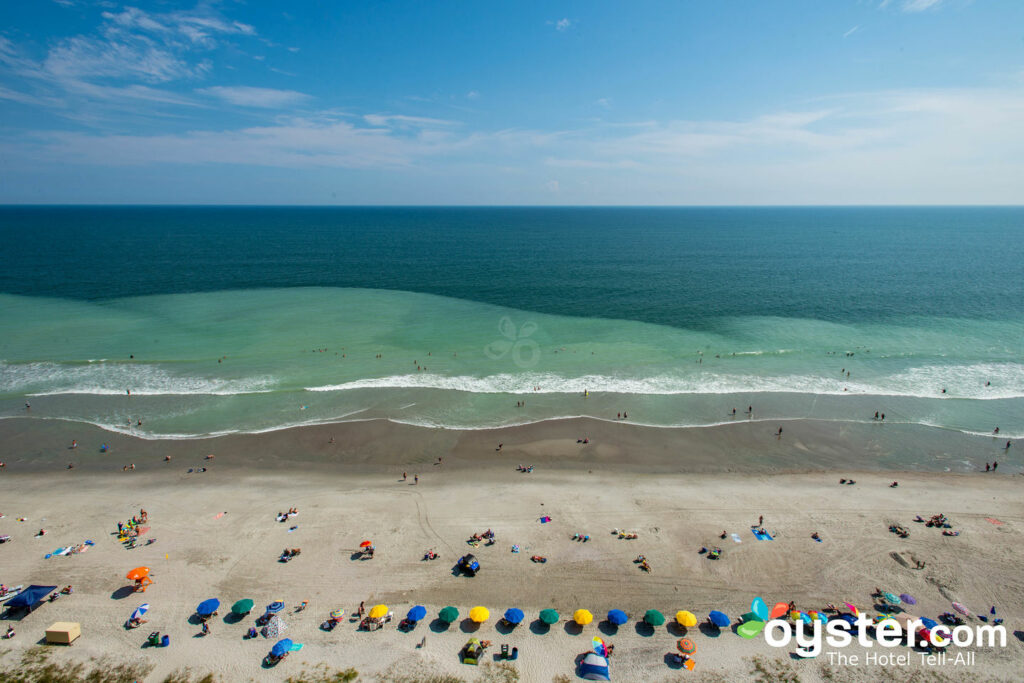 Continually ranked as one of America's best family beach destinations, Myrtle Beach offers visitors one-of-a-kind nightlife, more than 100 golf courses, and 60 miles of sandy shoreline — all at affordable prices. Flying there doesn't put a huge burden on the wallet, and it's an easy enough drive from cities such as Charleston, Charlotte, and Augusta. This locale may be known to get a bit jam-packed, but hotels account for this with massive pools and water park complexes, as well as plenty of meeting spaces and large rooms. In fact, many properties feature condo-style accommodations with kitchens and living rooms.
Configured as condos and townhouses, North Beach Plantation is home to impeccably neat and clean accommodations. Sizes range from one-bedroom condos to five-bedroom cottages, making this a convenient pick for groups of any size. Plus, a high-end spa, a famous Myrtle Beach restaurant, a beachfront location, and multiple options for pools means there is plenty to do on the property.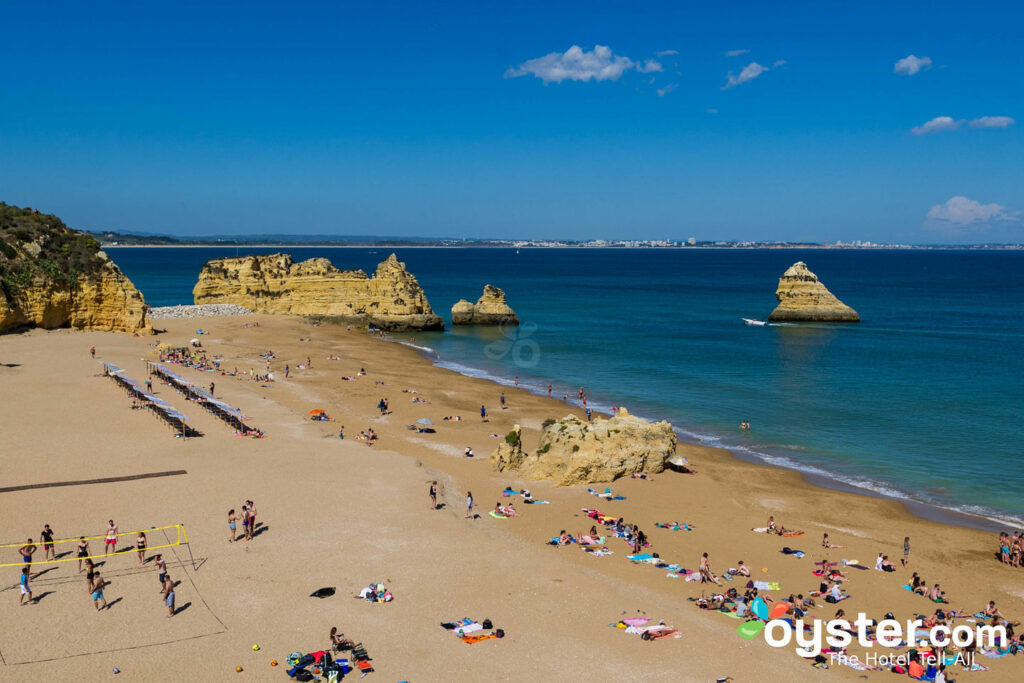 While Lisbon lures tourists looking for a cultural fix, the Algarve attracts plenty of visitors seeking a relaxing beach vacation, thanks to its mild, year-round climate (it reportedly receives 300 days of sun per year) and stunning coastline. Finding itself at the top on the UK Post Office's annual Worldwide Holiday Costs Barometer — a study that takes into account common vacation purchases like the price of a meal for two, drinks in a cafe, and more — the Algarve is one of the best places for a budget getaway in Europe. With mid-range hotels like the Flor da Rocha and AlvorMar Apartamentos Turisticos, the cost of budget accommodations can be low
The 102-room Carvi Beach Hotel Hotel Algarve is situated right above Praia Dona Ana, one of the most gorgeous beaches in the Lagos area. It's also within about a 15-minute walk of the old town's restaurants, shops, and bars. Rooms are modern and fresh, although some are on the small side, and feature air-conditioning, flat-screen TVs, and balconies or terraces, some with breathtaking views of the sea.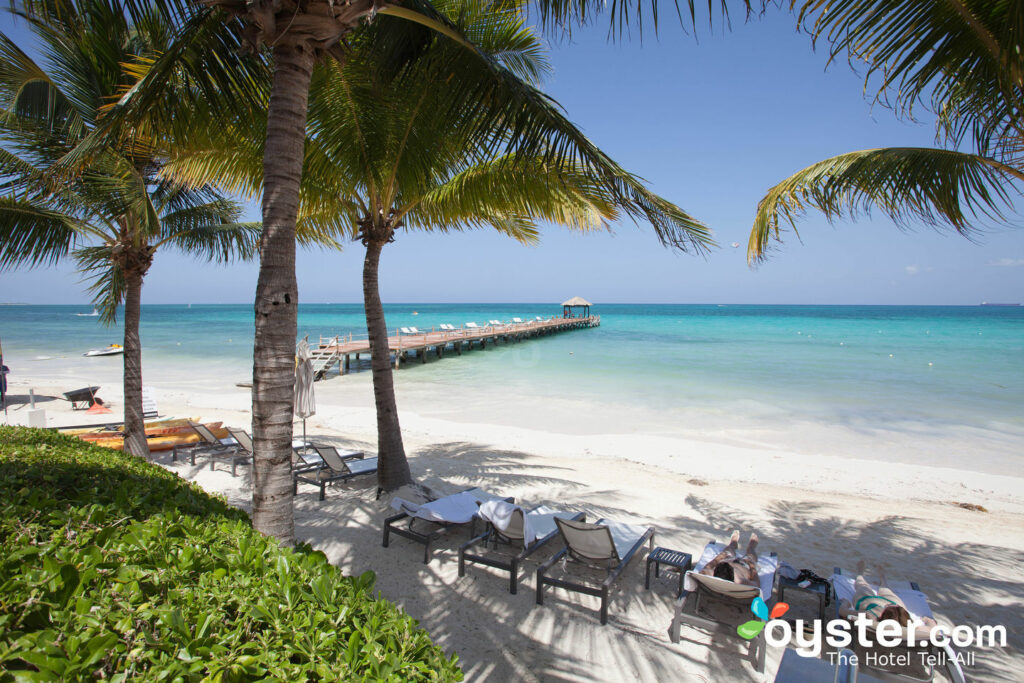 Achieving an affordable vacation to Mexico often mandates sacrificing peace and quiet. Well, this may be the case with Cancun, but if you drive less than an hour from this affordable, party-centric locale, you'll find Playa del Carmen, its more low-key, less crowded sister that, like Cancun, offers plenty of budget-friendly, all-inclusive resorts. Even though spring break is peak season, many hotels offer deals around this time, and day trips to spots like Cozumel and the Mayan ruins of Chichen Itza and Tulum are relatively inexpensive.
Right off of the northern edge of the busy and bustling La Quinta Avenida strip, the 28-room Casa Ticul is an upper-middle-range boutique that's ideal for those looking to relax in comfort after exploring the area. Rooms have simple chic decor and thoughtful toiletries; some have whirlpool tubs or outdoor showers.
Getting to Thailand does not come cheap, but once you're there, you can live like royalty for a shockingly low fee. The beach town of Phuket in particular is home to some of the most luxurious resorts in the world, and yet even the most exclusive properties offer rooms starting around $200/night. The same stunningly low rates can be found at restaurants, shops, and spas. Naithon Beach is beautiful, and conveniently close to the airport, while Batok on Racha Yai island is arguably even more gorgeous and unspoiled. Patong Beach is also popular.
The Westin Siray Bay Resort & Spa Phuket is a solid option for those who want to be away from the noise and crowds of Phuket. The 257-room luxury chain resort conveniently offers a relaxing spa, three outdoors pools, a gym with New Balance shoe rentals, upscale restaurants and bars, and a shuttle to Phuket Town. Rooms, suites, and villas are clean and beautifully decorated; some have panoramic views of Siray Bay.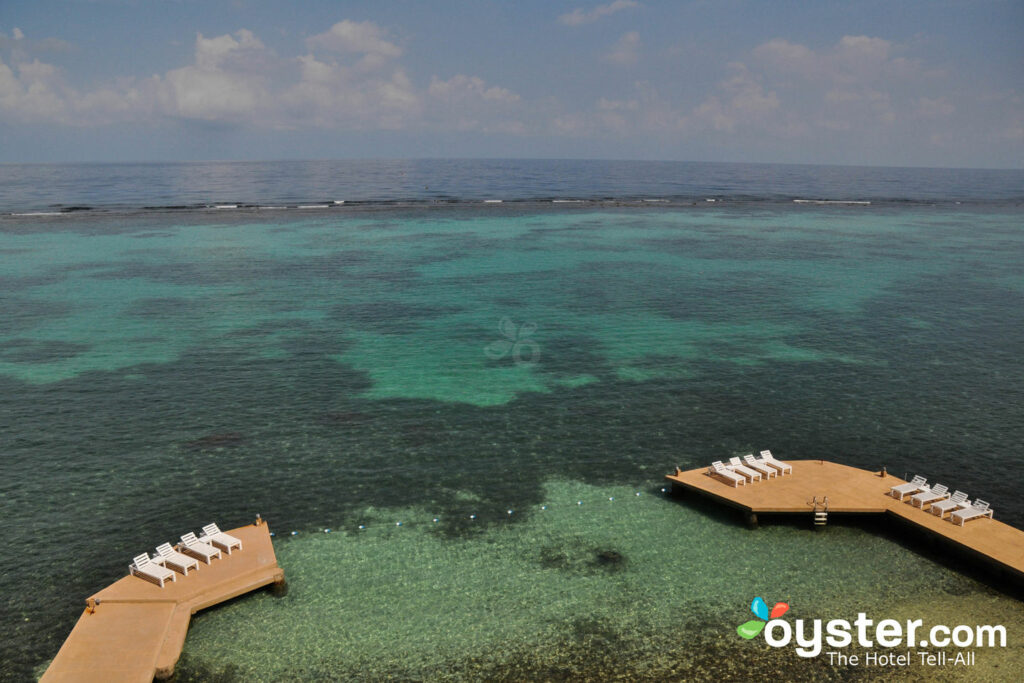 Many major airports offer direct flights to Jamaica's Montego Bay, where a handful of affordable accommodations can be found. But for those who don't mind a slightly longer airport transfer, Ocho Rios (a couple hours from Montego) is an even more budget-friendly destination. (Some of Montego Bay's resorts can be quite luxurious, and therefore expensive.) Once a sleepy fishing village, Ocho Rios is now home to numerous all-inclusives nestled among laid-back, local joints offering cheap beers and tasty jerk chicken. It also has beautiful, private white-sand beaches and a famous waterfall park with swimming and hiking.
Set on a private beach within a short walk of downtown Ochos Rios, the 705-room Moon Palace Jamaica is a sprawling all-inclusive that'd give Vegas joints a run for their money in scale, features, and extravagance. After undergoing a full renovation, this family-friendly property reopened in 2015 as a high-end luxury resort with majestic marble interiors.
Home to tons of all-inclusive resorts, the Dominican Republic is a solid pick when planning a wallet-friendly Caribbean getaway. Visitors can save by relying on hotels where everything — from activities to food, from entertainment to alcohol — is included, and with eight international airports on the island, it is often quite easy (and inexpensive) to reach. Add in lovely beaches, warm locals, great year-round weather, and a rich history for a wonderful beach vacation. Travelers can choose from hot spots like Punta Cana and Puerto Plata, or head to Samana, on the northeast coast. Samana is the country's least developed and most serene section. Its beaches, many of them remote and secluded, rank with some of the D.R.'s finest, and the area is characterized by lush tropical forests, verdant mountains with dramatic sea views, waterfalls, and a handful of resorts that take full advantage of these natural wonders.
The D.R.'s only luxury resort set on its own island, the Luxury Bahia Principe Cayo Levantado offers a relaxing atmosphere for couples and families. There are scenic beaches, beautiful pools, and some of the best rooms in the country (each with private Jacuzzi tubs).
Set on the southwest coast of Cyprus, Paphos offers sun and sea in spades. According to a British Post Office survey, it is the seventh-cheapest European beach destination this year. Paphos can wow with its sandy beaches and welcoming Aegean Sea water. A UNESCO World Heritage site, the city is also dotted with the Greco-Roman remains of tombs, theaters, and fortresses within the Archaeological Park. Tasty restaurants, castles, monasteries, and the city's Old Town are also available to explore.
Olympic Lagoon Resort Paphos is an upscale all-inclusive resort located right on the beach in Paphos, not far from the city's well-known archaeological attractions. The 276 rooms here are bright and modern, with marble bathrooms and furnished balconies. There are tons of amenities for families and couples alike, including a couple of kids' clubs for different age groups, five gorgeous lagoon pools (one with a Mayan temple feature and a waterslide), and dining options that run the gamut from Italian to Asian to Cypriote. There's also an adults-only wing with its own dedicated pool.
If you're looking for a sandy beach and an energetic nightlife scene, then Sunny Beach in Bulgaria might be your ideal destination. In addition to the Black Sea, this coastal resort is home to a strip of bars and clubs. Plus, according to a British Post Office survey, this destination offers the best value in Europe. For example, a three-course meal for two costs just around £21 here.
Situated on the quieter end of Sunny Beach, about an eight-minute drive to the shopping and nightlife on Flower Street, the massive DIT Majestic Beach Resort is an upper-middle-range property with two big free-form pools, a kids' pool and kids' club, sports fields and courts, a full-service spa, and several restaurants and bars. Rooms include minibars, furnished balconies, and flat-screen TVs, while studios and apartments come with kitchenettes. Unfortunately Wi-Fi isn't free, neither are the sunbeds on the beach.
Summersalt offers a wide variety of styles to fit any kind of woman on vacation. Be sure to snag one (or two) before your next beach trip.
You'll Also Like:
All products are independently selected by our writers and editors. If you buy something through our links, Oyster may earn an affiliate commission.