In 1947, India gained independence from Britain and several of the former colony's states and territories joined the Indian Union that would form the Republic of India. Royal families and the maharajas who were once the head of native states and received tax money and privy purses from citizens and the government were (mostly) stripped of their cash. As a way to stay afloat, some former kings eventually turned their over-the-top residential palaces and summer homes into luxury hotels. Today, these palace hotels offer some of India's most gorgeous hotel stays with Rajasthani architecture, over-the-top decor, and extensive garden grounds. You might say these palace hotels offer a royal experience fit for a king.
The royal family of Jodhpur still resides in one wing of the massive 20th-century Umaid Bhawan Palace. Built over a 15-year span from 1928 to 1943, it's still one of the largest private residences in the world. The enormous yellow sandstone-and-marble palace is set on a huge hill at the highest point in Jodhpur. It's surrounded by a 26-acre grassy expanse of fountain-filled courtyards, which it shares with a flock of resident peacocks. The palace features a mix of Beaux Arts and Indo-Saracenic-inspired architectural features and most of the 42 rooms and 22 suites feature Art Deco decor and marble bathrooms. Royal-inspired features include two restaurants (with a Champagne breakfast), a luxury spa, gorgeous outdoor pool, and the maharaja's collection of classic cars.
From the exterior, the Shiv Niwas Palace lives up to its royal name, with all of the elaborate and intricate columns, archways, terraces, turrets, and onion-shaped cupolas associated with traditional Rajasthani architecture. Inside, the decor is subtly luxurious with marble floors and hand-painted archways. Oil paintings of royalty hang in heavy gold frames on the walls. Room decor varies, but guests can expect silk throws and cushions, local art, and colorfully painted wall and ceiling trim. Flowering bougainvillea and gorgeous views over Lake Pichola are enticing, and the lovely swimming pool is surrounded by pink lounge chairs. The hotel was famously used in the James Bond film "Octopussy."
Guests visiting Taj Lake Palace Udaipur will get to take a speedboat for a fully stylish arrival at the gorgeous 18th-century whitewashed palace in the center of Udaipur's Lake Pichola. Maharana Jagat Singh II built the palace for seasonal use and it was a summer home for generations of rulers for centuries to follow. The hotel retains much of its original charm, with its beautifully maintained whitewashed exteriors, arched windows, and traditional domed cupolas known as chhatris. Most of the common areas are outdoors, and there's a mix of courtyards and a lovely outdoor pool. The 83 guest rooms feature gorgeously patterned silks, elaborate chandeliers, four-poster beds, and butler service.
Jai Mahal Palace is housed in a sprawling Rajasthani mansion that was built in 1745. The hotel is set on 18 acres of beautiful gardens littered with water fountains. Many of the rooms and suites feature traditional Rajasthani archways separating sleeping and sitting areas, and some rooms have grassy lawn areas for outdoor dining. Jiva Spa offers Ayurvedic treatments in a series of private tent-style treatment rooms. Cinnamon restaurant serves formal fare for lunch. The indoor ballroom and outdoor event spaces are very popular for weddings.
The Chunda Palace Hotel is one of the more ornate palaces on our list. The hotel is loaded with intricately painted Rajasthani walls and ceilings, both in common areas (even the walls and ceiling of the fitness center) and in its 46 rooms and suites. Silk cushion covers and four-poster beds look regal. Facilities include two gorgeous pools (the indoor pool has a cloud mural painted on the ceiling), a cigar bar, and a restaurant with indoor and outdoor seating.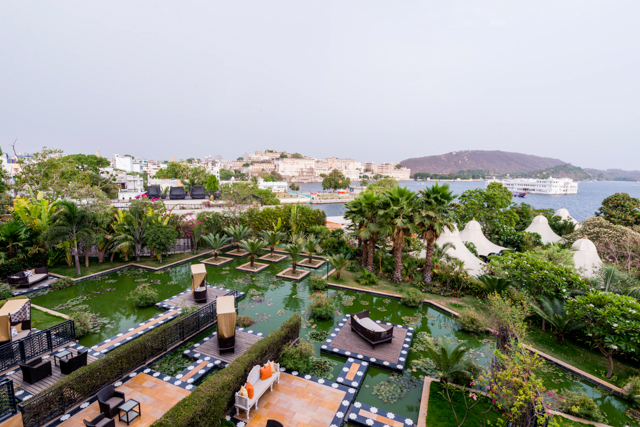 Located on the banks of Udaipur's Lake Pichola, The Leela Palace Udaipur is a gorgeous luxury property built with clean lines and traditional Rajasthani embellishments such as jhalis (stone screens) and onion-shaped cupolas. All of the 80 gorgeously furnished rooms and suites come with big marble bathrooms and a mix of mod cons and Rajasthani style. Even the entry-level rooms have beautiful lake views and many come with private balconies. The memorably impressive grounds include large interior and exterior courtyards. Expect a spa with its own private pool and a larger outdoor pool flanked by palm trees. Sheesh Mahal, an elegant fine-dining restaurant, serves romantic dinners on the terrace. The cozy Library Bar provides drinks and entertainment in the form of folk music and dance performances in its courtyard.
Rambagh Palace's exterior beauty alone will make you wish you were born a maharaja. This former summer palace of an actual maharaja is now part of the renowned Taj brand, and exudes royal luxury throughout. Attention to detail is evident in the 45 rooms and 33 suites. Each features their own individual design that can include antique furniture, fireplaces, and vintage artwork. Fruit and fresh flowers are nice touches. Features include five specialized dining facilities, a full spa with romantic touches, and both indoor and outdoor swimming pools. The Sawai Man Singh Cricket Stadium is just across the street.
You'll Also Like:
All products are independently selected by our writers and editors. If you buy something through our links, Oyster may earn an affiliate commission.