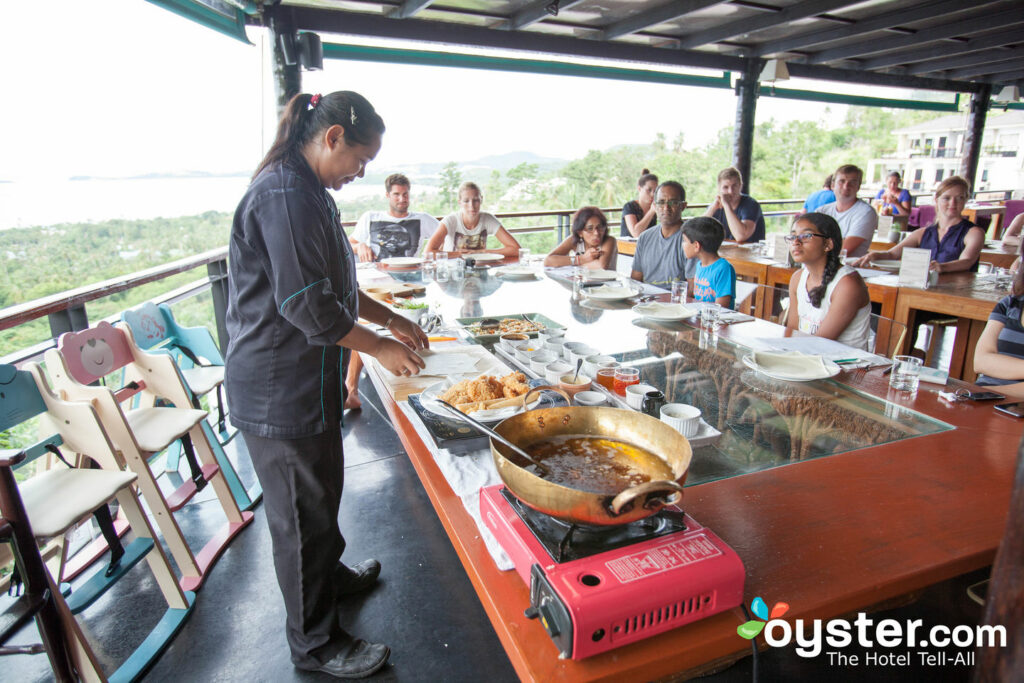 If social media has proved anything over the last few years, it's that we are all a bunch of not-so-closeted foodies -- especially when we travel. Those who have eaten their way through foreign lands not only know that a great meal can be one of the most memorable aspects of your trip, but also that through local cuisine is one of the best ways to get to know a country, region, and culture. No wonder food is a major deciding factor amongst travelers these days!
And, since we firmly believe that being able to recreate a delicious dish from abroad may just be the best souvenir you can take home, we've scoped out 12 hotels from around the globe that offer in-house (and sometimes free!) cooking classes. So tie on that apron, start collecting recipes, and let us know when you're having your next dinner party -- we love being international taste testers!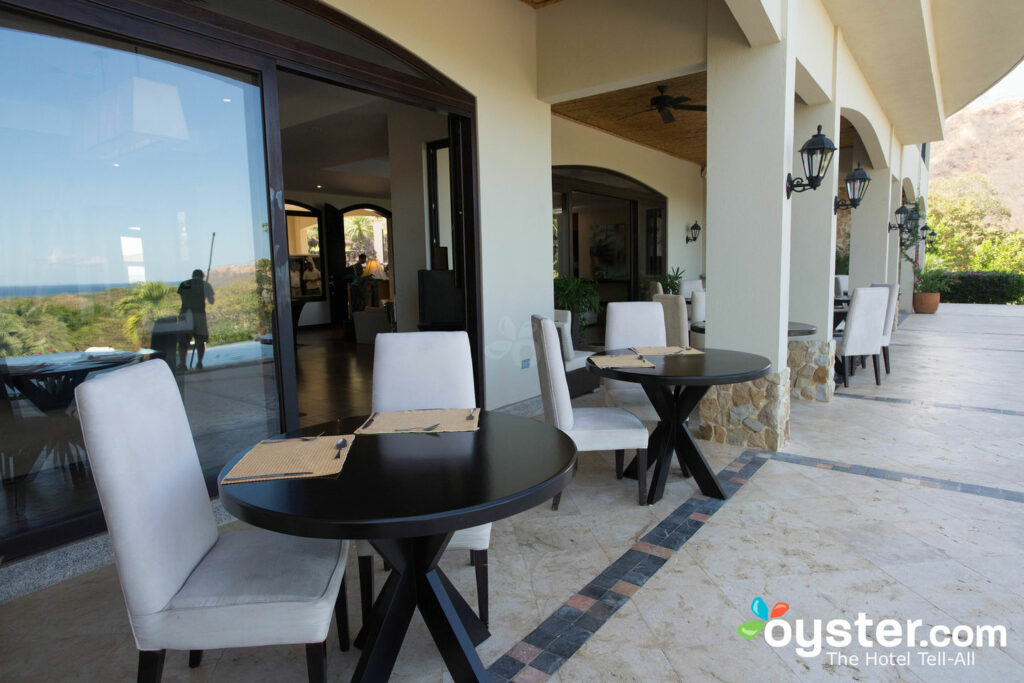 Villa Buena Onda is an upscale, seven-room, all-inclusive boutique set on a hillside overlooking the region's dry forest and distant ocean, and it provides a relaxing, low-key spot for guests to try their hands at one of the free cooking classes. Inside the hotel's gourmet kitchen, the chef teaches guests how to prepare a typical Costa Rican dish of corn tortillas. Afterwards, you can munch on your masterpieces while sipping some coffee and making friends by the hotel's social pool.
This 48-room, upper-mid-range waterfront resort has many great features for families, including two outdoor play areas, two pools, and a small waterslide — but foodies may find the tiny on-site microbrewery and free cooking classes more up their alley. Every Thursday afternoon, True Blue Bay Boutique Resort & Casino opens its kitchen to share a few tips, tricks, and "secret" recipes so you can recreate some of the Grenada's local Caribbean dishes once you're back home. Since classes are free and open to the public, you don't even have to be a guest at the hotel — though it might not hurt in order to try and forge a friendship with the chefs.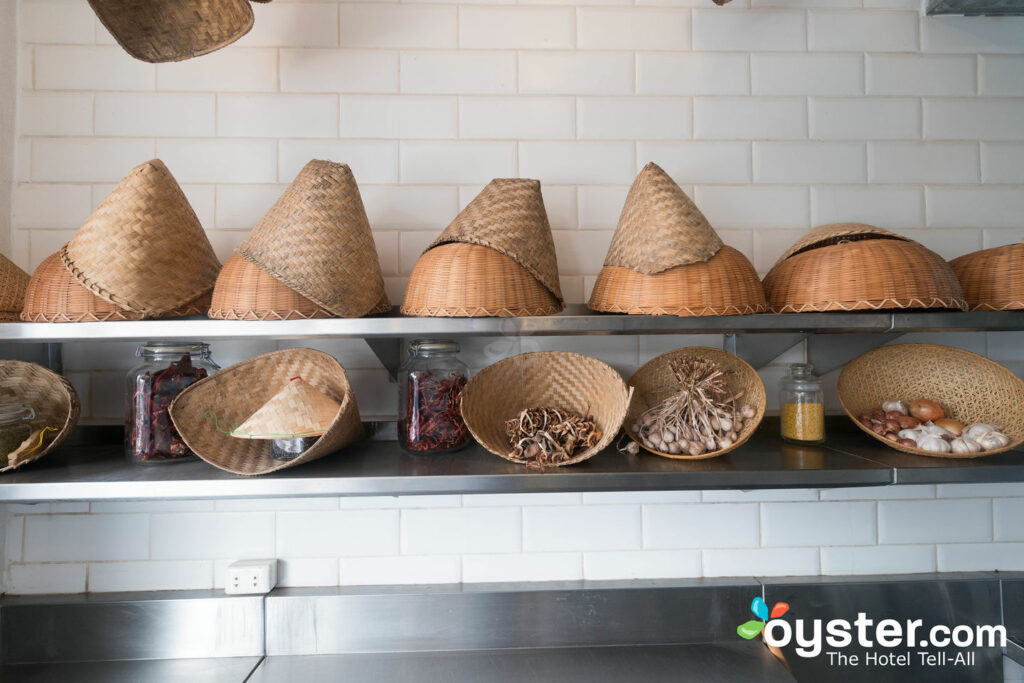 Bright, spicy, and tart, Laotian food is extremely refreshing, light, and bursting with flavor. Unfortunately, it's a cuisine that's not so easy to find stateside. Good thing you can learn from the source at the historic Hotel de la Paix. Located in central Luang Prabang, this luxury hotel is a former French governor's mansion and comes with all the trimmings, including a restaurant filled with books (appropriately named "The Library") serving local Lao dishes — that you can make yourself! Classes begin with a trip to the local market to pick up fresh ingredients (an experience in and of itself) where you will learn about all the different produce and spices that make up Laotian cuisine. Once back at the hotel, the chef carefully explains and demonstrates traditional cooking techniques before giving everyone an opportunity to have a hand in creating a multi-course meal. You even get a recipe book at the end of the course so you don't have to rely on your chicken scratch notes when you're back home.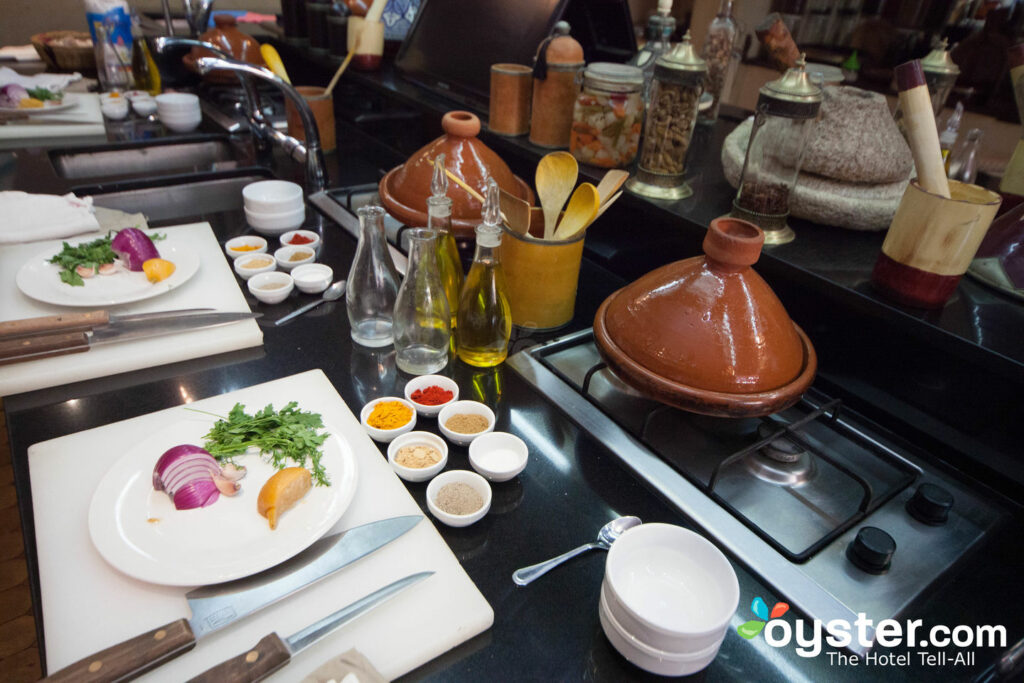 .
La Maison Aribe is a luxurious boutique hotel built around an interior courtyard with 12 guest rooms and 14 suites, all decorated in unique and color-saturated Moroccan style. Located in the heart of Marrakech's old city, the hotel is close to the Jemaa el Fna marketplace, making it a convenient and popular spot to take a Moroccan cooking workshop Designed for home cooks and professionals alike, these workshops use modern, everyday kitchen appliances, the guidance of a traditional Moroccan cook, called a dada, and a translator to create a typical Moroccan main dish with either an appetizer or dessert. Classes are held on-site at the hotel, last about a half-day, and max out at 10 people.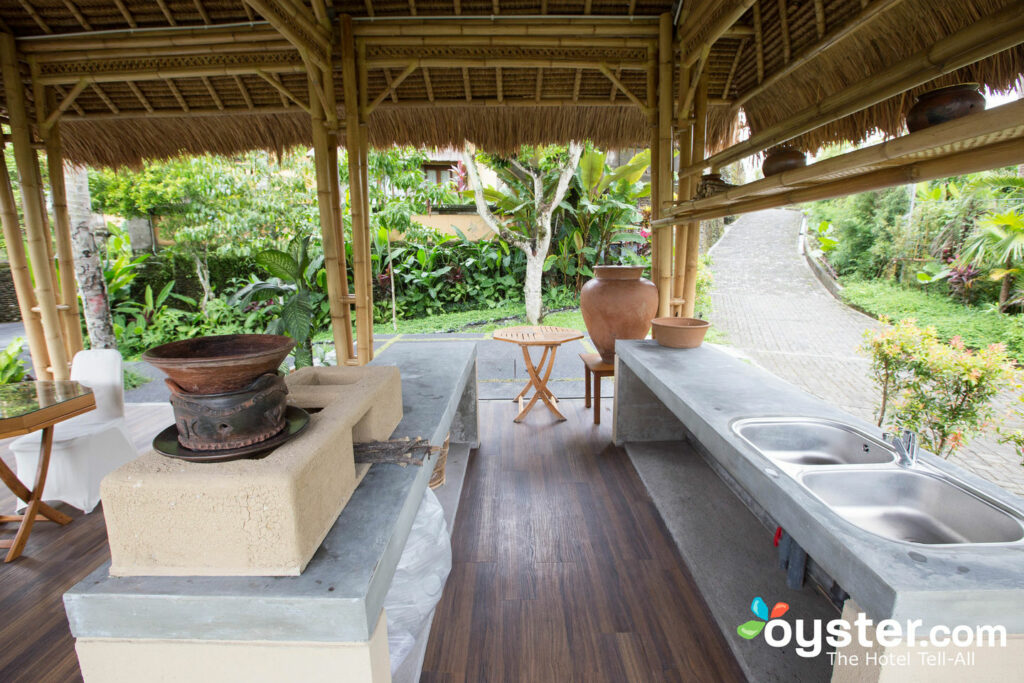 The Kamandalu Ubud is a luxury eco-friendly villa resort styled like a traditional highland village and set in lush terraced grounds. Facilities are first-class and include a huge pool with a swim-up bar, a smaller infinity pool with jungle views, a lovely yoga pavilion, and a restaurant with excellent, authentic Balinese dishes. On-site cooking classes are available to guests and include a visit to the local market to collect supplies and a delicious (hopefully!), self-cooked traditional meal made from techniques taught by the hotel's personal chef. If you've got three hours to spare (and don't mind early mornings) then we recommend signing up because, if you're anything like us, you'll be craving mie goreng for weeks, maybe even months, after you get back from Bali.
A luxury boutique perched on a hill overlooking Koh Samui's northern coast, the 74-room Mantra Samui Resort has stunning ocean views. In addition to the requisite infinity pool with a swim-up bar, spa with an extensive treatment menu, and ocean-view restaurant serving modern Thai and international cuisine, the hotel also offers free weekly open-air, demonstration-based cooking classes. Taught by an enthusiastic local chef, the classes are almost as lively as the flavorful Thai dishes (like the spicy and tangy Tom Kha soup) you'll learn to recreate.
Nestled into expansive orchards and offering beautiful views of the countryside, the Villa Rizzo Resort & Spa is a gorgeous boutique property suited to leisure travelers looking for a country holiday, albeit one with upscale amenities. Originally built as a farm and with a winery on-site, this resort is just a few steps away from being a legitimate farm-to-table haven. While cooking classes aren't always on the agenda, the hotel occasionally hosts classes where guests can learn how to make some good ol' southern Italy-inspired Mediterranean dishes like homemade cavitelli with ricotta and pomodoro sauce. Mama mia! Are you drooling yet?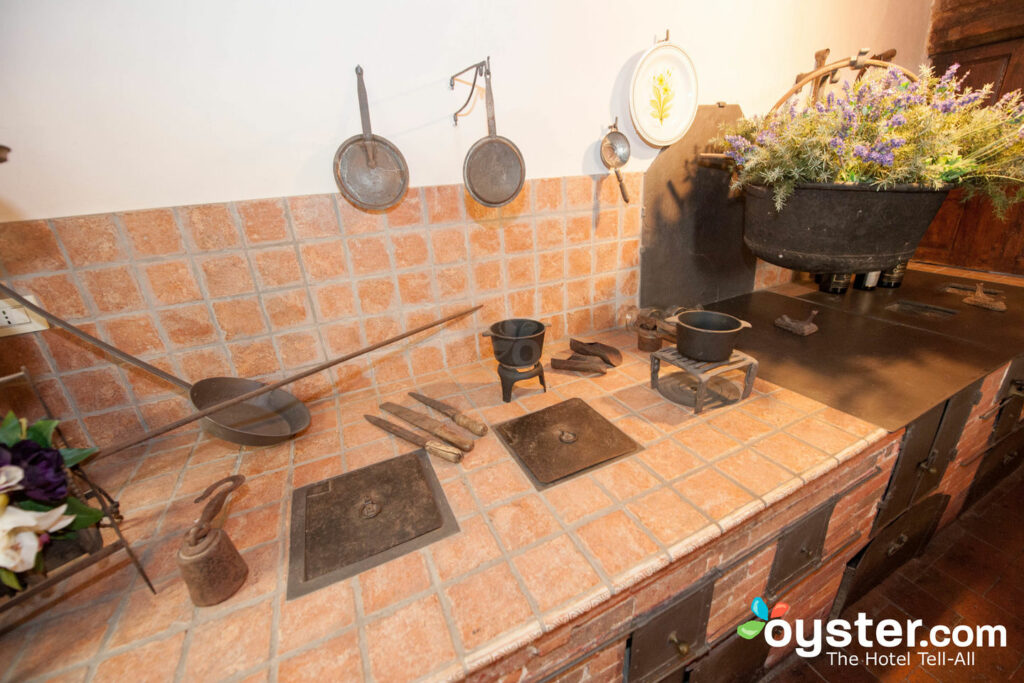 Palazzo Leopoldo, in a lovely, ancient village in Tuscany's Chianti, was once the home of a noble family. The exterior is simple and charming while the interior retains even more historic character including frescoes, cotto floors, fireplaces, a private chapel, and an original kitchen where they host cooking classes in authentic, traditional "chiantigiane-florentine" cuisine. Classes can be over one evening or a series of three evenings. At the first class of the series, guests learn how to cook homemade pasta and sauces; the second day is meat entrees with fresh vegetables; the third day, desserts. Be sure to leave a bit of extra room in your suitcase so you can pick up a few bottles of vino from the hotel's wine shop to pair with your newfound cooking skills.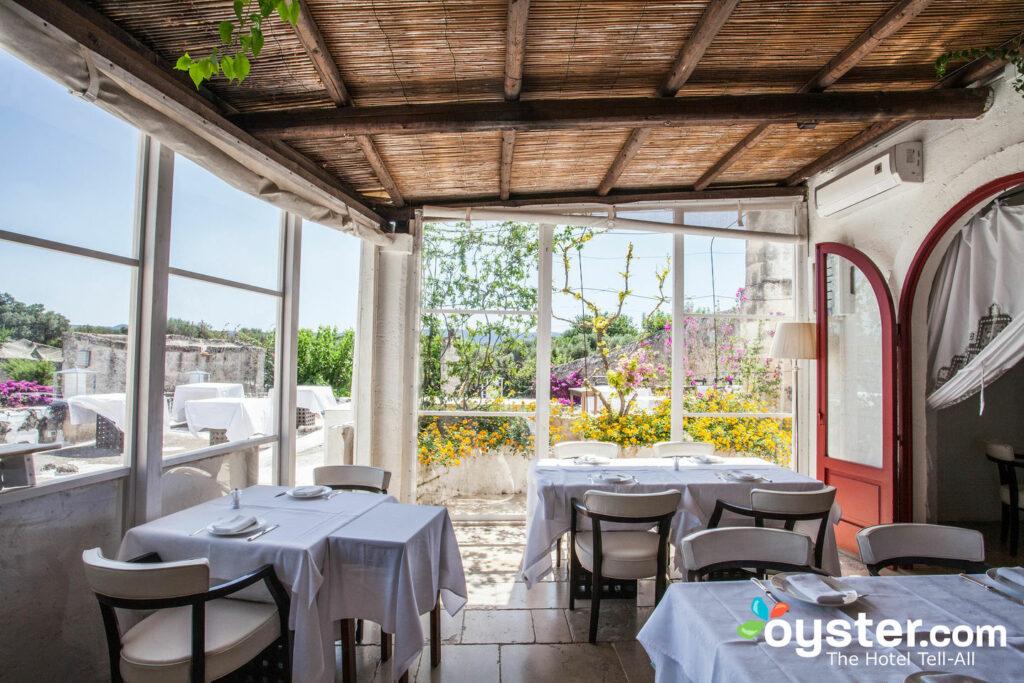 The 33-room Masseria Torre Coccaro is a charming and luxurious farmhouse property located in the rustic Italian countryside in Puglia. A family-friendly hotel set among lovely gardens, there are lots of children's activities and even more amenities for relaxation and fun for the entire family, including dining, cooking classes, and live music. A great experience for those who like to keep it hyper-local, the chef-lead cooking classes begin with a walk around the estate's organic farm to pick fresh vegetables, fruits, and herbs; all produce used in the dishes is harvested from the on-site farm, including the olives pressed to make olive oil. The party then heads into the kitchen to learn how to make traditional Apulian dishes, from homemade pasta to traditional stews. Buon Appetito, indeed!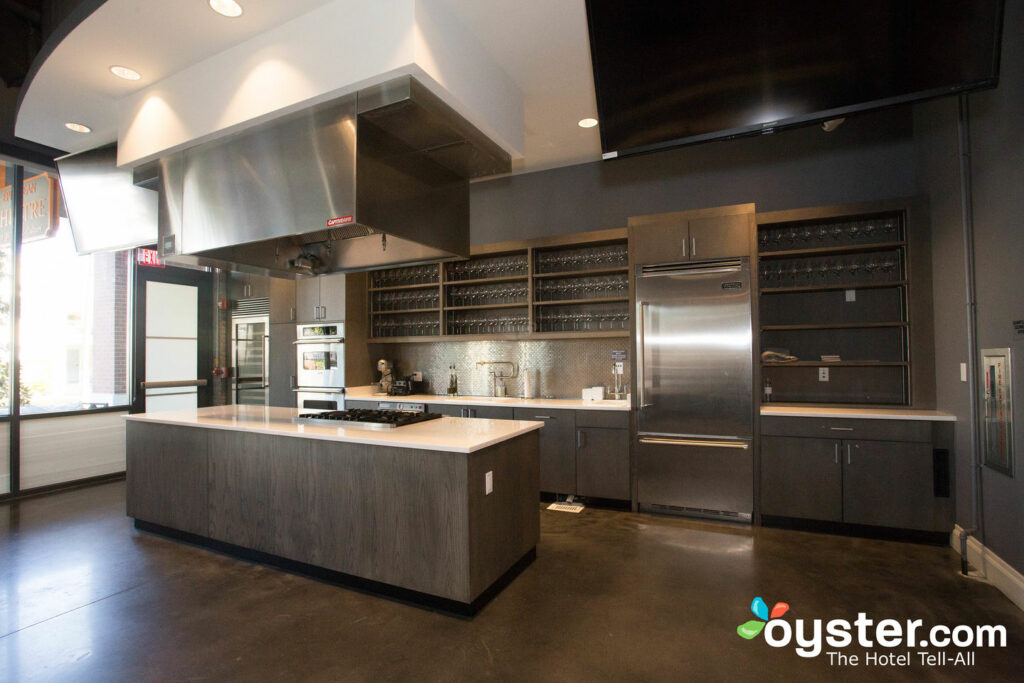 Tampa's 137-room Epicurean Hotel is a luxury property with chic and modern interiors accented by a culinary theme — making it an unsurprisingly perfect place for foodies. Multiple fine dining and wining options on-site include a restaurant, rooftop bar, patisserie, wine shop, and spa with delectable food-themed treatments. However, the cherry on top is the Epicurean Theatre, a demo kitchen that hosts regular classes and tastings. This culinary classroom boasts a gorgeous stainless-steel, center-stage kitchen surrounded by tiered seating; it's host to a wide variety of classes and events, from cake decorating to wine tastings.
.
The CuisinArt, one of the best-known resorts in Anguilla, is a sprawling beachfront property dotted by white, Grecian-like buildings. It features numerous amenities, from an extensive spa to the only golf course on the island, but the real standout here (not surprisingly given its CuisinArt ownership) is the food; several on-site restaurants offer gourmet meals with a focus on fresh ingredients from the resort's hydroponic farm, and guests can nosh on Japanese, Italian, or Mediterranean fare — or learn to cook it themselves. The resort features a handful of cooking classes for kids to adults who want to try their hands at anything from cookies to pizza to sushi. You can even prepare a special menu with the chef or opt for your own private cooking classes
Located down a winding dirt road off Mexico's Mayan Riviera, between Playa del Carmen and Cancun, lies a sort of culinary secret. One of Le Reve's top features is indisputably Merlot Restaurant and Bar — helmed by the talented Chef Mario, who has been with the hotel since around 2009. Serving a la carte breakfast, lunch, and dinner, Merlot's international gourmet menus — from tortilla soup, to escargot, to fresh grilled lobster — are unexpectedly superb. And lucky for us, the hotel offers free cooking classes with Chef Mario himself. Learn how to make ceviche and other Mexican dishes like a pro and come home with a tan and the ability to throw one heck of a dinner fiesta.
All products are independently selected by our writers and editors. If you buy something through our links, Oyster may earn an affiliate commission.