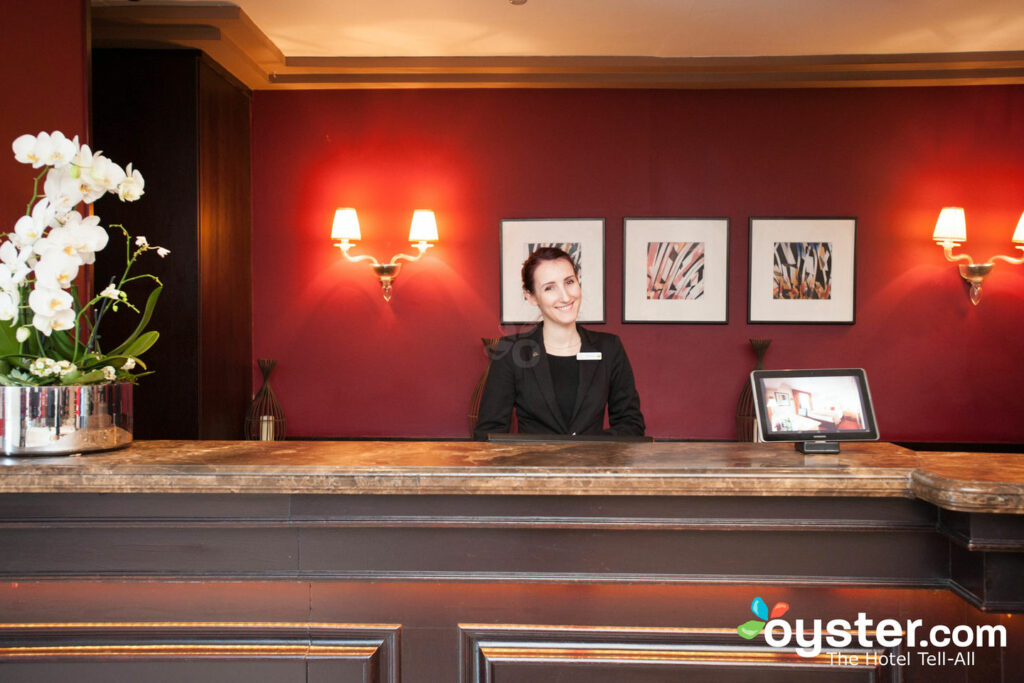 There's nothing like the heartbreak of a bad hotel room. The bellman opens the door to your room with a little flourish, "after you!" And once you're inside, reality hits. The room is dark, the windows sit right above honking traffic, the furniture looks like it's been around since the Bush Presidency -- Bush senior. And just as you're making peace with this, the party next door bangs into their room and belts out Adele's latest, which can be heard as clearly as if you were front seat at the Grammys.
How can you be spared from getting a dud like this? Know the right questions to ask. We consulted two travel experts -- Christine Sarkis, senior editor of SmarterTravel.com, and Leora Lanz, Professor of Marketing, Boston University School of Hospitality Administration -- for the routine questions they ask every time they get a hotel room. When should you bust out these no-fail questions? "During booking, it never hurts to gather information and state preferences," Sarkis says. "But the real magic happens at check-in." That's the time room assignments are finalized.
1. Can I be placed away from the elevator and the ice machine?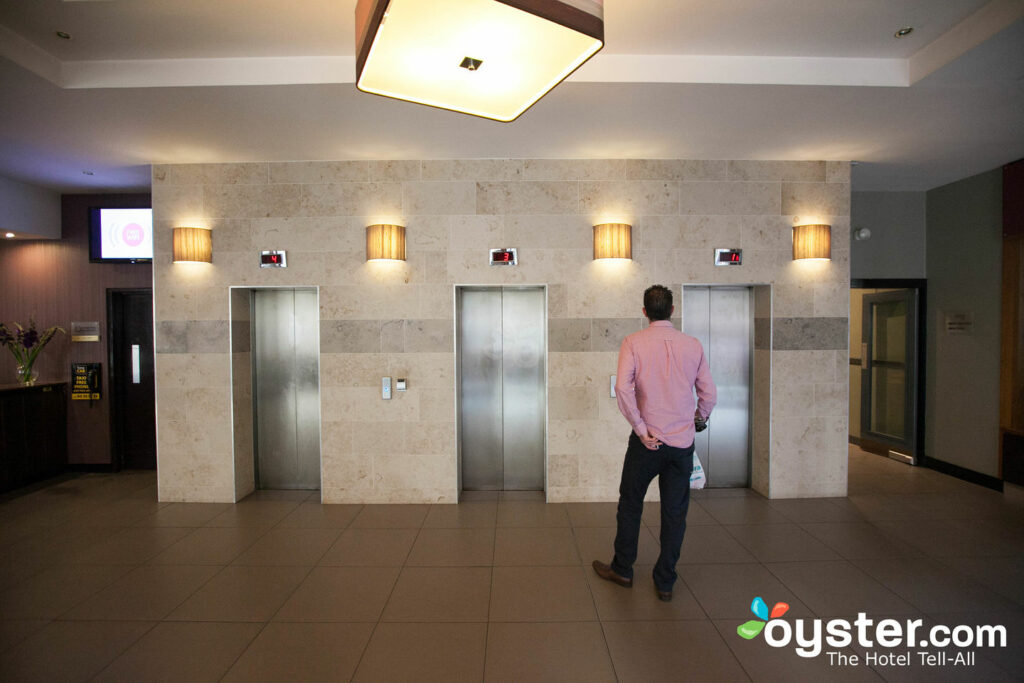 Being parked near the elevator and the ice machine can ruin a good night's sleep. Both these modern conveniences are magnets for noise. "Elevators run all night long, and rooms that are adjacent to elevators sometimes suffer from noise and vibration," Sarkis says. But ice machines are noisy on two levels: They can make a clattering sound, and they're a hub for chatty guests. "The ice machine tends to attract people in the mood to party, and who may be louder than the average guest," Sarkis adds.
One small counterpoint — there are circumstances where you might want to be close to the elevator. Guests with mobility issues often like to be near the elevator. And it can bring an added element of safety. "Often times women traveling alone may prefer to have a room closer to the elevator," Lanz says. If that's your preference, come prepared with ear plugs in case the noise is an issue.
2. Are any large parties booked at the same time, and can I get a room away from them?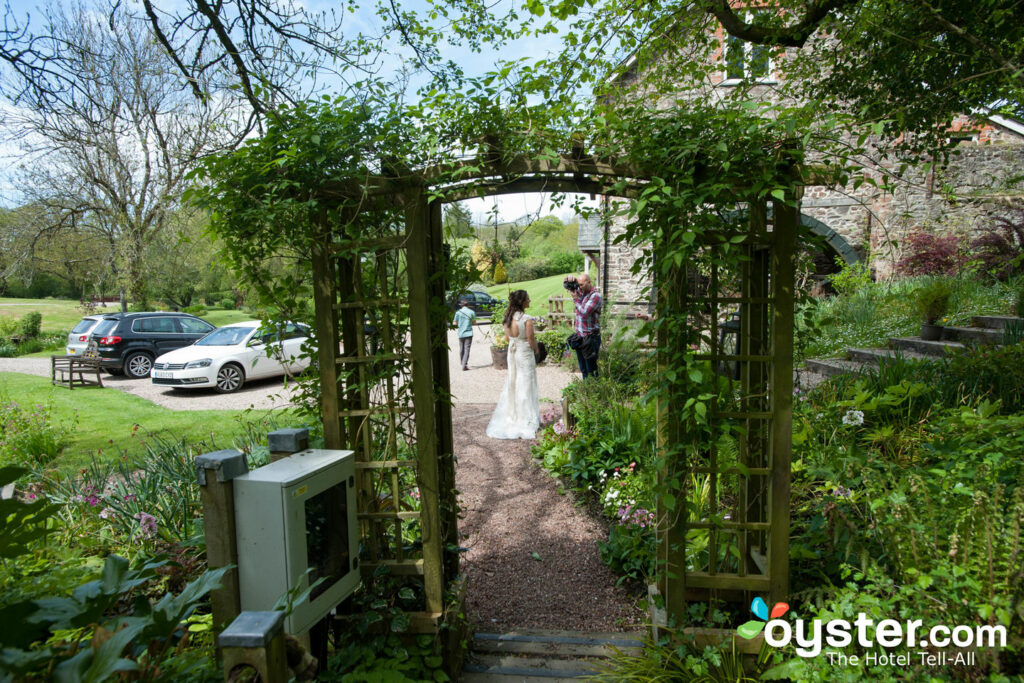 Here's a question that reception staff rarely hear. "Many people do not think to ask this one," Lanz says. But it's a crucial one to check off your list if you want to avoid, as Sarkis puts it, "impromptu hallway parties and loud late-night returns." In fact, Sarkis considers this one of the most important questions on the list. "After a bad experience involving a boisterous wedding reception that took place six feet from my ground-floor hotel window, I have never again forgotten to ask this question," she says.
Even if the gathering is relatively civil and quiet, say a large convention group or corporate work gathering, it's still better off getting a room away from the action. Being in the thick of it, "you feel lost in a sea of conference attendees, and that can make for a far less enjoyable hotel experience," Lanz adds.
3. Are there rooms that are more recently renovated than others? Can I be placed in a recently renovated room?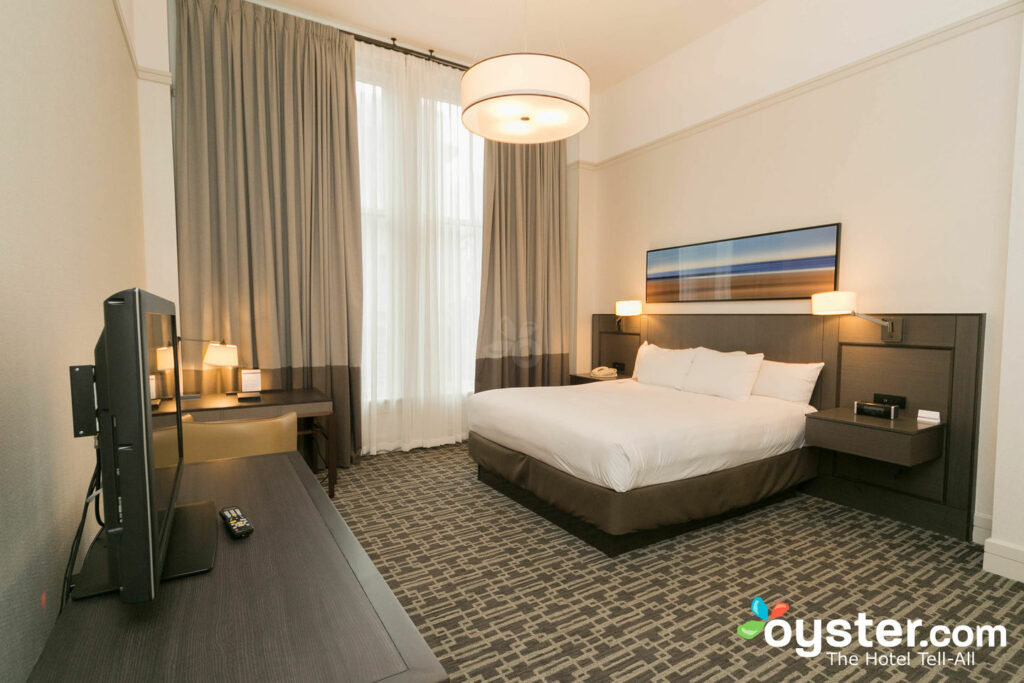 This question tops Lanz's list. "It's the first question I ask," she says. It's important to know that most hotels don't do a full top-to-bottom renovation of rooms. Usually, it's done on a rolling basis, which means rooms can vary widely. "Unless you ask (or express a preference) up front, you're just as likely to end up in a dated room as a recently renovated one," Sarkis says. And renovated rooms aren't just about fashionable furniture. "They also often feature amenities (like better shower heads and nicer TVs) that old rooms don't yet have."
More often than not, you're better off in a renovated room, but there is one circumstance where you might prefer skipping these spruced up rooms. "If you're sensitive to VOCs (that fresh paint or new carpet smell), you should think twice before requesting a just-renovated room," Sarkis says.
4. Can I have a room on a higher floor or facing away from the street?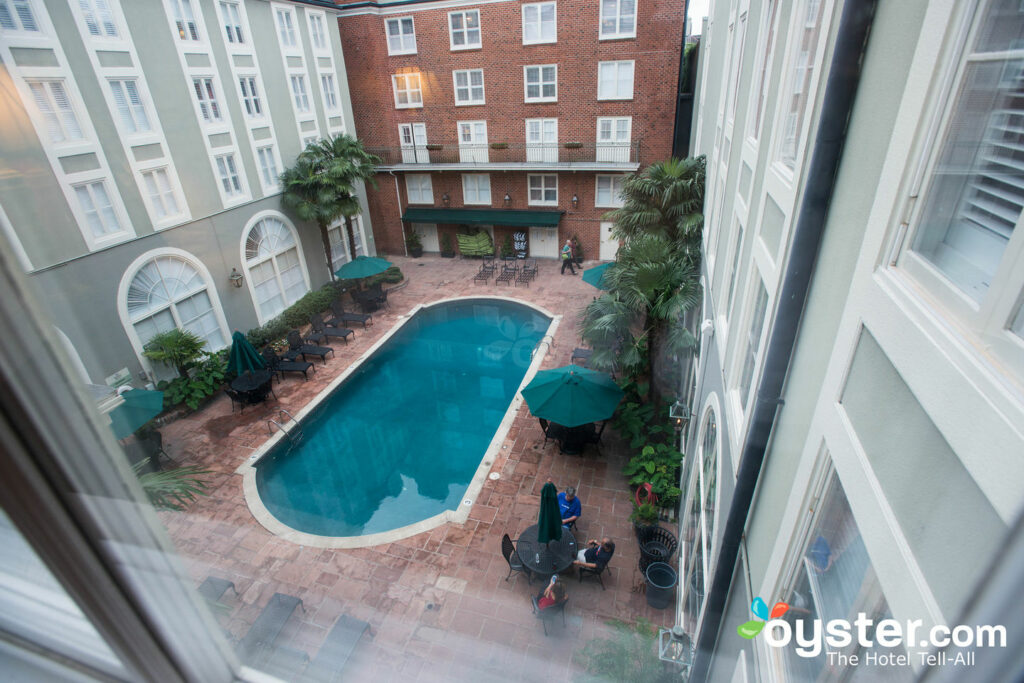 Again, as with real estate, much of room comfort comes down to three things: location, location, location. This is especially true when it comes to urban hotels. This question is helpful "if you don't want street noise, or if you prefer a fuller city view," Lanz says. And not only does this question protect you from noise, it can also shield you from smells. "In a congested city," Sarkis says, those lower-floor rooms can also get a hit of "the smell of car fumes."
Do note, there might be a trade off to facing away from the street. You might be trading your view for more peace and quiet, so clarify if that's the case.
5. Is there a variation in the views in rooms of the same category?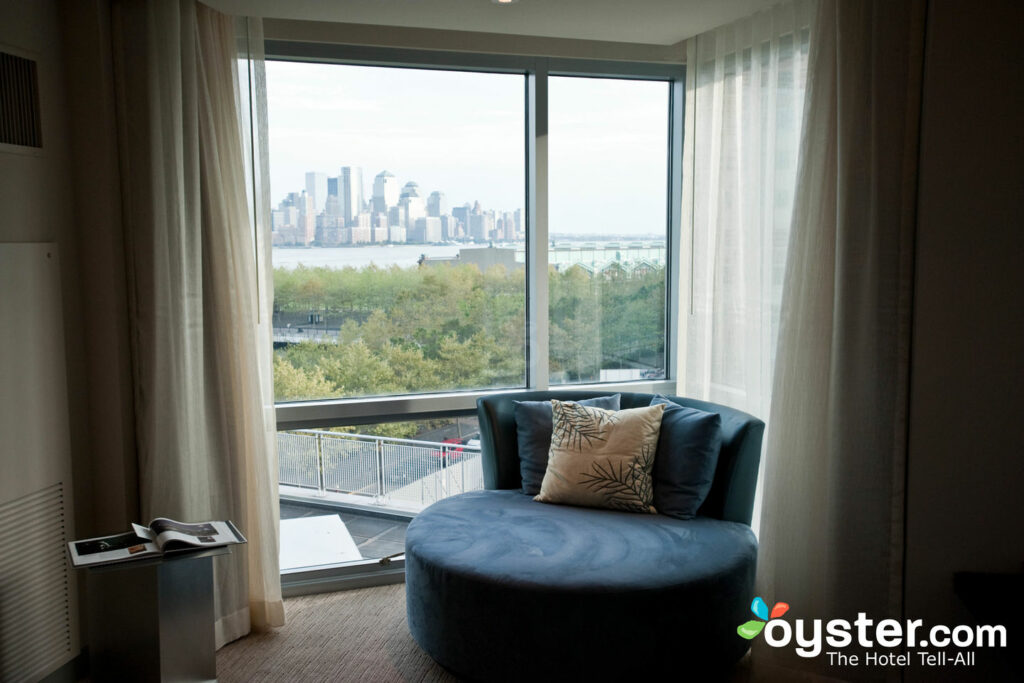 Here's another case of asking for exactly what you want. "If you're traveling for vacation or celebratory occasion, and you want that ocean view or park view — you MUST ask for that," Lanz says. But be aware that this question can open up the conversation to upgrading to another room category. "Know that when you ask this, you're likely talking about different room rates," Sarkis says. "This is especially true at resorts, where the difference between a garden-view and an ocean-view room can be hundreds of dollars," she adds.
Still, there are moments when the same room category can offer a range of views, and asking this question could be the difference between a view of the courtyard or one of the parking lot.
6. Does this room have an adjoining room?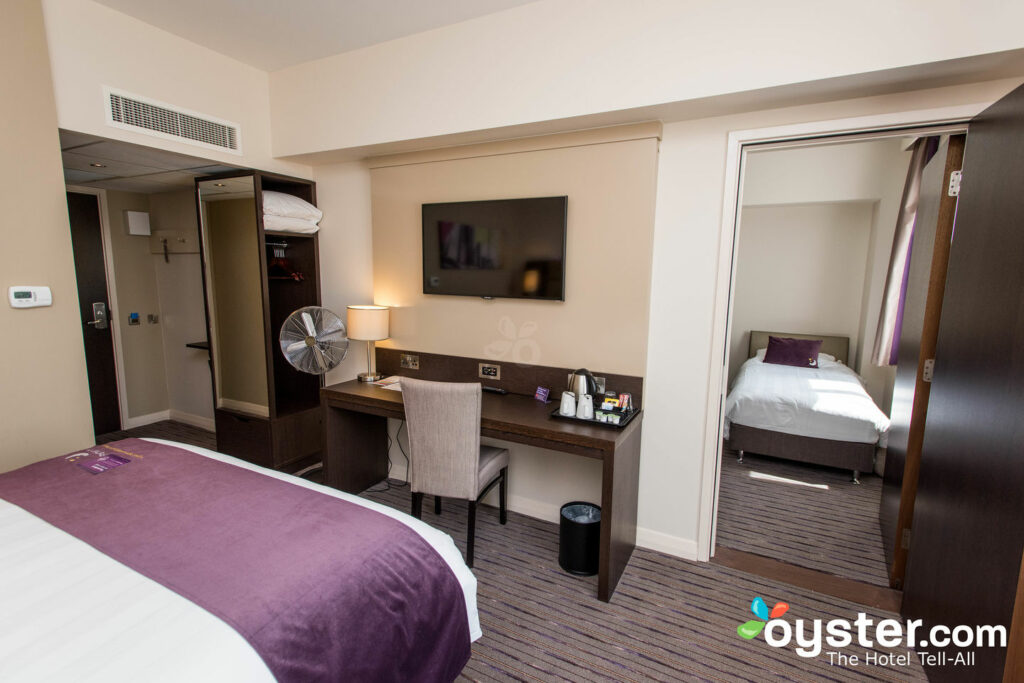 Here's a question that comes up for a certain kind of traveler. "Guests tend to ask this if traveling with a family," Lanz says. And for family travelers, it's important to snap up adjoining rooms ASAP. "Adjoining rooms tend to be in high demand. So this is a question worth asking even before you arrive," Sarkis says. But be sure to restate your preference when you check-in, as that's when the staff finalizes room assignments.
But surprisingly, even solo travelers should ask this question. If you're not making use of that adjoining doorway, it could be a hitch to a good night's sleep. Those doorways can allow noise to leak in from a neighboring room far more than a solid wall. So if you're not buddying up with your neighbor, there's no reason to put up with this downside. Ask for a room that isn't adjoining.
7. Are there rooms with better Wi-Fi reception than others?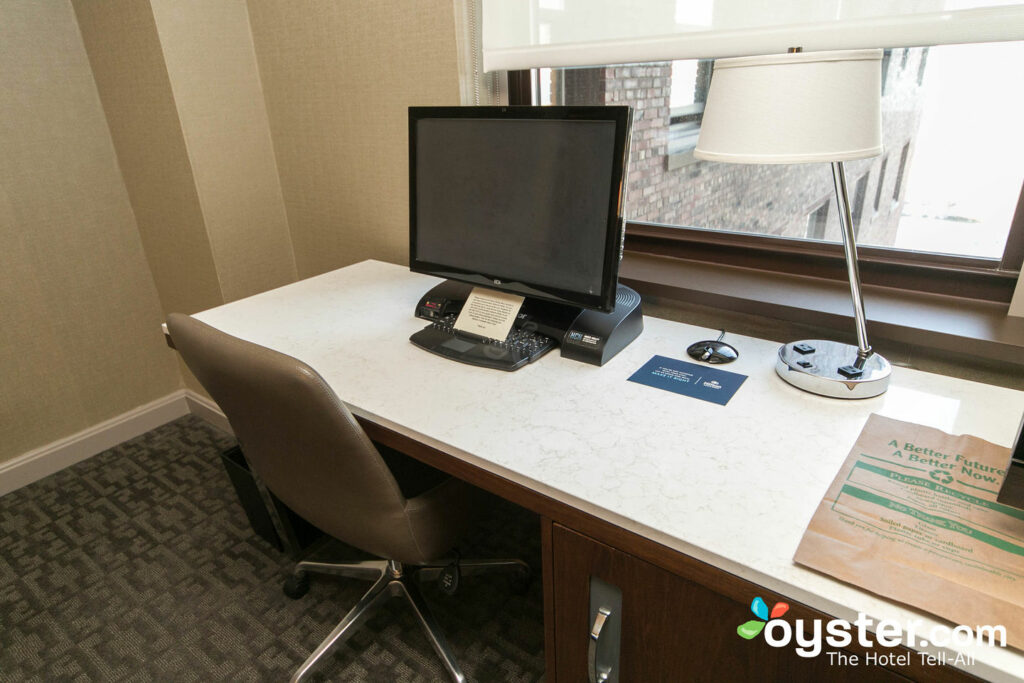 In a perfect world, all hotels with Wi-Fi would have a strong and steady connection throughout their rooms. But as tech-savvy travelers know, Wi-Fi can vary from one end of a building to another, and that's why, as Sarkis says, "This is a vital question for anyone with more than a passing interest in staying connected while traveling." If you voice your concerns from the get-go, the reception staff can place you in the room that gets the best, strongest signal.
But even if you're in a room with poor reception, don't abandon hope. "Call down to the front desk for advice. They may be able to offer a trick or two for instance positioning yourself by a window for better reception — that will get you better Wi-Fi," Sarkis adds.
Whether you're always on the go or travel once a year, this carry-on has every feature you could ever need and is built to be the last bag you'll ever buy.
Related Stories:
All products are independently selected by our writers and editors. If you buy something through our links, Oyster may earn an affiliate commission.